If Mark Friebe wasn't a comedian, he'd be crying.
Two shows into a new production about a group of accountants trying to run a circus, his Giggle Dam Dinner Theatre that he's operated in downtown Port Coquitlam for 19 years was forced to go dark because of the COVID-19 pandemic. Eight cast members, two musicians as well as more than 30 staff, including a sound technician, chef and servers, were immediately thrown out of work.
Friebe's been looking for laughs ever since.
"It was frightening at first," Friebe said. "Then it's the hurry up and wait game."
A steadfast Port Coquitlam business since 2001, the Giggle Dam had weathered previous crises like the 2008 recession, a devastating fire in 2015 that destroyed a building right next door and even a smokey failure of a compressor in 2018 that summoned firefighters once again to the building on Shaughnessy Street. Never was a show missed, Friebe said.
Earlier this year, after splitting up his longtime business and severing his personal partnership with ex-wife, Sheila Sharma, Friebe invested in some new upgrades like a fresh marketing program and equipping servers with tablets. He said things were ticking along well, with solid bookings of tables through the first three months.
Until COVID.
As Friebe hunkers down to ride out the pandemic, dipping into the modest financial cushion he said he'd managed to build to cover expenses like rent and utilities, he casts about for a silver lining. It hasn't been easy, he admitted.
"I think this is what it's like to be rich, but without the money," he said. "I can do whatever I want, when I want, with no consequences except to make sure you have toilet paper and groceries."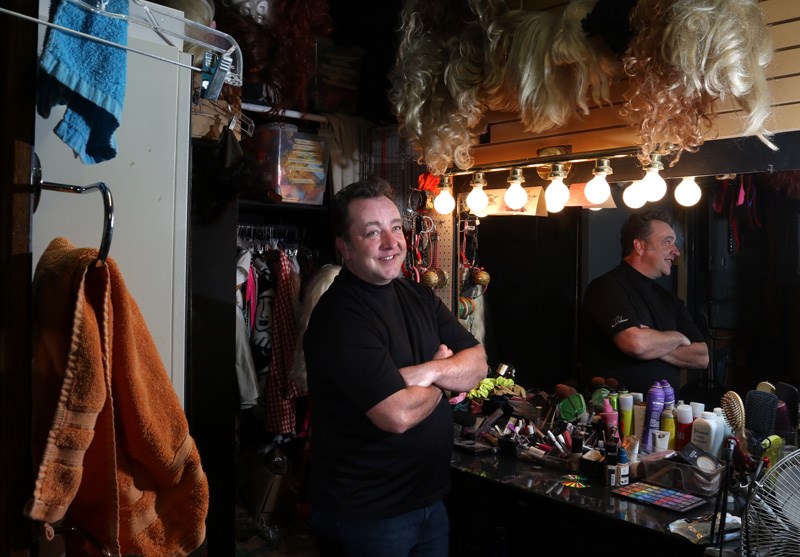 Friebe said it's been disorienting not working weekends for the first time in nearly two decades. But as the days of idleness drift by, his creative comedic juices are beginning to stir.
Though, Friebe admitted, he won't be writing jokes about the pandemic anytime soon.
"It's hard to find comedy in it right now."
Instead, he's setting his satirical sights on the 1990s.
Friebe said it takes about three weeks to get a new production ready, from brainstorming ideas with the cast to writing a script to formulating a marketing plan. The creative cycle can be frenetic at times, but it's allowed him and several other performers to earn a steady living for many years — a rarity in the local theatre scene.
And while that sense of security seems precarious right now, Friebe remains confident the giggles will return to Shaughnessy Street.
"We've survived everything, I think we can survive this," he said.
The Tri-City News is visiting businesses to learn about the lessons they're learning during the COVID-19 pandemic, the challenges they've faced and overcome, and those that still lie ahead. If you are you an independent business navigating the COVID-19 pandemic in an interesting and innovative way, or know of one, let us know. Email mbartel@tricitynews.com.