The closure of the Tri-City's biggest gardening store is looming with the next phase of an approval process that will turn the 3.3 acre property into space for a car dealership.
And while gardeners will have to go further afield for plants, gardening advice and decorating items once Art Knapp closes Dec. 31, Port Coquitlam council is satisfied the new use of the property at 1300 Dominion Ave. fits with its vision for the area.
According to a staff report, the site's Highway Commercial land use designation in the Official Community Plan is suitable for the relocation an automobile dealership in the plan proposed by Thinkspace Architecture.
Tuesday, Nov. 24, Port Coquitlam council gave third reading to the rezoning to accommodate the dealership after a public hearing which failed to generate any public comment.
Plans are to construct an L-shaped building designed to look like two dealerships with their own distinct entryway and showroom.

The 37,670 square foot building will provide space for automobile servicing, and parts storage, sales and administration and includes an indoor wash bay. 
There will also be 323 parking spaces to accommodate staff and visitor needs, along with the display of vehicles for sale.
However, a number of environmental requirements would be introduced for the new building, including protection of two watercourses, tree replacement and enhancement, two EV charging stations and an energy-efficient building that would meet requirements of the BC Energy Step Code.
Fill would also be required to build up the land to flood level requirements.
Coun. Laura Dupont applauded the protection of the watercourses, and said she hopes they would be enhanced but one councillor is dismayed that the property would be pulled out of the agricultural land reserve.
"Once we rezone agricultural land we just don't get it back," Coun. Nancy McCurrach said before opposing the rezoning.
The rezoning will close out a chapter for Tri-City gardeners, as well as an ongoing dispute between current landowner Wim Vander Zalm and the city, which resulted in Port Coquitlam placing a Section 57 notice on title for breaching city bylaws, a claim Vander Zalm denied because the property was farm land.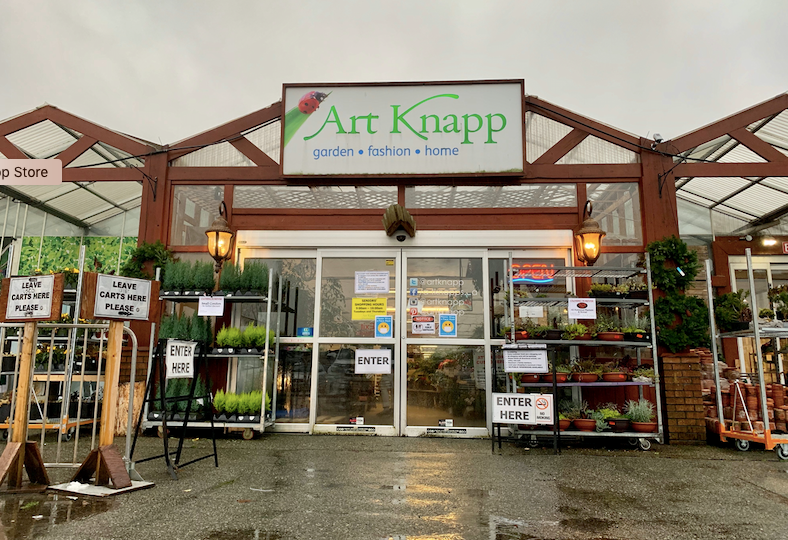 Once the current buildings are demolished, the city says in its report that it will remove the Section 57 that is currently on title.
The Tri-City News has reached out to both Wim Vander Zalm for comment.
But staff at Art Knapp are disappointed that the store — a long time fixture for local gardeners — will soon be closing.
"It's nostalgic. I've been coming here since I was five. It's gong to be hard to see it go. But the times move on," said Matt Cameron, a Port Coquitlam resident who is a university student working at the store part time.
— with files from Stefan Labbé