A week after Tri-City youth marched from Port Coquitlam to Coquitlam city hall to protest racism and call for more police scrutiny, one city is launching a committee to develop an anti-racism and anti-discrimination policy and a local agency is holding a virtual community dialogue on racism.
Both initiatives come as the world reels from video images of a Black man dying at the hands of police in the U.S., with protests, including marches in Vancouver and the Tri-Cities.
This week, Port Coquitlam announced it was seeking 12 to 15 people to participate in a new Roundtable on Equity, Diversity and Inclusion.
It's a move the city's mayor says is important to bring people together to battle racism and discrimination.
"Racism and discrimination have no place in Port Coquitlam and as a city we are committed to taking action," stated Mayor Brad West in a recent press release. "This roundtable will be a community driven process and we'll work together in coming up with solutions. I encourage anyone with expertise or ideas on how we can make this a better and safer community to apply." 
In the meantime, the Tri-Cities Local Immigration Partnership is hosting a three-part virtual community dialogue series on racism.
The first part of the series, set for Wednesday, June 24 from 6-8 p.m., will ask the question: "What does Racism Look Like?"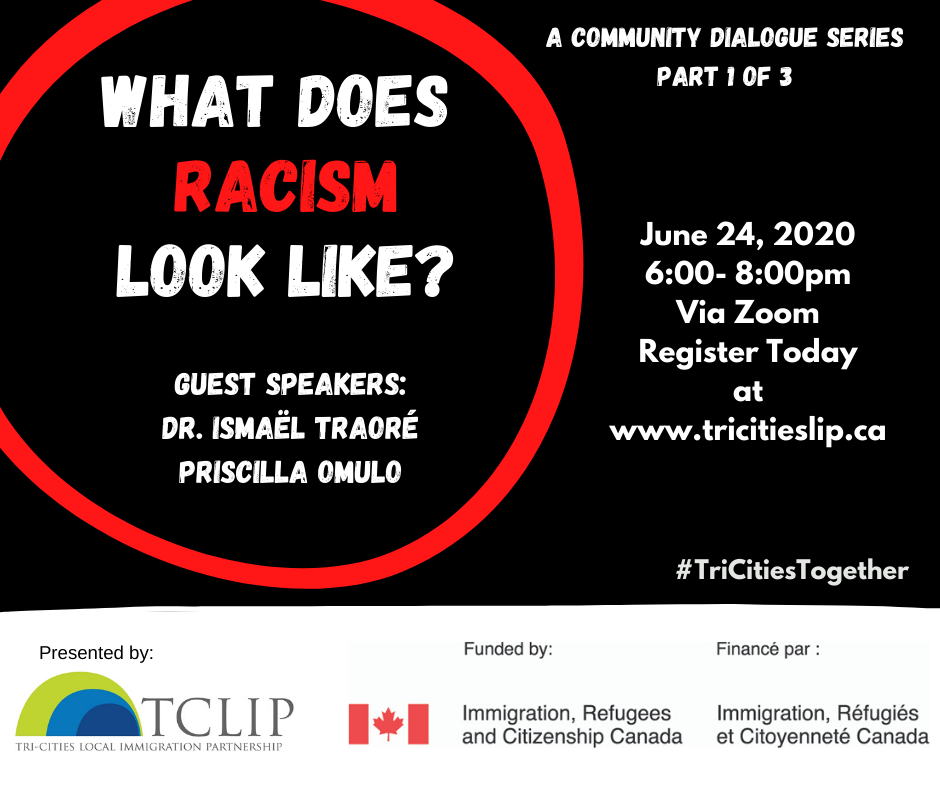 DIVERSE PERSPECTIVES SOUGHT
Meanwhile, those who live and work in PoCo and who volunteer for a one-year term and who represent a diversity of perspectives, — including people with ethnic or cultural backgrounds, Indigenous people, new immigrants, LGBTQ2S+, people with disabilities, diverse gender and ages and people living in poverty — will get together to develop an anti-racism and discrimination policy.
The group will also liaise with the Mayor's Citizen Advisors Roundtable and Cultural Roundtable to share ideas on current and emerging issues.
Applications for the roundtable must be submitted online at www.portcoquitlam.ca/roundtable by noon July 6, with the selected advisors announced at the last council meeting before the August break. 
The new roundtable comes as many around the world are speaking out against racism, particularly in light of the death of George Floyd, an African American man killed by police during an arrest in Minneapolis, Minnesota.
GROUPS TACKLE RACISM ISSUE
However, the Tri-Cities isn't immune from racism and there have been incidents over the years, prompting a Coquitlam councillor to call for more action and resources.
While Coquitlam has a multi-cultural committee Port Moody has none.
Some of the efforts to deal with racism have come from local agencies, however.
In recent years, agencies such as SUCCESS, have held forums and discussions on racism and ways to bring Tri-City residents together while The Tri-Cities Together: Coalition against Racism & Hate, which is a working group of the Tri-Cities Local Immigration Partnership, has been collaborating on developing an anti-racism protocol. 
It is hosting the webinar over three evenings with topics that include include "Why Does Racism Still Exist?" And a third virtual dialogue will be on the topic "How do we address racism in our communities?"
The dialogues are led by Rr. Ismaël Traoré and Priscilla Omulo.
To register visit https://tricitieslip.ca
Meanwhile, there are places people can go to get help if they have experienced racism, such as calling 1-800-563-0808 or sending an email to VictimLinkBC@bc211.ca.
Incidents of racism or hate can also be reported to the RCMP's non-emergency line at 604-945-1550 or at www.hatecrimebc.ca.