A Port Moody woman alleging neighbours visiting from the United States are in breach of their 14-day quarantine has been thwarted in her attempts to report the case after police, local government and public health passed her from one enforcement body to another.
The woman, a resident of large condominium complex who requested she remain anonymous for fear of publicly shaming her neighbour, said the family returned from the United States and failed to complete their full 14-day quarantine. Instead of staying at home, the family went shopping and visited the airport, alleges the woman.
"I told my neighbour that I could shop for them since all of them now have to isolate since they are all interacting. The visiting mom has gone grocery shopping twice already since she has arrived," she said.
"I don't want them to be punished. I just want them to be told to stay home."
More than 2.5 million border crossings have been recorded since the end of March, when an emergency order under the federal Quarantine Act required most people arriving from outside Canada to isolate themselves for 14 days.
Between March 25 and Sept. 3, police have been asked to check on the whereabouts of 87,338 people ordered to quarantine. Data provided by the Public Health Agency of Canada lists zero arrests for ignoring a quarantine order, one summons to appear in court and 42 police-issued tickets, according to the Canadian Press. 
If someone under mandatory quarantine breaks the order, maximum penalties include a fine of up to $750,000 from federal quarantine officers and imprisonment for six months, according to a statement on the Government of B.C.'s website. 
But concerns over the enforcement of the Quarantine Act have been raised across the country in recent weeks. Earlier this month, Ontario Premier Doug Ford called the quarantine system "broken," with federal health officers and RCMP failing to lay charges against rule-breakers, according to the Canadian Press. 
In an interview with CTV, federal Health Minister Patti Hajdu fired back, reminding Ford that the Ontario Provincial Police also had the authority to lay charges. 
But after multiple interactions with local police, city government and public health, the Port Moody tipster was referred from one authority to the next, revealing how public institutions are still trying to get a grip on who has what emergency powers during the pandemic and how they should be enforced. 
SO YOUR NEIGHBOUR BREACHED QUARANTINE
The Port Moody resident said she initially called public health at 8-1-1 and was told to report the tip to her local police detachment. An officer from the Port Moody Police Department arrived at her door and, after taking her report, said it would be handed over to the city of Port Moody's bylaw officers, recommending she contact them to follow up.
"I did and they suggested I call Fraser Health," the woman told the Tri-City News in a message. "He also said that this was new to the department and he did not want to issue fines. I agreed and said I just wanted them to stay home!"
In a follow-up call with the Port Moody Police Department, a spokesperson told the Tri-City News that enforcement of the Quarantine Act was a federal responsibility and therefore would need to be carried out by a federal police body. 
Meanwhile, concerned a child residing with the visiting family might breach quarantine by going to school, the neighbour called the principal. In an email seen by the Tri-City News, the principal said he would be in contact with the family, but that the woman should follow up with public health should she have any concerns. 
In an email from the city of Port Moody, a spokesperson confirmed that staff understand bylaw officers have no jurisdiction to enforce the Quarantine Act. A spokesperson for the Port Moody Police Department echoed that message, recommending the Tri-City News speak to RCMP, despite a statement on the Government of B.C.'s website saying the act is enforceable by "RCMP or local police."
MAYBE RCMP KNOWS?
In a call in Coquitlam RCMP, a spokesperson told the Tri-City News that any "first-hand knowledge" regarding the potential breach of cross-border quarantine be reported to the Canada Border Service Agency's Border Watch Line. 
As Cpl. Michael McLaughlin put it, "It's got to be something more than, 'I saw an American plate and the guy got out of his car." 
However, when the Tri-City News contacted the Canada Border Service agency, a CBSA spokesperson said in an email CBSA is not the correct department to report violations of the Quarantine Act.
"Once a traveller is admitted into Canada, the responsibility to monitor and track the individuals from a public health perspective is not within the scope or mandate of the CBSA," wrote spokesperson Rebecca Purdy.
"This responsibility falls within the mandate of the Public Health Agency of Canada (PHAC) and provincial health authorities."
Purdy went on to say that the violations of the Quarantine Act, such as breaching the 14-day quarantine after travel abroad, should be reported to "the Public Health Agency of Canada or the police agency of jurisdiction in their area" and that enforcement would be carried out by the RCMP or "the police agency of jurisdiction."
BACK TO THE PORT MOODY POLICE?
A spokesperson for Port Moody police was not available to speak Friday.
Not to be outdone, this reporter contacted the Public Health Agency of Canada and the RCMP's E Division, who act as B.C.'s provincial police force.
"Yes, we are the provincial police, but we're not going to step on the toes of the Port Moody Police," said RCMP E Division spokesperson Cpl. Chris Manseau. "Any police department in B.C. and Canada can enforce the Quarantine Act." 
But, said Public Health Agency of Canada spokesperson Maryse Durette in an email, the "frequency of compliance visits by law enforcement is based on operational requirements and priorities of each law enforcement unit."
And the penalties vary widely, with scofflaws getting off with as little as "verbal and written warnings" all the way up to a fine of $1,000,000 and up to three years in prison should the breach result in death or serious bodily harm. Police officers at all levels can also now issue tickets ranging from $275 to $1,000 to those not complying with their quarantine.  
Local police don't always have to use a heavy hand, and using their best judgment may not report back to public health authorities. 
"Even if they find a violation, they may choose to use a different instrument for enforcement (e.g., local bylaws or provincial legislation)," wrote Durette.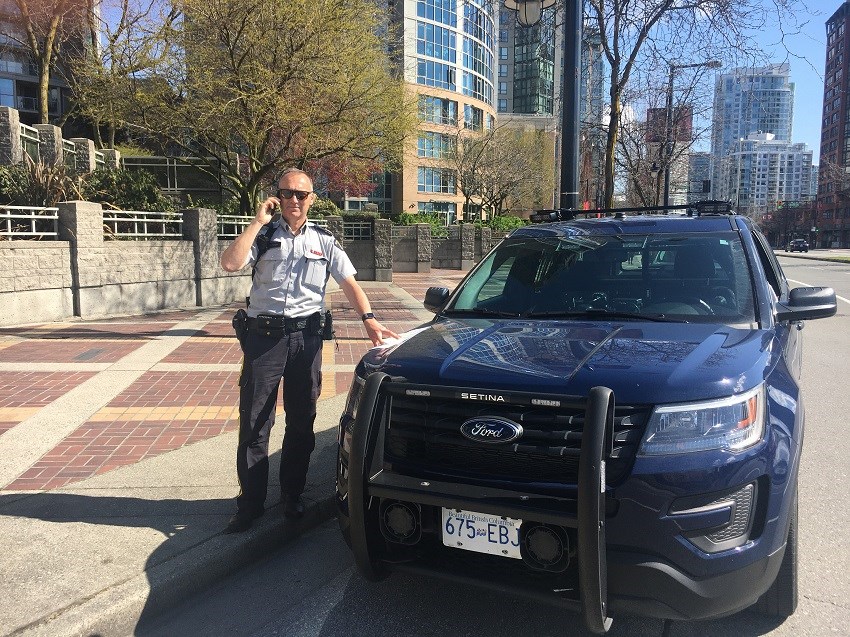 Should the Port Moody Police Department, Coquitlam RCMP or any other police force need help "from Pemberton to Boston Bar," they can call in the Integrated Quarantine Act Response and Support Team (IQARAS), which Manseau said is still active across the Lower Mainland, despite several changes to enforcement protocols.
"I think it's a bit of information overload. 'Are we handing out tickets here? Are we not'?" said Manseau, following the anonymous tipster's (and this reporter's) efforts to ascertain who enforces quarantine breaches.
"We're all learning here." 
But for the Port Moody resident, there's still no clarity that any appropriate action was taken and she worries that a lack of communication will leave more people like her without a clear way to report a potential quarantine breach and the associated threat to public safety.
"For the general public, if this is happening in your neighbourhood, I wouldn't know what to do because no one knows what to do," said the Port Moody resident.
Her message to others in same situation: "Good luck."
— With files from the Canadian Press