Mythic. Heart-breaking. Poetic.
These are the words used by a peer assessment committee in describing Indian Arm — a play by Port Moody writer and actor Hiro Kanagawa that clinched the 2017 Governor General's Literary Award for drama today (Wednesday).
Kanagawa, who was featured as a finalist last month in The Tri-City News, took first prize for his fourth full-length play that's based on Ibsen's Little Eyolf but set on the north shore and centred on First Nations land.
The national award means $25,000 for Kanagawa, who will also be invited to meet Gov.-General Julie Payette at her first official ceremony with the Canada Council, at Rideau Hall in Ottawa on Nov. 29; he will read and sign books the next day at the Canada Council office with other English-language winners.
"It was such an honour to be nominated," Kanagawa told The Tri-City News. "To be included in this group — with two previous Governor General award recipients — is very special."
Kanagawa said his phone has been ringing off the hook since the announcement was made. "A lot of people on the east coast found out while we were still in bed on the west coast and phoned in their congratulations," he said. "It's been an exciting day." 
Indian Arm was up against Michael Healey's 1979, Robert Chafe's The Colony of Unrequited Dreams, Kate Hennig's The Virgin Trial and Anna Chatterton's Within the Glass.
Of Kanagawa's work, which was published by Playwrights Canada Press, the committee wrote: "Indian Arm is a timely and evocative manifestation of the characters' struggle with their relationship to the land. Hiro Kanagawa masterfully navigates the tension between Indigenous and settler identities as they work to figure out how we can live together. Mythic. Heart-breaking. Poetic."
A native of Sapporo, Japan, Kanagawa previously won the 2015 Jessie Award for Outstanding Original Script for Indian Arm, which was performed by Rumble Theatre in Vancouver. The company's artistic director, Stephen Drover, who had directed Kanagawa's show The Patron Saint of Stanley Park, for the Arts Club Theatre, commissioned Kanagawa to adapt the Ibsen play in 2013.
Because of the First Nations component in Indian Arm, Kanagawa also sought and received the blessing from Leonard George, an elder with the Tsleil-Waututh Nation who is the youngest son of the late Chief Dan and Amy George.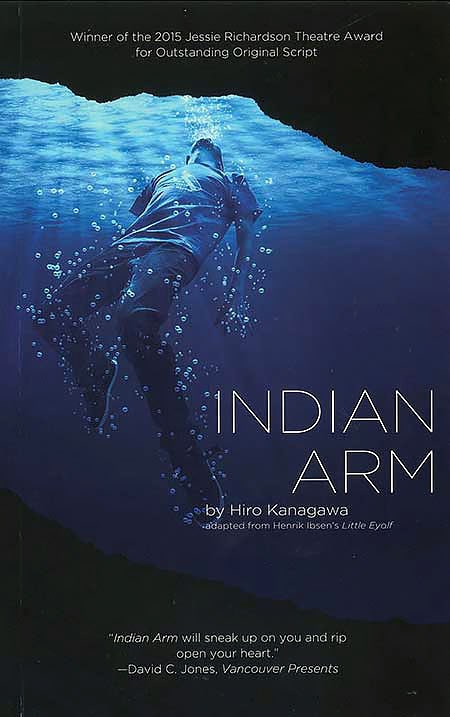 Other 2017 Governor-General winners include: We'll All Be Burnt in Our Beds Some NIght, fiction by Joel Thomas Hynes; On Not Losing My Father's Ashes in the Flood, poetry by Richard Harrison; and The Way of the Strangers: Encounters with the Islamic State, non-fiction by Graeme Wood.
Kanagawa is well-known in Vancouver's television and film industry, having been a story editor for the Da Vinci series, Intelligence and Blackstone. As an actor, he has recently appeared in the TV series Legends of Tomorrow (playing director Wilbur Burnett); Altered Carbon (Capt. Tanaka); iZombie (Lt. Suzuki); and Kim's Convenience (Pastor Choi).
jcleugh@tricitynews.com