The Syrian refugee crisis has drifted out of the public spotlight. But in Coquitlam, as refugees continue to arrive, a handy band of volunteers with support from developers and suppliers is turning dilapidated housing into warm and comfortable homes — giving newcomers a foundation on which to build a new life. The list of what's needed follows the article.
The contrast is startling — one Coquitlam townhouse has rat feces in the doorway, another a lawn-swing, kids' shoes and two terracotta planters filled with flowers.
One is the home of a Syrian refugee who has made a successful life for herself and her two children in Coquitlam.
The other is an empty townhouse that is so badly damaged and neglected it would take an army of workers to make it habitable.
Fortunately, the Tri-Cities is home to dozens of volunteers, tradespeople, developers and others who are committed to providing a welcoming environment for refugee families fleeing war-torn Syria and other dangerous places.
They have formed the Tri-Cities Friends of Refugees group and are providing the muscle to get these homes renovated so families — who pay rent based on their income —  can move in.
So far 10 homes have been repaired in the last two years, with another that needs a complete gut and renovation.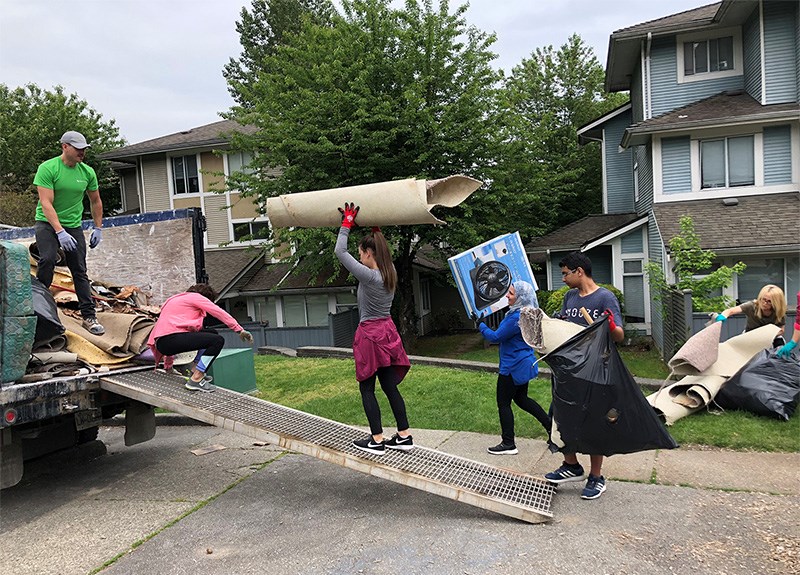 And so far, it appears those who have moved in are making a new life as Coquitlam residents. Their children attend local schools, they help each other, work at local jobs, and have volunteered for the renovation projects.
They even pick up litter on a nearby street they have adopted.
"That's the part that has really inspired me to keep going with this," said Coun. Teri Towner, who helped organize the task group when refugees began arriving in B.C. in 2016. "This is going to be someone's home."
On a tour of the projects, one almost finished, another that needs a lot of work, Towner described how a group of community volunteers with a desire to welcome visitors started the Tri-Cities Friends of Refugees group.
They started with casual language classes and community orientation, but when a fire destroyed the Cottonwood apartments in Burquitlam — where many refugees where temporarily housed — the group stepped in to find a longer term housing solution.
"It's not a city-mandated committee," Towner noted, the Friends are a group of people who come together, often via a call out from Facebook, to help out with demolition, repair, paint, carpet and appliances or other support, such as driving or first aid lessons for newcomers.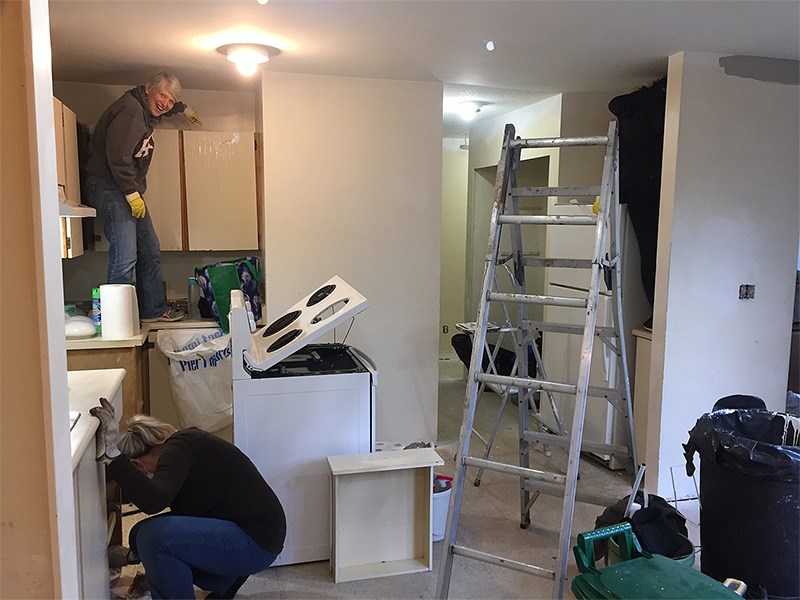 "This isn't permanent housing, this will be redeveloped too. Look at how close it is to SkyTrain. It will be redeveloped in five, six, eight years," she said, describing the non-profit complex that had been struggling with how to deal with some badly-destroyed units and will likely rebuild to a higher density one day.
"But at least it's stable housing for now," she said.
Over the months, as each unit was cleaned out and repaired by volunteers, newcomers have moved in, many of them families with three, four and five children who were identified by local agencies or had been displaced by the Cottonwood fire.
One Syrian family relocated to Coquitlam from Haida Gwaii where they had been sponsored. In Coquitlam, the family is closer to hospitals for the daughter whose leg had to be amputated after it was injured by shrapnel from a bomb that fell on her home in Daraa, Syria in 2013.
"She is doing so well now that she has been fitted with a proper prosthetic and you can see her on the playground," Towner said.
Another refugee family credits the home provided by the Friends group for some of her success.
"Teri and Richard (Mayor Richard Stewart), they bring us to here. They give us a beautiful house, and me and my kids are super happy," said Betul Nebhen, who works at Phoenix Truck and Crane in Coquitlam.
Nebhen said she loves her home that was painted and carpeted by volunteers and furnished by the Friends group.
Just a few doors away, however, in the other townhouse, walls are dirty, carpet is torn and there are holes in the closet doors.
It will take determination, the work of a lot of volunteers, to make it as nice as the one where Nebhen is raising her two children.
But Nebhen and Towner have no doubt that it will get done.
"She is my good friend," says Nebhen, of Towner, and the Coquitlam councillor agrees — with a hug.
WHAT'S NEEDED
The Tri-Cities Friends of Refugees is in need of a variety of items to renovate two apartments to make them livable for refugee families, including two washing machines, two dryers, a stove and two conventional 30-inch fridges, bunk beds, twin beds, double beds, floor lamps, bedside table lamps and welcome mats.
As well, the group is looking for language mentors and car insurance for a donated vehicle or funds to assist with this.
BY THE NUMBERS
Refugees from war-torn countries continue to arrive in Coquitlam and Port Coquitlam, according to the most recent numbers from the Immigrant Services Society, with 12 people arriving in Coquitlam between October and December of 2018 and six arriving in Port Coquitlam.
In all, 24 government assisted refugees arrived in Coquitlam last year, the fourth most popular destination after Surrey, which saw 318 GAR individuals, Burnaby, which saw 123, and Vancouver where 86 refugees moved in 2018.
This year, BC will accept 900 refugees, the majority expected to come from Syria, according to ISSofBC.