Property crime has declined in Coquitlam during the first four months of 2020, a drop that the RCMP say may be attributed to the COVID-19 pandemic. 
According to a report, overall property crime fell 12% between January and the end of April, with decreases in theft from vehicles (-10%), theft of vehicles (-37%), shoplifting (-4%) and fraud (-20%). 
"We observed decreases in all categories accept break and enter to businesses which remained the same," Coquitlam RCMP detachment Supt. Annette Fellner said during a presentation to council. "We do surmise that an early effect of the pandemic appears to be associated with a marked reduction in theft of vehicles, shoplifting and fraud in the month of April, just with the fact that a lot businesses were closed at that time."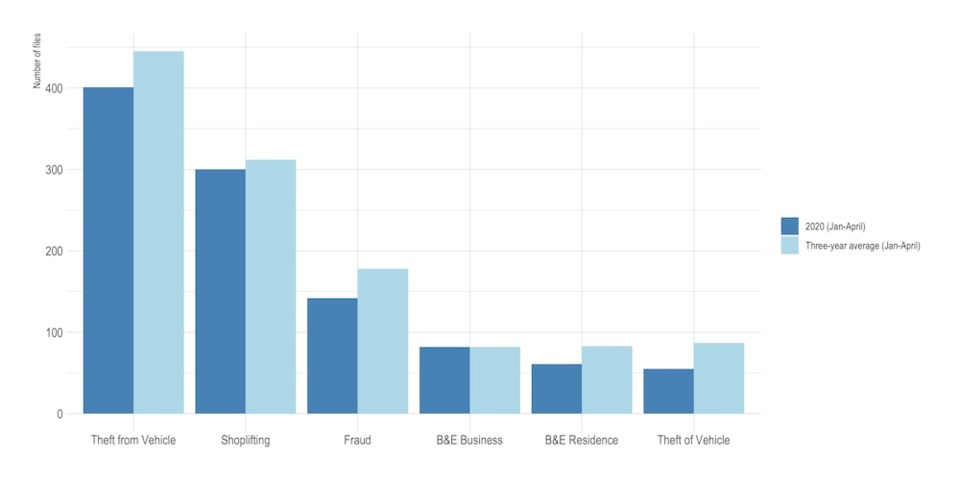 A drop in property crime is not the only impact police believe the pandemic is having on its crime statistics. 
Speeding tickets and intersection infractions are up, an increase police have attributed to drivers taking advantage of the extra space on the roads as more people work from home. New police resources and equipment have also led to an increase in traffic tickets. 
"We didn't quit responding to traffic complaints during the pandemic," Fellner said. 
Between January and the end of April, police issued 528 speed-related tickets, 61 more than the 467 three-year average. Intersection infractions are also up from 283 to 287, while distracted driving is down from a three-year average of 197 tickets to 125. Impaired driving infractions were up from 27 to 36.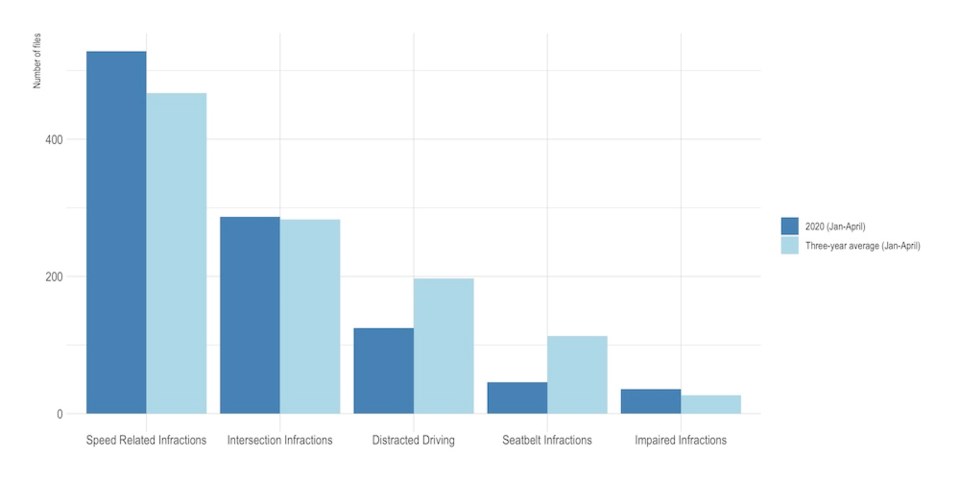 One crime statistic police had been monitoring closely since the pandemic began has been family violence. 
However, Fellner said after seeing a slight increase early in the year, the numbers actually levelled off in Coquitlam as the public health crisis emerged. 
"It did not appear that there was any correlation with the onset of the pandemic and assault and family violence files," she said. "We did see greater numbers in January and February compared to what we saw in March and April."
However, she added it was too early to draw any conclusions from the numbers and police would continue to monitor the statistics. 
Domestic violence has been a concern in other jurisdictions, as more people deal with the stress and financial fallout from the pandemic. 
According to Metro Vancouver Crime Stoppers, the number of reports to Vancouver's Battered Women's Support Services increased 300% since the public health crisis began. 
Tri-City Transitions, a non-profit organization dedicated to helping families dealing with intimate partner violence, has seen a steady stream of files over the last few months, according to executive director Carol Metz Murray.
She said the organization is still offering a range of services, despite COVID-19. She encouraged anyone struggling or in distress to call 604-941-7111 Monday to Friday, 9 a.m. to 4:30 p.m., or 604-492-1700 outside of business hours. The caller will be put in touch with the next available counsellor, who will assist with with practical tools and strategies to help resolve whatever issues the person is facing.