The hallways of Centennial Secondary in Coquitlam are a happier place this week because there's a new top dog on campus.
Benji, a two-year-old golden retriever, is now walking the hallways with principal Anthony Ciolfitto, who brings the silky-haired canine to school every day.
"He's got a lot of puppy energy," admits Ciolfitto, who recently obtained Benji through the Pacific Assistance Dogs Society (PADS).
Benji is an accredited facility dog trained by PADS to provide emotional support to students at Centennial.
Ciolfitto chose him after a walk-through with a PADS trainer; the veteran administrator knew Benji would be a good fit.
"There's something about when you're compatible with a dog, There's this chemistry. You feel it happen fairly quickly."
After a week of training with Ciolfitto — who brings the lovable dog home to his family each night — Benji was ready to become a fixture at the high school, which enrols about 1,400 students.
Weeks of service dog training
The dog knows how to be calm around students and has a bed in Ciolfitto's office where he hangs out when he's not walking the halls or greeting students at the door.
So far Benji has been a big hit among students.
"They all want to pet him," said Ciolfitto. "That gives me a great start with the students. If there's any part of the day they need to decompress, the dog is there."
PADS dogs have been in School District 43 (SD43) schools for nearly a decade. Wearing their distinctive blue vests, the dogs are working dogs and provide a calm influence in a busy school.
But for Ciofitto, Benji is providing some special emotional support.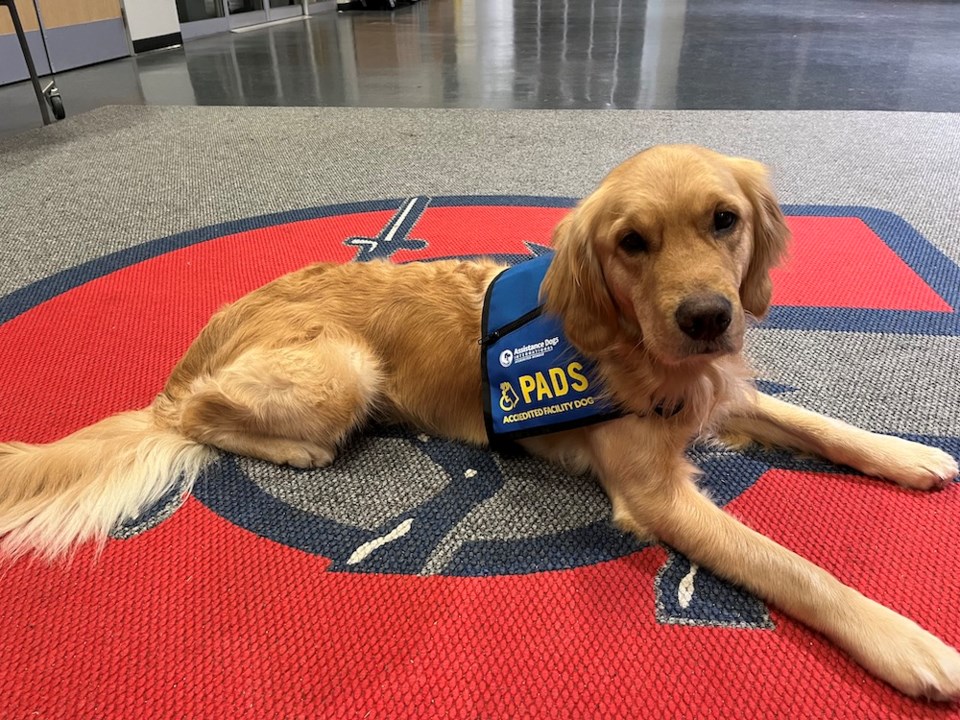 Long-time school service dog retires
That's because Ciolfitto had to retire his long-time service dog and companion, Liege, last March.
Ciolfitto said Liege started with him at Riverside Secondary school. He was a black lab who became a beloved pet.
But at over nine years, Liege had to give up his job as a service dog.
"When a PADS dog retires, they basically become your family pet but you can't bring them into schools."
A service dog's retirement can be traumatic for a school and their handler.
Liege eventually passed away and Ciolfitto said the dog left a void in his life, especially at the office, where his bed lay empty.
And Centennial students missed Liege, too, he said.
Ciolfitto hoped to get a new dog and applied but it took a few months to find the right dog that would fit into a high school setting.
Now with Benji on the job, Ciolfitto is back walking the hallways with a dog at his side.
"It's amazing how much we've bonded together," said Ciolfitto. "I can't leave the house without him following me."