Hundreds of Tri-City residents gathered at Coquitlam's Town Centre Park Saturday to rally in support of the Black Lives Matter movement that has swept across the United States and into Canada.
Organized by a group of women from Coquitlam and Port Moody, the event drew people together from the local Black community, a variety of Indigenous groups and others flying the rainbow colours of LGBTQ pride. 
It comes three weeks after a smaller group of high school students rallied to support Black lives and denounce police brutality, and two weeks after the city of Port Coquitlam moved to create a committee to develop an anti-racism and anti-discrimination policy.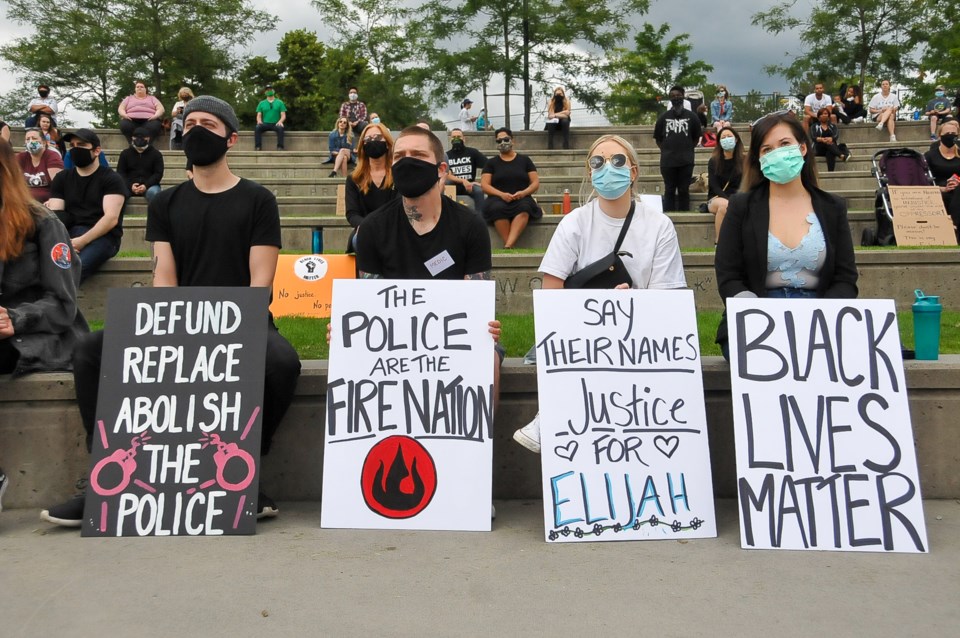 Coquitlam's Parris Abraham helped organize the rally, and said she was inspired to call people out and push back against racism in the Tri-Cities. 
"They need to know people do face racism in their own community," she said. 
Leading up to the event, Abraham said she posted news of the rally on a Port Moody community Facebook group, triggering a wave of vitriol.
"People threatened to run me over with their car… people were saying racism doesn't exist here," Abraham told the hundreds gathered next to Lafarge Lake. 
She spoke about the racism she has found in "every nook and cranny" growing up in Port Moody and Coquitlam, and about "how people thought they could say the N-word because I was only half Black."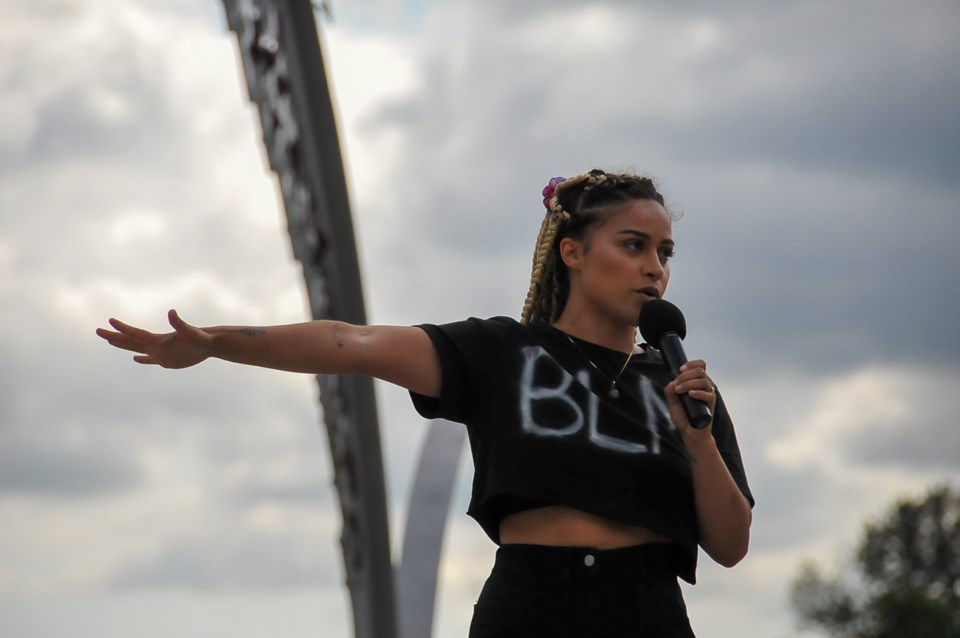 Others talked about the silent racism they felt after arriving in the Tri-Cities. 
When Trenyce moved to Coquitlam from Scarborough as a child, he said his social circle went from "all black and brown" to one where the colour of his skin made him a target. 
"When I came here, I felt like I needed to defend myself. So they put me in SAP — a Social Adjustment Program," he said, noting he was pushed from school to school before he eventually dropped out. 
Years later, he said he realizes that the education system failed him.
"I needed social adjustment because I didn't have a proper coping mechanism for the racism I was facing. They didn't say these people were being racist; they just said they were being rude," he said.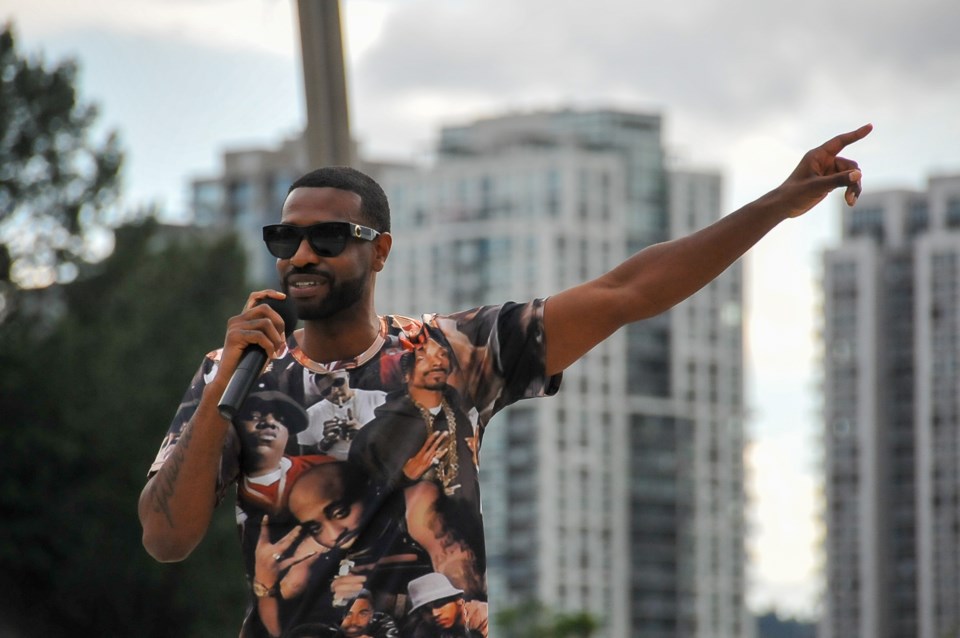 Priscilla Omulo, of the Tsartlip First Nation but who has lived in Port Coquitlam for a decade, took to the stage to call on all people of colour to come together to support one another.
"We can't talk about the United States and not talk about Canada. And we can't talk about Canada and not talk about the United States," said Omulo, pointing to the spotlight thrown on systemic racism since George Floyd was killed by a police officer in Minneapolis at the end of May, sparking a reinvigorated conversation about race in both countries.
Omulo wore yellow in honour of the late Chantel Moore, another Indigenous woman from Vancouver Island who was killed by a New Brunswick police officer on a wellness call last month shortly after she had moved their to be closer to her daughter. 
"Spread the word," she said, only two days after the police officer involved in Moore's killing went back at work. 
"No justice, no peace. No racist police!" responded the crowd.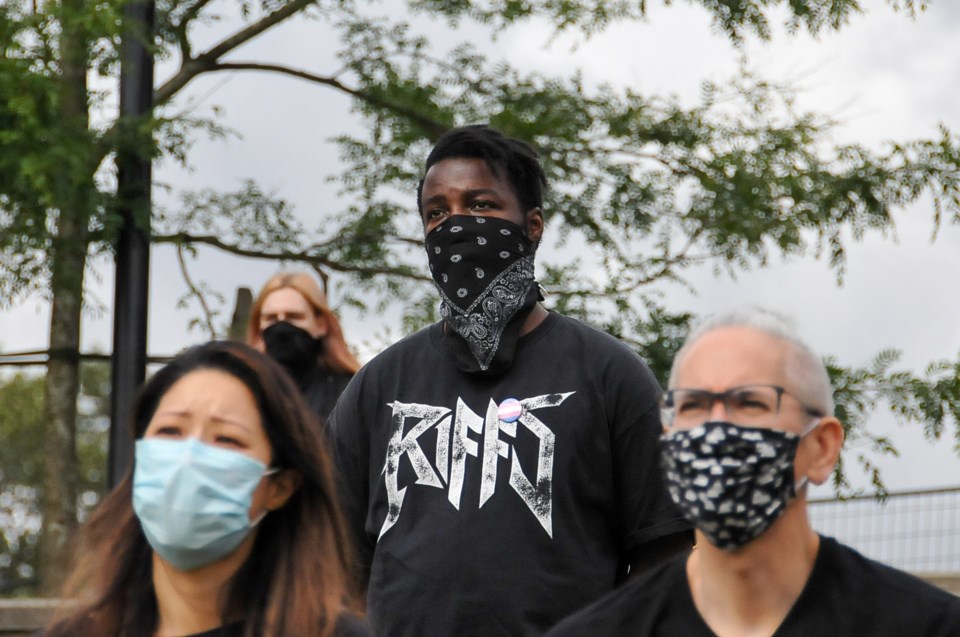 And while some public officials, like Coquitlam Coun. Trish Mandewo and mayor Richard Stewart sat quietly in the grass and concrete bleachers, most of the talking was done by people in their twenties and thirties. 
People like Emma Kiwanuaa, who remembered out loud the heavy feeling of police officers entering her home as a child in Coquitlam, not long after she had immigrated to Canada from Uganda fleeing violence and war. Her parents had called 911 because her brother was having a mental health crisis and they didn't know what else to do but call for a wellness check.
"We need more experts… I'm lucky to say my experience didn't end in tragedy but I know people in my community who have suffered."
Throughout the rally, the overriding call was to educate, and Kiwanuaa appealed to parents and students to put pressure on schools to bring more nuance into teaching about Black and Indigenous communities come the new school year in September.
"We're in a bit of a lull after everything that's happened. But we still have a lot to get done," she said.