Declaring a climate emergency may be a scintillating story and a great slogan for rallies.
But the cold hard facts of dealing with climate change means people have to do things differently and that, in part, means reducing waste and handling sewage in new ways.
According to Port Coquitlam's SHARC Energy Systems, an average person uses in excess of 220 litres of water per day — although some sources put the figure at a third higher than that — 50% of which is heated and goes down the drain.
What if instead of letting that expensive heat dissipate in the sewer system, you collected it and used it to heat more hot water and to cool buildings?
One new development in Vancouver will do just that, using a wastewater heat recovery system built in Port Coquitlam.
The Piranha HC wastewater heat recovery system built by PoCo's SHARC Energy Systems will be used in the new Ella condo building that will be built in East Vancouver.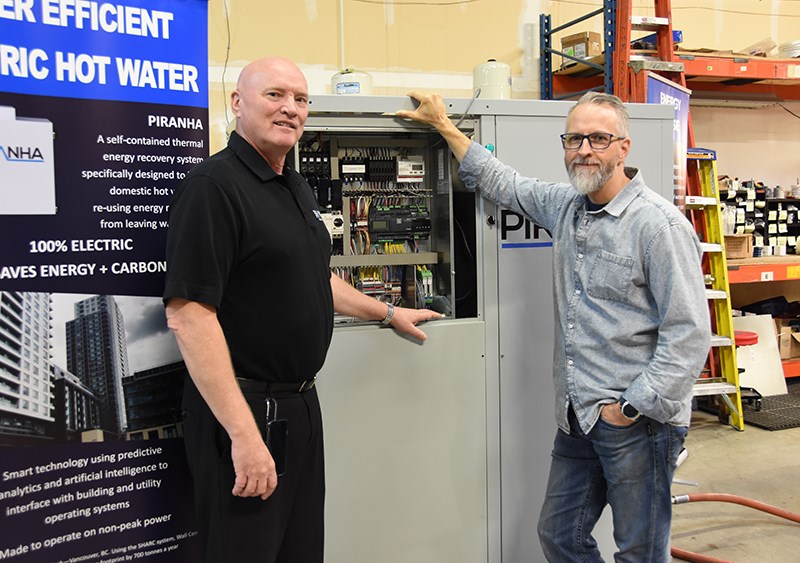 It will use warm water draining from kitchen sinks and bathrooms to heat more water, completely eliminating carbon, and the energy produced can also be used to cool the building.
CEO Lynn Mueller and Trevor Funk, director of operations, said a greener world of low carbon energy production can't come soon enough.
They point to the need for builders, corporations and cities to look at cutting carbon and energy costs, and believe their Piranha heat recovery system and larger SHARC wastewater heat exchange system will help those looking for innovations to reduce costs and greenhouse gases.
According to Mueller, the Piranha HC can reduce carbon emissions due to natural gas by approximately 500 kg of Co2 per person a year.
"We're seeing thousands of people out at climate change rallies, the vast majority are between the ages of 25 to 40 years, they're demanding what we do and that's very encouraging."
Motivating the two is a commitment to a sustainable future for their children and grandchildren, something Mueller said most people can relate to, while the need for energy efficient low carbon solutions is crucial.
He's travelled all over the world, including the Arctic, and has seen the effects of climate change.
"Those places I used to go to are under water today."
A recent prospectus for a public stock offering shows SHARC Energy Systems are being installed all over the world, including Scotland, the U.S. and Australia and China, as well as several buildings and a district energy system in Vancouver.
But SHARC isn't just focused on condos or large office buildings. The company is developing a hot water system for single family homes that uses solar power instead of natural gas to heat water, with a unique storage system that stores the solar heat for when it's needed.
The system is being tested in Funk's Coquitlam home and the two hope to introduce it to an upcoming HVAC conference, along with the data that proves it saves money and reduces carbon.
As B.C. building code requirements move toward net-zero construction, the two say such systems will be crucial, because buildings can be net-zero for heating and cooling but "they still have that one literal hole where all the energy goes."
So for those trying to be as energy-efficient as possible and to reduce their carbon footprint, they may want to start with a closer look down their drain.