Renters worried about losing their homes as the COVID-19 pandemic numbers are growing rallied in Coquitlam on Tuesday to demand more protection from evictions and big increases in their monthly rents.
Murray Martin, from the Burnaby chapter of ACORN that represents low- and moderate-income tenants, said the end of British Columbia's moratorium on evictions on Aug. 18 is putting many families at risk as they continue to struggle with the economic consequences of the COVID-19 pandemic. He said while various provincial programs implemented last spring to help tenants weather the public health crisis — like the eviction ban and rental subsidy payments — have ended, people are still struggling with reduced incomes or job losses caused by the pandemic.
"We've never had so many calls to our office," he said, speaking in front of the constituency office of Coquitlam-Maillairdville NDP MLA Selina Robinson, who was the provincial minister of municipal affairs and housing before Premier John Horgan called an election Sept. 21. "For a lot of people, the rental situation has gotten worse."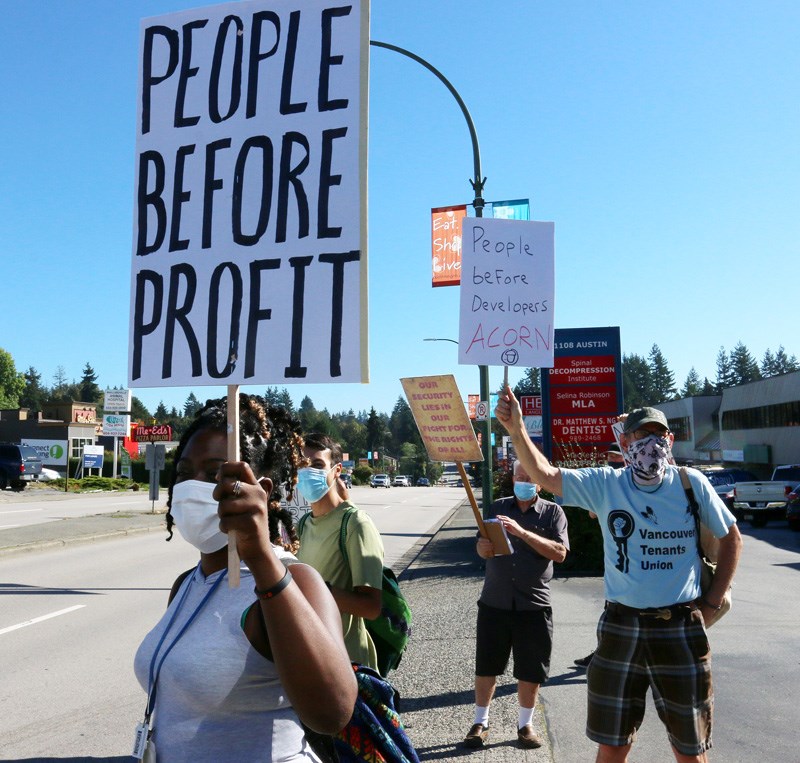 As about 15 people from Vancouver, Surrey, New Westminster and Burnaby held up placards and waved at motorists driving past the Austin Avenue office, Martin called for the reinstatement of the eviction ban, an end to rent debt in which tenants will have to make up payments they were allowed to put on hold in the pandemic's early stages, and the implementation of rent controls on apartment units themselves, not the people who live in them.
In August, the province announced a framework for renters to begin paying back missed rent payments in instalments beginning in October. But a survey of 400 renters conducted by the Vancouver Tenants Union found almost 70% of them don't think they'll be able to afford paying down their debt.
Robinson, who's campaigning to win a third term in the legislature, said in a statement an NDP government will "continue to monitor the situation to support those who are feeling the impacts of the pandemic."
She added a plan pitched by BC Liberal leader Andrew Wilkinson to eliminate the speculation tax on unoccupied homes would make the situation even worse for renters.
Martin said political bantering isn't helping vulnerable tenants.
"There's increasing homelessness, no matter what the government is."
— with file from Chris Campbell