The dramatic increase in overdose deaths in British Columbia is linked with the province's other public health crisis: COVID-19. 
Fraser Health's chief medical health officer Dr. Martin Lavoie said surging unemployment due to the pandemic has added stress that often leads to a rise in the consumption of illicit substances. Compounding the problem, shutdowns at the border have disrupted the flow of drugs, limiting supply and increasing toxicity. 
"The level of fentanyl, that is certainly one of the changes why we are seeing a number of increases in overdose deaths," he said during a press conference Friday. "All these factors have made a big difference." 
May was the worst month on record for illicit drug deaths in B.C., with 170 dying from an overdose. The number tops the previous record of 161 set in December 2016.
A new report released by Fraser Health reviewing the medical charts of 105 people who succumbed to drug toxicity in 2017 and 2018, found the majority of people who died were unemployed and suffering from a mental health condition.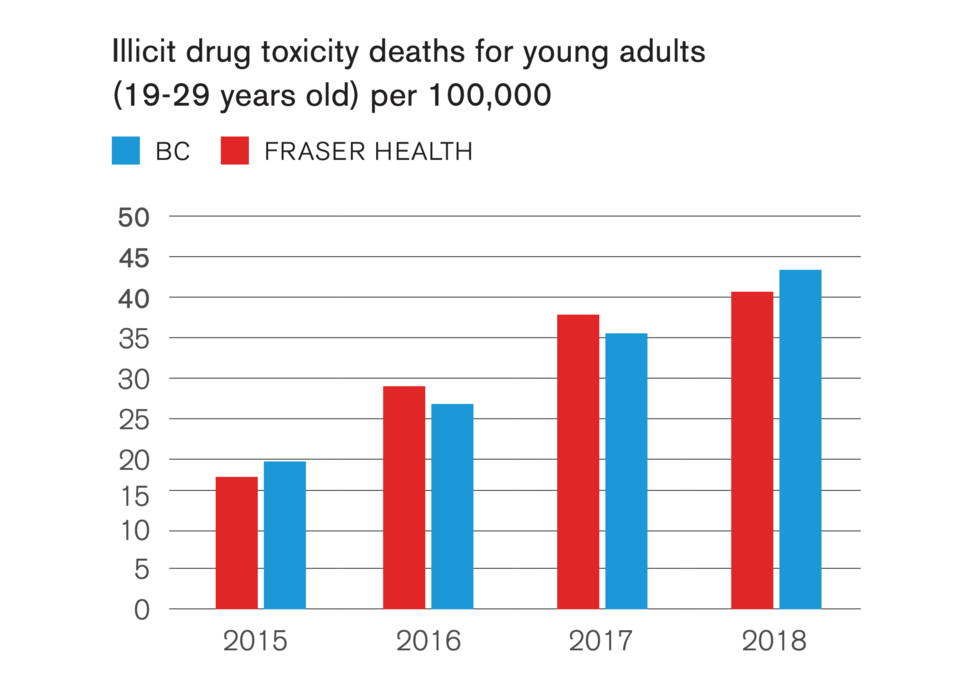 It also found increasing fatality rates among young adults, women and South Asian men. 
Among young people, the average age of the deceased was 25, while 80% were male and 88% were unemployed. The medical charts also found that in 69% of the cases, the person had a mental health condition.
Two-thirds of the women analyzed in the report were mothers, with 85% showing evidence of a mental health condition. The report noted that 55% "experienced or witnessed emotional, physical and/or sexual abuse in their lifetime."
The data also showed an increase in overdose deaths among South Asian men. Among that group, the average age of the deceased was 40, while 51% showed evidence of mental illness and 57% were unemployed.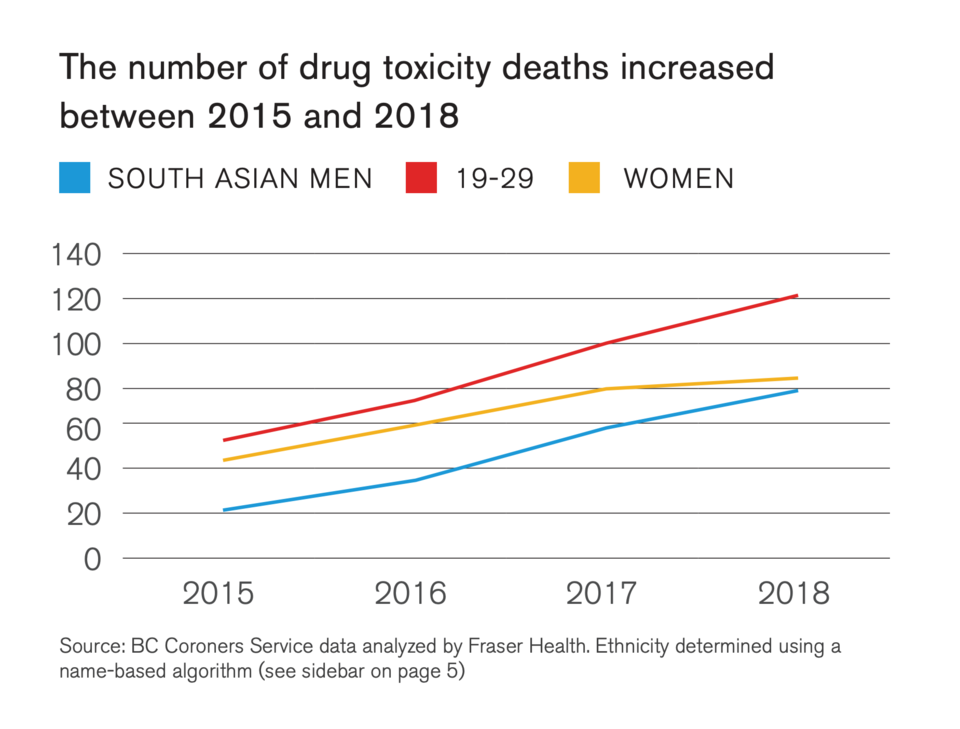 Lavoie said the findings will help Fraser Health guide its outreach as it works to decrease the number of drug toxicity deaths in the region.
"They have different patterns and trying to understand why they end up being addicted... gives us clues on how to increase the support," he said. 
There is help available for people who are suffering from addiction, he added.
Fraser Health has expanded its Roshni Clinic in Surrey, which offers "culturally sensitive and translated care" for people who need it. They are also increasing education initiatives explaining the signs of an overdose and how to use a naloxone kit. More resources are being produced in other languages and Fraser Health will be coordinating its effort with members of the South Asian community to seek recommendations on how it can enhance its services.
The provincial government is also funding a $10 million initiative that will see increases in community counselling services. 
"When people lose their life to overdose it is felt in communities and by families in every corner of our province and in deeply profound ways," said Judy Darcy, B.C.'s Minister of Mental Health and Addictions. "Stigma about using drugs and about overdoses is something that each of us, in every community, must work together to overcome so that more people come forward and reach out for the help they need."