Dan Gallant never knows what he's going to get when he picks up the phone.
Whether it's a hospital with 100 beds to offload, an optometrist with a brand new printer that doesn't work in her office or a linen company with a stack of sheets and gowns to give away, Gallant takes it all with a smile.
That's because he knows each and every item he and other Rotary World Help volunteers collect from hospitals, seniors' homes, doctors' and dentists' offices, clinics and individuals will eventually find its way to a community in dire need of medical supplies and equipment.
"We like to think of ourselves as a big recycling project," said Dan Gallant, a member of Port Moody Rotary and a director on the World Help board, noting the organizations saves the healthcare system from paying cartage or tipping fees, keeps equipment out of landfills and helps those in less fortunate areas around the world.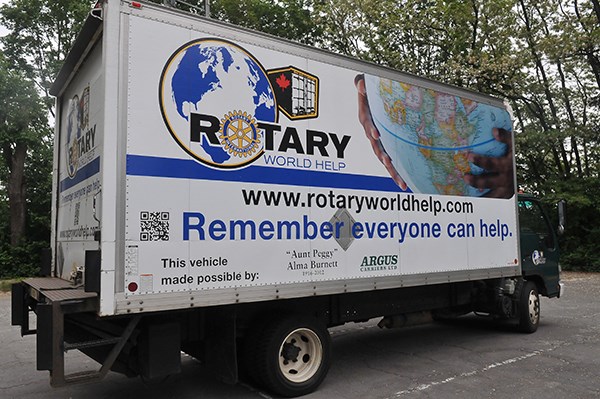 Shipments are triggered when Rotary World Help receives a humanitarian request from a club in a developing country.
Volunteers arrive at the Riverview warehouse, where stacks of hospital beds and mattresses, wheelchairs, crutches, X-ray machines and baby incubators are surrounded by boxes of medical supplies waiting to be inspected, sorted and repackaged. About once a month the supplies are loaded on to a 40-foot shipping container, destined for communities in developing countries in need of medical and dental equipment.
"When we fill a container there's no empty space," said Gallant. "We're paying good money to ship it and we want to fill it up."
Containers are sponsored by the 38 B.C. Rotary clubs that are members of the World Help network, either by larger, individual clubs or from contributions from the smaller groups. Others contribute by collecting items throughout the year and sending them down to Coquitlam when they have a trailer full.
Depending on the destination the shipments can range from about $5,000 (Philippines) to more than $12,000 (South Africa), and the receiving club assumes responsibility for clearing the shipment through customs, distributing the supplies and submitting an accountability report.
The operation has come a long way since its inception nearly 25 years ago.
In 1992 a group of Rotarians established a club in Kiev, Ukraine, and during their visit noticed the sparse medical facilities. Upon their return they "scavenged enough supplies" to fill a container for Kiev and "the seed was planted," Gallant said.
Rotary World Help was officially formed in 1997, and the supplies have arrived steadily ever since.
In fact, the organization is so well known that scavenging for donations is a thing of the past.
"They call us," said Rotary World Help president Ann Hulbert. And it's not just for medical supplies — books, school supplies and, recently, several pallets loaded with Canadian dictionaries were received for the group's humanitarian efforts.
So Gallant's phone keeps ringing, and he's happy to keep picking it up to find out what Rotary World Help will get next.
• For more information and details on donating, visit www.rotaryworldhelp.com.
spayne@tricitynews.com
@spayneTC

BY THE NUMBERS (as of February 2016)
• Containers shipped: 341
• Receiving countries: 59
• Estimated value of goods shipped: $119.4 million
• People who have benefitted from shipments (30,000 for each shipment): 10.2 million