Coquitlam is set to make another attempt to have the Riverview Hospital grounds designated as a national historic site.
Next month, the city's Riverview Lands Advisory Committee will talk about the application that, if recommended, will advance to city council for discussion this summer.
The city last applied for the National Historic Sites of Canada recognition a decade ago; however, it didn't go through because of the lack of provincial government support at the time.
Having the Parks Canada stamp won't affect the ongoing land-use planning for — or the legal status of — the 244 acres off Lougheed Highway, said Andrew Merrill, Coquitlam's community planning manager.
Rather, it may open the doors for possible federal funding for preservation, he said. And the designation would raise the site's profile to a cross-Canada — and international — audience.
The topic came up at last month's committee meeting but, because there was no quorum, a motion to council couldn't be made.
"Everybody was supportive of reactivating the application," Merrill told The Tri-City News, noting the 2009 bid will need updating to reflect the management change-over to BC Housing as well as include the new mental health facilities and the Kwikwetlem First Nation land claim, which was filed in 2016.
Merrill said the city application won't be tied to the October federal election, and it's unclear when it will be formally submitted to the Historic Sites and Monuments Board of Canada (HSMBC), if council endorses the bid.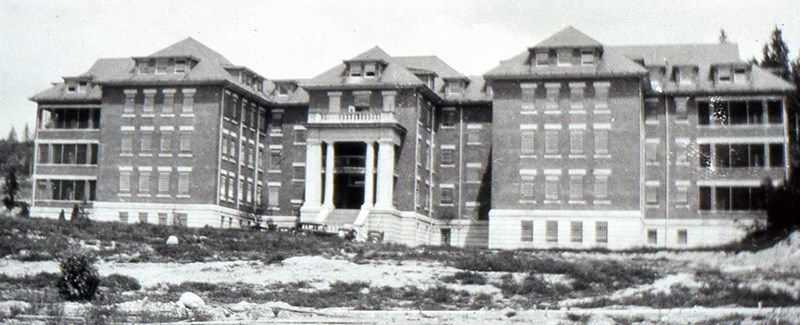 Riverview in 1924
Parks Canada, which manages the National Historic Sites program on behalf of the federal environment ministry, recently drafted a new system plan for national historic sites, outlining the direction for the agency; its public consultation report came out this week.
Currently, there are 20 designated national historic sites in B.C. including Stanley Park, Fort Langley and the Gulf of Georgia Cannery.
Riverview's history as a psychiatric hospital dates back to 1913, when the site then housed the Hospital for the Mind at Mount Coquitlam.
Over the next century, Essondale — and, later, Riverview — became known for its mental healthcare, with patients living in architecturally unique buildings and surrounded by a world-class arboretum.
At its peak in 1956, more than 4,300 patients called Riverview home and 2,200 staff worked on the grounds.
In 2008, Riverview was placed on the city's Community Heritage Register as well as the BC Register of Historic Places; the following year, it went on Canada's Register of Historic Places. It is also one of the busiest filming locations in North America, outside of a studio.