Parents and teachers might be interested to know that the first step in teaching coding to kids is not with high-tech digital gadgets but with analogue staples: card games, box games, chess and a Rubik's Cube.
It's all part of a provincial push to teach children the skills needed to be able to master current and emerging technologies. For the last six months, School District 43 has been organizing resources to teach the new Applied Design, Skills and Technologies curriculum to students from kindergarten to Grade 9.
"We've made it very accessible to teachers and have created lesson plans and work plans which we use to work out with teachers then tweak," explained Nicole Cruz, one of a group of teachers on the district's tech team.
At a recent SD43 board of education meeting, administrators told trustees that teachers are getting help teaching coding — more accurately described as computational thinking — with workshops, a website and lesson plans. A fund of $200,000 is being used to pay for some of this training as well as gadgets, such as micro:bits and Spheros that older elementary and middle school students can learn to program.

TRADITIONAL GAMES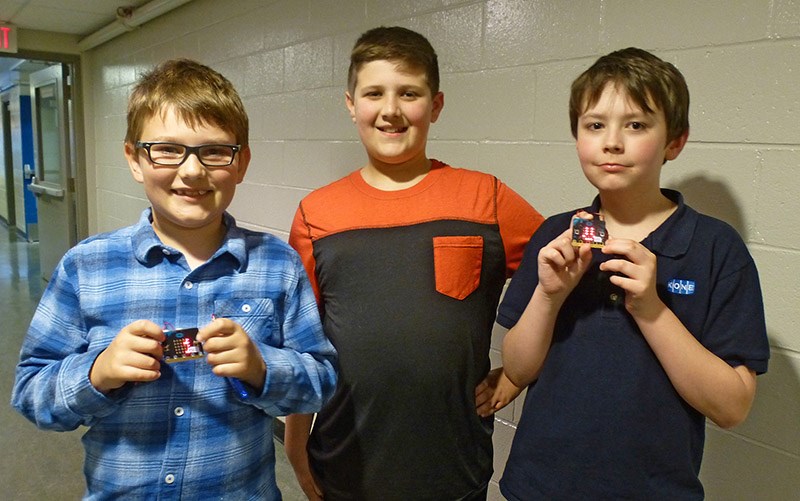 Students who were on hand for the meeting also told trustees they are having fun figuring out ways to program a micro:bit, a pocket-sized computer that can be used to light up LEDs in a pattern and connect with other devices to do even more tasks.
"It's inspiring for people to be making new things," said Mason Stanley, who is in Grade 5 at Blakeburn elementary school in Port Coquitlam.
But as Cruz explained later, while older students may be ready to program gadgets such as micro:bits and Spheros (robotic toys that can also be programmed), younger children are learning computational thinking with unplugged activities.
She unpacked a Coding Crate of activities that needed only a little imagination and some creative thinking to teach children skills that are the foundation of computational thinking.
The luddites and anti-screen-time advocates among us might take great relief in knowing that children as young as five aren't begin taught to write long lines of code on a computer screen to meet B.C.'s revised curriculum requirements.
What children are doing is learning algorithmic thinking — a list of steps that you can follow to finish a task — using hands-on toys such as the venerable Rubik's Cube.

MASTERING CONCEPTS
Among the toys included in the box was a deck of cards, picture cards that can be sorted to tell a story, cups with numbers on them and a pad of Post-it notes that can be used to map out movements on a classroom floor that children can follow. That activity could later be done using Scratch, a simple programming language, or Little Coder, where turtles are directed to change direction.
Such caches of code toys will soon be delivered to every elementary school in the district to help teach young students abstraction (removing details and extracting relevant information); pattern recognition (finding similarities between things); decomposition (breaking a problem down into smaller pieces); and algorithmic thinking — the building blocks of computational thinking.
"We've designed unplugged activities at each level. There's a progression that the unplugged activities are moving towards," said Cruz.
Once the students master the basic concepts in kindergarten to Grade 3, they can move on to visual coding, using simple programs such as Scratch, Little Coder or Hour of Code. Later, they can program gadgets (Grade 3 to 5) including micro:bit, Sphero and Makey-Makey, which allows users to turn anything that conducts electricity into a keyboard. In Grades 6 to 9, students will be expected to do all three levels of unplugged, visual coding and coding with gadgets but will also be expected to do more more traditional text-based coding.
The former computer teacher who is now helping put together resources for School District 43 says teachers are often surprised to know that activities they are already using in the classroom can also teach the kinds of thinking skills necessary to be technically literate.
"You don't need to be computer experts," Cruz said, "That's what this [SD43 teacher] website is doing, it's taking the fear out of coding and computational thinking."