Two years after Target left the local shopping landscape, Sears Canada is about to close, leaving many shoppers saddened and wondering about the future of retail.
Today, Friday, Oct. 13, the department store received court approval to liquidate all of its remaining locations and assets, including the retail outlet at Coquitlam Centre.
As many as 134 employees at the Coquitlam store will lose their jobs, 94 of them part-time, once store assets are liquidated, likely after the Christmas shopping season.
"Pending approval of the court this Friday, liquidation sales at all retail locations, would commence no earlier than October 19 and continue for 10 to 14 weeks. Most employees at retail locations will be asked to work through the liquidation process," a company spokesperson stated in an email to the Tri-City News.
The closure is a blow to the department store industry that has seen the departure of other icons, such as Woodward's, Eaton's, Zellars and Target.
Walmart has since moved into the space vacated by Target, but some local shoppers wonder what will be done with the large Sears space once it is vacated.
"This is really tragic," said Carol Blaber, who with her husband, Peter was checking out the Sears store on Wednesday, looking for deals.
The couple said the store has been a part of their lives for years. It's where they purchased their appliances, clothing and other household items.
"They stood by their appliances," Carol said.
With the arrival of online shopping, many say the future of brick and mortar stores are in doubt, but the Blabers say they have no time for online shopping.
"You can't look at a picture on a computer, it's not going to tell you anything," said Peter Blaber, who said he prefers to shop in a store if he has to make a purchase.
The couple is also concerned about the employees and where they will find jobs once Sears closes.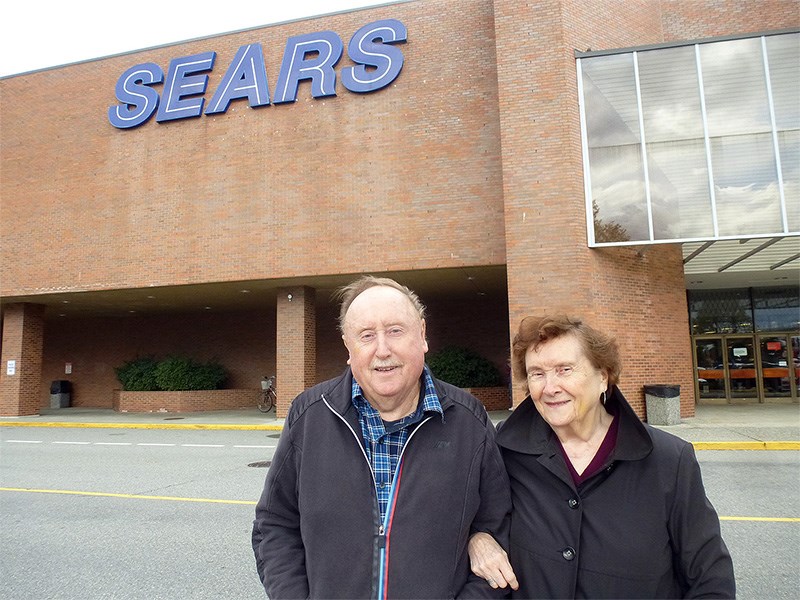 Similar worries were expressed by Catherine and Alan Oloman, who told The News they were sad to see the demise of Sears that has had such a long history in Canada.
Catalogue shopping, introduced when Sears first moved to Canada in 1952 as a partnership with Simpson's national mail-order business, is still popular with the couple.
The Olomans said they would buy clothes and toys for their children and grandchildren through the catalogue, the popular Christmas Wish Book, which inspired many a childhood gift wish lists to Santa.
"I'm sad to see it go. I think it's going to affect the economy," said Catherine, who with her husband has lived in Coquitlam for 45 years.
OPPORTUNITIES SOUGHT
Coquitlam Centre marketing director Deborah Stetz said the iconic retailer is currently leasing 151,455 sq. ft. and will be missed because it has a long history in the area, noting that Sears took over the space vacated by Woodward's when it closed.
"We've all grown up with Sears," she said. "Anytime you lose a major retailer, especially one with a history that Sears has, it's always disappointing."
However there could be opportunities as well, despite the looming departure of Sears whose stakeholders are seeking approval to sell its 130 stores across Canada and lay off 12,000 employees.
Located next to the Lincoln Station on the Evergreen extension of the Millennium Line, Coquitlam Centre remains an important destination for regional shoppers and Stetz suggested there could be some changes in the future.
"Ultimately, there's going to be opportunity at Coquitlam Centre," she said. "Consumers can be assured there will be another retailer or retailers or there may be an opportunity for redevelopment. Our focus is to find the best opportunity to serve the community as well as our customers."