A Metro Vancouver boating speed-limit pilot program from 2022 will stay in effect for 2023.
This includes popular Tri-Cities waters as boaters and paddlers begin to raise anchor for the spring-to-summer transition.
According to the Port of Vancouver, more recreational water-users said they felt safer in places like Lower Indian Arm near Belcarra after reducing the limit to five knots — just under 10 km/h.
The implementation is acting as a reminder of safe boating and paddling for residents and visitors to the community north of Port Moody, whose blue waves are under the watchful eye of the Vancouver Fraser Port Authority.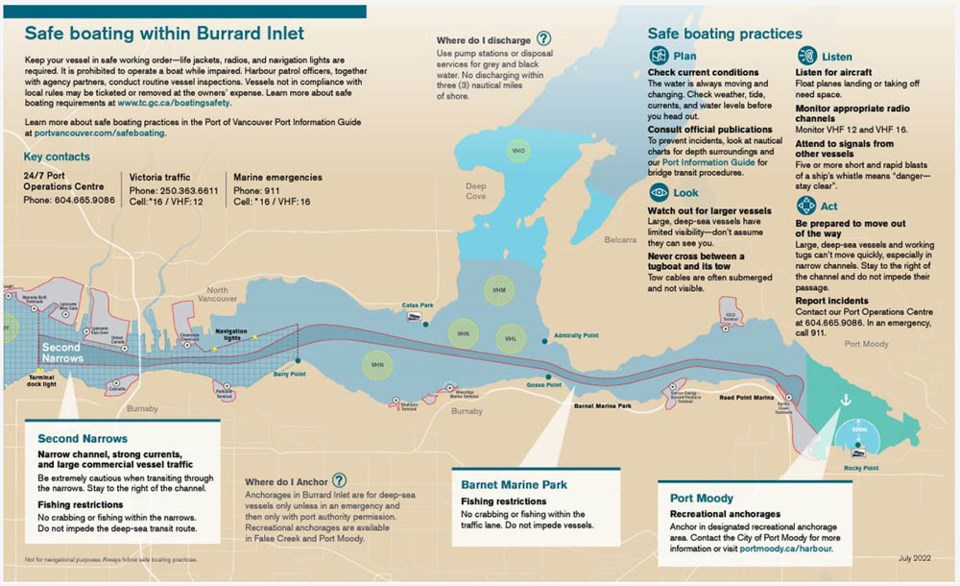 In a statement, spokesperson Jason Krott said Port of Vancouver representatives have seen an uptick in water traffic in the Lower Indian Arm and the Burrard Inlet as temperatures have risen in the last month.
"We love seeing boaters and paddlers out enjoying the waters that make up the Port of Vancouver, and our focus is working with all users to build the awareness and understanding needed to support a safe shared space for recreational and commercial traffic," he explained.
"For example, many recreational boaters and paddlers are unaware of the need to stay clear of large, deep-sea ships due to their limited visibility, slower stopping speeds and potential to cause dangerous waves."
Krott noted harbour patrols have already spoken to 30 per cent more water-users in the Tri-Cities — ranging from Belcarra to Port Moody — about safe boating compared to this time last year.
There were twice as many interactions in May alone talking about proactive safety advice and off-limit areas for non-motorized watercraft, Kroft added.
That includes those using kayaks, canoes and stand-up paddleboards, too.
The Port of Vancouver listed the following tips for water safety:
Watch out for large ships
Never get between a tugboat and its tow
Be aware of speed restrictions
Be mindful of others
Think about conditions

ie. wind, weather, currents and tides

Marine emergencies

911 or *16 on your cell phone
16 on your radio

Remain in communication
Bring along necessary equipment

ie. flashlight, whistle, sound-signalling device and lifejackets
For more information and maps, you can visit the Port of Vancouver's website.