There are three people running for the mayoral position on Coquitlam city council from the 2022 municipal election — set for Oct. 15.
Editor's Note: Hour-long candidate interviews with Adel Gamar and Richard Stewart were recorded on Sept. 9. The Tri-City News edited their comments for length.
Adel Gamar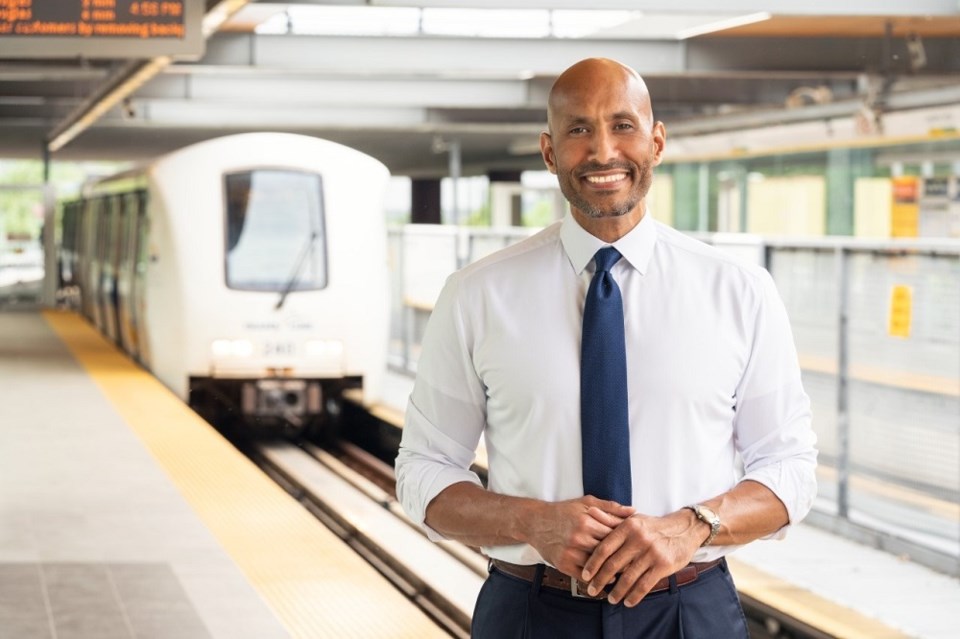 Age: 47
Years as a Coquitlam resident: 35 (not consecutive)
Occupation: CEO of a leadership consultancy
Website: gamarforcoquitlam.com
Email: info@gamarforcoquitlam.com
Facebook: @AdelGamarCoquitlam
Instagram: @adel.gamar
Twitter/YouTube: @adelgamar
Who is your campaign manager?
"We don't have a traditional campaign manager, but we have various people who have been supporting with specific lens and expertise."
(Gamar later emailed the Tri-City News that he has special advisors for "Seniors & Age-Friendly Coquitlam;" "City-to-Nation Partnership;" and "Families, Children & Public Spaces;" however, he declined to share their names.)
Why are you a better candidate?
"I ran four years ago. As a new candidate with five weeks campaigning, I was very proud of the work that we were able to do. We gave people an opportunity to be heard, and a choice. I came in second. I was very proud of the outcome. Over the last four years, the challenges that we've had have failed to be addressed. What I've learned is that seniors on fixed incomes are more anxious than ever about becoming homeless or having to move out of Coquitlam. I've heard families are still waiting 3.5 years to secure child care in Coquitlam. With my leadership experience, I recognize where there's an unmet need. Having a person who has served the city for 21 years, I think it's time for change."
Since the last campaign, how have you been a part of city hall discussions?
"Shortly after the election, I applied to a couple of committees and received a letter that a lot of people applied, and I was not offered a position. I have served on the Coquitlam Foundation board. My wife and I co-founded the Gamar Foundation and, for the last three years, we have been advising and mentoring young people to look around their cities."
If you're not at city hall in an advisory role, how do you get your information about municipal affairs?
"I pay close to attention to what's going on at council. I attend hearings. I watch the virtual meetings. And anything that's made public, and engaging with residents."
What is your education?
"University of Calgary, bachelor's of education. I was a kindergarten, Grade 1 and Grade 3 teacher. We moved to the Emirates where I was a high school teacher for Grade 11 and 12 with a Canadian organization. I have a master's in education degree in Educational Leadership and Management at the University of Leicester (UK) and worked with UNESCO as an educational specialist. At Harvard University, I graduated with a master's in public administration. I got a teaching position there, and was appointed a policy fellow at Harvard Law School."
You are board chair of Douglas College. Why is there no student housing at the Coquitlam campus?
"That is a good question that's on the minds of many of us. We recently celebrated the announcement that we have been working on for so long at 808 Royal Ave. in New Westminster. Housing is critical. How wonderful would it be to have student housing in Coquitlam? The transit is right there. It's just waiting to be tapped."
What is leadership?
"Leadership is not a position and a seat to occupy. Leadership is the capacity to bring people together where you can help make progress on complex challenges. If the mayor is just sitting in his seat or just being seen in the city at events and not advocating for seniors in Victoria or youth with mental health or single mothers facing homeless, it's not effective."
How is your campaign different from four years ago?
"From a policy perspective, the challenges are now more dire. There is a mood for change. The same mayor served for 14 years to the best of his ability. I salute him for that, but the challenges that we have today have clearly outgrown the capacity for change that people are expecting. I've seen a confirmation in collaborative politics. I also believe in hopeful issues that instill trust in their future mayor and elected representatives. I believe in the inspirational power of politics. People expect their mayor to make progress by listening, to help build a responsive city hall and to put people and their neighbourhoods first. Maillardville is not the same as Burke Mountain."
Est-ce que tu parles français?
"Un peu."
In your daily life, how do you acknowledge that you live, work, play and learn on unceded First Nations' territory?
"Before I committed to run, I asked for a meeting with Kwikwetlem First Nation Chief Ed Hall and his council. I asked for their blessing and wisdom. They said, 'We've never had somebody come to us in this way. This is reconciliation.' As we look to develop, I want to learn from the wisdom of Elders. I seek Chief Hall's advice regularly. It is part of our faith to acknowledge and honour their land."
What is your vision for σəμιθ̓ʷəʔελə/Riverview Lands?
"I certainly want to see it open and provide a lot of the mental health support that people need. When we immigrated here in 1987, my mom's first job was working at Riverview as a registered nurse. We have seen a lot of talk over the past few years and a lot of fingerprinting that somebody needs to do something. I don't think that residents of Coquitlam expect their mayor to solve every problem, but they do expect their mayor to convene people and use their platform to find ways to address these challenges."
Who is endorsing you, and who are you endorsing?
"So far, about 15,000 residents of Coquitlam. The biggest endorsement is every door that I'm at where they say, 'It's about time for a change.' I appreciate that the people of Coquitlam want independent candidates. They don't like slates or party politics. I will not be endorsing any candidate."
Are you in favour of implementing a living wage at city hall?
"Yes, absolutely. PoCo is. If we become a living–wage city, I know that businesses around the city will take the lead, but if we're not even having that conversation then we're not seeing progress. The mayor hasn't met the people that work at our leisure centres who work 40 hours a week — and they're still below the poverty line. He doesn't understand the data around it, that those who earn a livable wage spend locally. He's out of touch with good civic policy."
Why are you running for mayor and not council?
"People are yearning and asking for change, and that's with the mayor. We need change at the top. If you believe you have something to contribute to the city and want to inspire, you run irrespective of who's in office. I want to run a city for everyone. I don't want to have a long-term tenure. I commit to four years of hard work. I believe in term limits. Two terms is the cap; you can do wonders in two."
Mark Mahovlich
Third-time mayoralty candidate Mark Mahovlich did not provide his contact information to the City of Coquitlam as part of his nomination.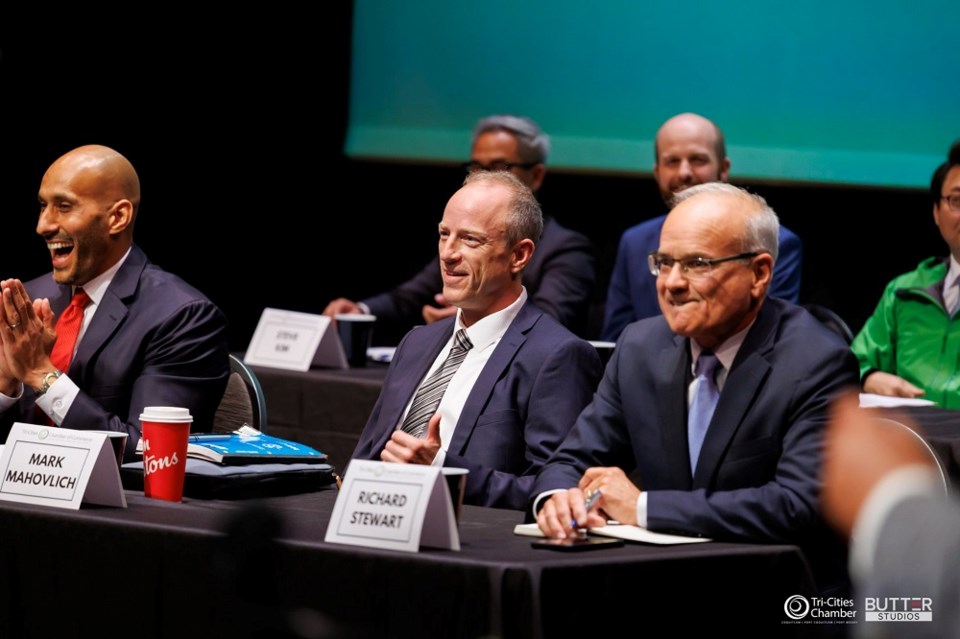 Richard Stewart (incumbent)
Who is your campaign manager?
"My wife."
Four years ago, you told the community you wouldn't run again. How can voters trust you?
"Four years ago, I told myself it would be my last term. I made that clear because I felt that I could walk away from the work with satisfaction and there was — is — another opportunity on the table, but Covid changed everything. It took away 2.5 years out of a four-year term and I simply wasn't able to complete the most important work I wanted to do."
Will this be your last term?
"This will, certainly. That is a commitment I made to my wife and family. This will be my last term."
Why is mental health your main driver?
"It's the most important and challenging issue facing public policy at all levels. It's a passion and a legacy I hope to change the direction of for local governments."
There was no byelection to replace Bonita Zarrillo. Do you think the city is above the provincial law?
"Not at all. That's why we went to the minister. We reviewed the legislation in detail. We got legal counsel to ensure that we had a sound basis for the decision of council, which was unanimous. It simply wasn't feasible to operate a proper byelection in the time that we had. Covid and the weather made everything more complicated. We have advocated to avoid elections in the winter months because of the complexities that places, especially for female candidates. We do set aside money for elections, but we guard every dollar to make sure it's spent wisely. Two elections in the calendar is not good sound public policy. I haven't heard from a single voter — other than the plaintiffs — that wanted to byelection. We need to get the rules changed in the Local Government Act."
There's been a common theme over the past term about lack of consultation with residents. Some say city staff and council don't respond. How can the city do better?
"We have way more consultation now than back in my first term. We didn't consult on almost anything then. Today, we do that much more. But we can have a 2.5-year consultation plan on the Austin Heights neighbourhood and you can post the photo of it a dozen times in the newspaper and someone will say, 'This is the first we've heard about it.' People are busy. There's a lot of noise. A lot people have specific sources for news. It is a frustration for every local government about how we can reach folks. We reach out every way imaginable and we still hear from people who haven't heard about an issue."
How can the city communicate more effectively to inform citizens?
"We now post public hearing documents online so that people can read the whole package, but there's no question that the statutory ad in the newspaper is sometimes hard to read. We've addressed it with staff. Is there a way to have more plain language and drawings? We have better drawings than most local governments coming before the public. I don't want anyone to come to a public hearing with the wrong information. But planning today is way more complicated than subdividing lots."
What is your vision for Coquitlam?
"The reality of the housing crisis has changed everything for local governments. I want Coquitlam to be more livable in four years than it is today. I want to continue the amenities for residents. I want walkable, non-car centric neighbourhoods around transit lines. I want everyone to feel safe and feel proud of their community. These are things that we hear from a lot of residents every day. But we also know that there's anxious. The quarter-acre lot that dominated planning 50 years ago is not possible any more. I want young people to be able to stay here and not be displaced because of the housing crisis. I want more jobs here. I want a complete community."
How can you get people to be Coquitlam–proud and stop littering?
"It drives me crazy. I think it's a struggle that every community has is the two per cent who feel that the coffee cup goes here on the lawn. It's a tiny percentage of people who don't have respect for their fellow residents. I suspect it's going to be hard to reach them. But you don't slap them with a fine."
There's been a lot of gun violence recently. Is Coquitlam a safe place to live?
"Yes, but the Lower Mainland and North America have faced a complicated reality of gang violence. Our community has seen less of it than others, but we're not immune. I really want the courts to support the police efforts to deal with gang violence. There are court decisions that have made it much more difficult to prosecute violent criminals."
When you first ran for mayor, you promised Maillardville you would get rid of the Hells Angels clubhouse. Why is it still there?
"The law doesn't support police and the communities they serve in tackling gang- and organized-crime activity. Local governments have few tools to tackle crime. The actual clubhouse doesn't have a lot of external impact on the neighbourhood other than its existence, but its existence is important to me. I desperately wish it wasn't there, and I wish I had the tools to make it go away."
When will the Fremont Connector be built?
"We now have an agreement with the City of Port Coquitlam. The connector isn't in Coquitlam. It was planned 40 years ago, but Port Coquitlam opted for a different route. I wish that provincial legislation allowed us more flexibility on how we fund it. We need Port Coquitlam's support in getting it built. About 150 years ago, the foothills of Burke Mountain were designated for housing and we need that route to take away the impacts on neighbourhoods in Port Coquitlam."
Why is there no living wage at Coquitlam City Hall?
"We're unionized. Everybody here is paid above the living wage. The challenge is we would be raising taxes to fund higher wages for a few contractors. It's a challenging public policy to implement. I am grateful that the province has raised the minimum, but I'm not sure if we should implement a two-tiered system."