More choices for dining out have just become available in Coquitlam as two popular brunch spots are now open for dinner and drinks.
The Tri-City News spoke to representatives from both establishments for more on what they have to offer evening diners.
On and Off
At On and Off Kitchen and Bar, located at 15-2662 Austin Ave., the menu has been expanded to include starters, charcuterie and cheese, which pair well with signature cocktails and wine, as well as new entrees, shareables and desserts.
Manager Johnny Kim said the goal was always to open for dinner with the atmosphere of the casual dining spot changing from evening to dinner.
It just took a little while to get a liquor license, Kim confirmed.
However, customers are enjoying the expanded menu and reservations are encouraged for both brunch and dinner.
"That's sort of what the name comes from; we do brunch in the morning, we turn it into a wine bar at night — that was the goal," said Kim.
He said an astounding amount of effort and detail has gone into creating the menu, with chef Elly Eom taking the lead in designing the dishes.
Among Kim's favourites is the mussels marinière featuring P.E.I. mussels, chorizo, fennel, crispy enoki mushroom, chardonnay cream with a grilled baguette.
Pastas include mushroom rigatoni, braised veal cheek and ricotta ravioli and spicy nduja ragu with bucatini pasta, beef and burrata topped with crispy sage.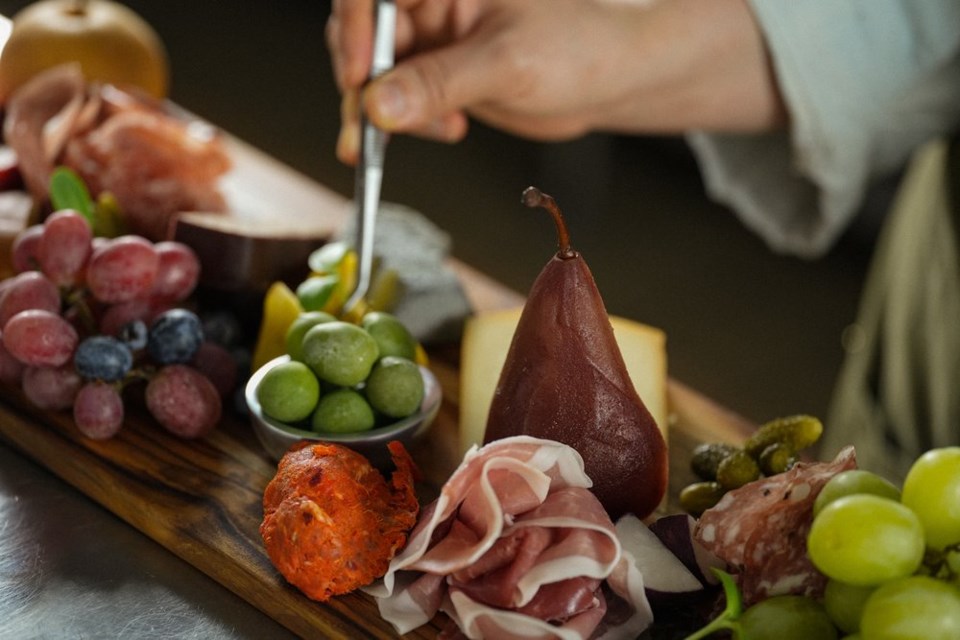 Kim is also excited about the entree dishes, which take hours of preparation.
His favourites include:
Roasted racks of lamb with pistachio and panko crusted lamb racks, parsnip purée, sautéed kale, blistered tomato, crispy herbed polenta, romesco sauce, and red wine jus
Dark ale braised short rib with cauliflower purée, sherry glazed brussels sprouts, double smoked bacon, roasted fingerling potatoes, fermented mustard, pickled pearl onion, veal jus
Japanese-style, charcoal-grilled sablefish, which is fire roasted with a miso glaze and topped with a 48 hour cold brewed sauce of sea urchin dashi, garnished withwakame, sake braised daikon, pickled shimeji, and topped with garlic chili oil and soy pickled shiso seeds.
The menu includes vegan and gluten free items, which customers have been asking for on Instagram.
A number of signature cocktails have been designed, including a lovely sounding hibiscus margarita and On and Off is planning special drinks and a menu for Valentines Day, Kim said.
Kim hopes the neighbourhood of Ranch Park near Mundy Park finds On and Off as they seek out new venus for what he called "elevated" food prepared with a lot of care.
C Market Coffee
Another new casual dining spot is C Market Coffee, located at 100 Schoolhouse St., which recently opened with dinner menus offering pasta, bowls and salads, following in the footsteps of its massive Port Coquitlam location in Fremont Village, where dinner items have been served for awhile.
"We wanted to introduce dinner to both locations to get people to come in the evening, as well," said company spokesperson Brittany Lussier.
"We always had brunch at Coquitlam, we wanted to make that all day."
Opened in 2019, the Coquitlam location boasts an on-site roastery, full commercial open kitchen, and upscale coffee bar and dining area while the Port Coquitlam location is large enough to host live music nights.
The new menu features a variety of pasta dishes, rice bowls, and salads, as well as a selection of appetizers, including the popular Honey Garlic Cheese Toast.
C Market Coffee will also be offering a Happy Hour on weekdays from 3-5 p.m. During this time, customers can enjoy dollar off drinks, including cocktails, wine craft beer, sparkling wine and coolers.
Owner Bridgette Hyun previously told the Tri-City News she's always looking for new ways to innovate and improve her business.
Those catching a movie at Cineplex Coquitlam may find C Market Coffee a handy location for pre-movie snacks.
Among the dinner offerings are: smoked salmon bowl, Korean fried chicken bowl, bulgogi bowl, spicy hot pot beef pasta, bulgogi cream pasta and truffle oil creamy mushroom pasta.
Brunch, featuring a variety of wraps and breakfast items, including waffles, is another option to consider for a treat, as well as desserts at both the Coquitlam and Port Coquitlam C-Market Coffee locations.