The British Columbia Conservation Officer Service took heat this summer for killing problem bears in the Tri-Cities.
Now, BCCOS is developing an external oversight mechanism that would deal with complaints about its officers' actions, according to the Ministry of Environment and Climate Change.
The ministry provided no details on how external oversight might role out and a spokesperson turned down requests for interviews with The Tri-City News.
The news comes a day after a critical report was released by the University of Victoria's Environmental Law Centre, in collaboration with the Raincoast Conservation Foundation, criticizing BCCOS for both a lack of independent civilian oversight and for failing to balance public safety with appropriate restraint in the killing of large animals. 
Under the current system, if someone wants to file a complaint over the actions of a conservation officers — including the killing of a bear — they must complain to the agency directly. That means there is no truly independent arbiter and no appeals process, claims the report.
"The essential problem is that the final decision is made by the BCCOS itself," the report states. "This self-investigative process does little to bolster public confidence in the BCCOS and is inconsistent with how we hold members of other law enforcement agencies — like police officers — accountable." 
To improve oversight, the report recommends expanding the role of the BC Office of the Police Complaint Commissioner — which is tasked with overseeing the province's municipal police forces — to include the BCCOS. Alternatively, oversight could be improved by putting the agency under the watch of the Environmental Appeal Board.
In the short term, the report recommends the provincial government improve the internal complaint and appeal process to create an automatic paper trail for public complaints and make the results of those grievances readily available to the public.
In an emailed statement to The Tri-City News, a spokesperson for BCCOS said the agency recognizes maintaining public trust and confidence is important, and that third-party oversight could help.
A QUESTION OF ETHICS
Beyond oversight and transparency, the report argues that conservation officers need to be given more direction when it comes to using lethal force to solve human-wildlife conflicts. The problem, it notes, is that officers are given too much discretion to kill large carnivores, something that has divided public opinion in many B.C. communities, including the Tri-Cities, where humans and wildlife come in regular contact with one another. 
The report highlights a high-profile case in 2016 in which a conservation officer euthanized an orphaned bear cub even though a wildlife rehabilitation centre agreed to take in the animal. And in 2015, a BCCOS officer refused to kill two cubs after officers killed the mother saying they were habituated to humans; the cubs were later rehabilitated and released into the wild. 
In the Tri-Cities, conservation officers have killed more than a dozen bears this year, and in one high-profile case reported by The Tri-City News, three Coquitlam residents were charged with obstructing officers as they hunted a mother bear and its cubs.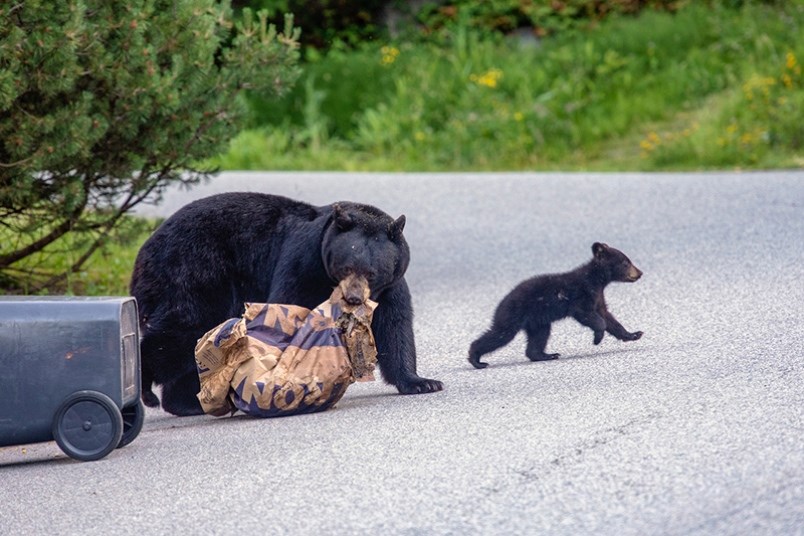 Under the current legal regime, there is no provision that expressly authorizes an officer to kill wildlife but there's also nothing that prevents an officer from doing so. That means government policy as well as an officer's training and discretion act as the only limit to how and when they kill. 
"The approach is a very anachronistic one and one that relies on lethal control," Chris Genovali, executive director of Raincoast Conservation Foundation, told The Tri-City News. "We need a more restrained approach to using lethal force and a better understanding of the science of wildlife behaviour."
When it comes to dealing with human-wildlife conflict, the conservation officers' only official guidance comes from the procedure manual titled Responding to Conflicts with Large Carnivores, which covers such animals as bears, cougars, coyotes and wolves, according to the report.
The report calls on government to conduct a thorough review of the procedure manual "to ensure protocols are clear and that they align with public expectations," and to review whether non-lethal measures — such as relocation, rehabilitation and hazing — are up to date with the current scientific understanding of what's effective. When using lethal force, it recommends exercising as much restraint as possible.
"We must have a policy that is acceptable both to wildlife enforcement officials and the public," it states.
SAFETY KEY CONCERN
In its emailed response to The Tri-City News, the BCCOS said that public safety is its number one concern, that its decision-making process is already guided by policy, procedures and scientific data.
But improving policy around human-wildlife conflict is not enough, argues the report. Instead, the government should transform improved policy into legally binding restrictions on how and when a conservation officer can kill a wild animal. 
That could mean restricting all use of lethal force, including only permitting an officer to discharge their guns when life or serious injury are on the line.
"We need to start to manage human behaviour as opposed to attempting to manage wildlife behaviour," said Genovali, pointing to limiting human attractants like open garbage bins. 
"I think that's one of the things that the [BC] Conservation Officer Service has been doing that is very positive."