Are you happy with where you're living in the Tri-Cities?
Turns out, those living in Ranch Park are among the happiest in all the region because of its proximity to schools and child care facilities for young and growing families.
A new report recently published by Properly — a B.C. home and real estate brokerage firm — states the Coquitlam neighbourhood has one of the best access to several school options in the region.
In fact, it's one of three Coquitlam areas in the top four for the category, in which 18 per cent of the survey's total respondents claim this is be a top priority when living in the Greater Vancouver Regional District (GVRD)
According to Properly, access to schools and child care providers is one of the criteria GVRD residents "actively seek out" when moving to a new neighbourhood.
Other factors include:
Being close to a park or outdoor area
Being close to restaurants, bars and coffee shops
Being close to a recreational facility
Being close to your cultural or religious community
Ranch Park has seven schools within its proximity, including Dr. Charles Best Secondary, Ranch Park Elementary, Meadowbrook Elementary and Riverview Park Elementary.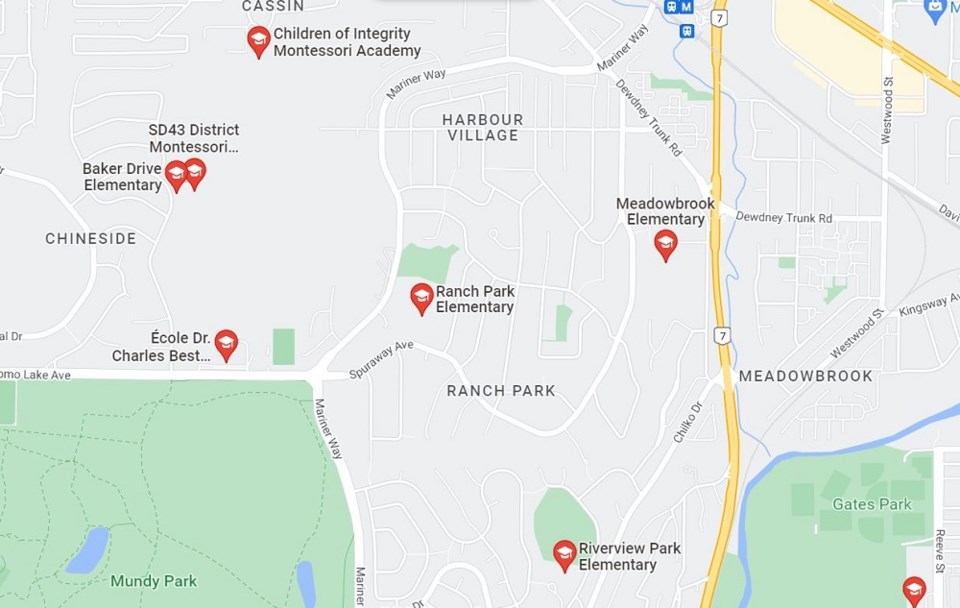 There are also seven child care facilities within its area: Ranch Park Kids Place Inc., Happy Grace Childcare, Parkland Players, ABC Child Care Centre, Little Stars Child Care, Little Rainbow House Preschool and Daycare, and Hami's Playhouse Infant and Toddler Daycare.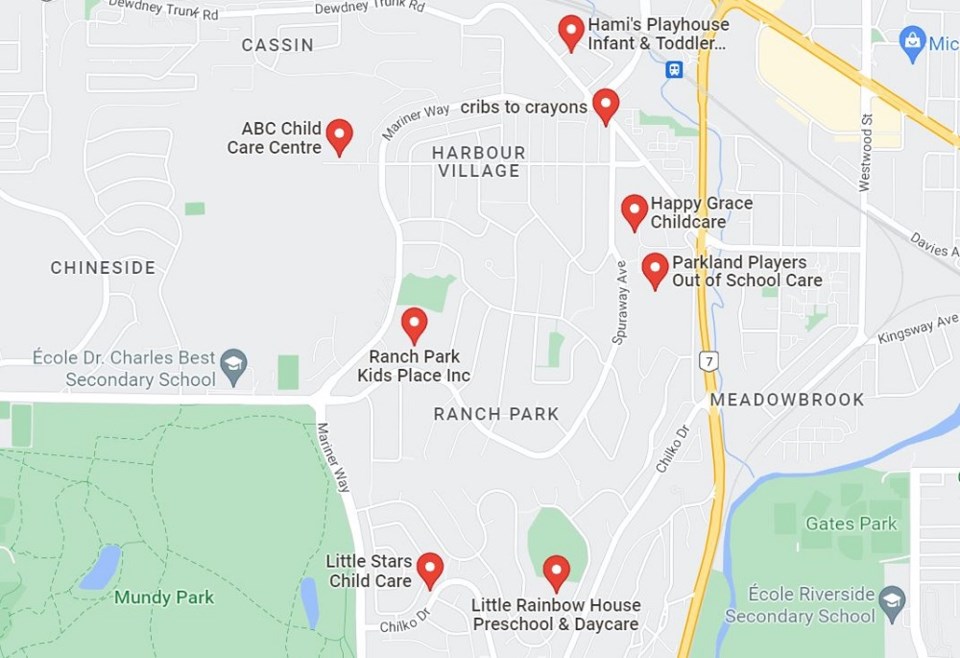 Coquitlam Central is next on the list, while Eagle Ridge sits in fourth for Properly's survey.
"In today's market, buyers have more choice when considering where they want to settle, presenting the opportunity to find the perfect neighbourhood to call home based on the characteristics most important to them," Properly explains in a statement sent to the Tri-City News, adding Canada is ranked the 15th happiest country in the world via the 10th World Happiness Report.
"Through the survey, Properly identified that 62 per cent of residents of Metro Vancouver are happy with where they live. Another important finding was that residents prioritize access to activities that promote a healthy lifestyle, indicating they have a significant impact on their happiness. In fact, 74 per cent of Metro Vancouver residents feel access to these activities has a positive impact on their overall happiness."
Meanwhile, Port Coquitlam's Citadel Heights is among the GVRD's top five happiest neighbourhoods due to its closeness to parks and outdoor spaces.
Its perimeter consists of Castle Park, Fortress Park, Coutts Park, Settlers Park, Eastern Drive Park and Marian Kroeker Park.
Properly's break down of its 2022 happiness survey findings is as follows:
Being close to a park, water or outdoor area (55 per cent of respondents)
West Point Grey (Vancouver)
Port Haney (Maple Ridge)
Albion (Maple Ridge)
Citadel Heights (Port Coquitlam)
University Endowment Lands (Vancouver)
- Most important to residents aged 55 years and older
Being close to restaurants, bars and coffee shops (50 per cent of respondents)
Golden Village (Richmond)
Windsor (Burnaby)
Downtown Vancouver (Vancouver)
West End (Vancouver)
Grandview-Woodland (Vancouver)
- Most important to non-parents than to those with children
Being close to an arts, cultural or recreational facility (19 per cent of respondents)
Queensborough (New Westminster)
Uptown (New Westminster)
Willowbrook (Langley)
Burnaby Heights (Burnaby)
Riley Park (Vancouver)
Being close to childcare or school services (18 per cent of respondents)
Ranch Park (Coquitlam)
Central Coquitlam (Coquitlam)
Saunders (Richmond)
Eagle Ridge (Coquitlam)
Steveston North (Richmond)
Being close to your cultural or religious community (10 per cent of respondents)
Sunset (Vancouver)
Douglas-Gilpin (Burnaby)
Oakridge (Vancouver)
Victoria-Fraserview (Vancouver)
East Cambie (Richmond)
- Most important to residents aged 55 years and older