A Port Moody startup is trying to change the world — eight square inches at a time.
And Tru-Earth is starting to make some headway. 
Last Thursday, the company announced its 2X4-inch laundry eco-strips have prevented more than two million plastic laundry jugs from reaching landfills and it was recently recognized by Canadian Business magazine as Canada's second-fastest growing startup.
Not bad for three guys from the Tri-Cities who want to make the world a better place for their children and decided to take a shot on a patent a family member had told them about.
Ryan McKenzie, Brad Liski and Kevin Hinton had been working together for several years in the media industry, publishing magazines like Explore and selling outdoor adventure products, when they were pitched the environmental benefits of technology that embeds laundry detergent into small paper strips that dissolve in the washing machine as the clothes are cleaned.
"How could this little product be so effective?" said Liski, who's lived in Port Moody for 24 years. "It seemed too good to be true."
But it was only when the three colleagues started to become acutely aware of the amount of plastic packaging used for things like their kids' toys, they decided to put the little strips to the test.
They licensed the technology from a manufacturer in New Brunswick, built an e-commerce website to sell packs of the strips on a subscription basis, and, from the corner of a warehouse in New Westminster, set a goal of attracting 150 people to buy their product in the first month.
They sold 10 times that many.
Liski said they opted for a subscription model to create long-term customers that could ensure a return on their financial investment. They also wanted to make their product as convenient as possible.
"There's a big demand for products to be automatically delivered," he said.
The success of the launch also gave the team valuable information about who was attracted to their product.
"We realized there's a lot of like-minded people out there who wanted something different," Liski said. "It was one of those 'a-ha!' moments."
Still, McKenzie added, the trio realized the challenge of changing the in-grained habits of consumers who've come to expect using liquid soap or plastic-encased pods to clean their clothes.
To educate, create buzz and foster community, Tru Earth leaned heavily on getting the word out about its product through social media, creating videos to demonstrate the waste created by plastic laundry jugs.
They also committed to buoy their message with a sense of social responsibility by donating their laundry strips to food banks, shelters and even hospitals. This year, the company has contributed enough strips to do 2.1 million loads of laundry; next year it hopes to boost that to 10 million.
"For a little company, we're pretty proud of that," Liski said.
Although, Tru Earth isn't so little anymore.
Since it's launch in April of last year, the company has expanded to fill a 12,000 sq. ft. space on St. Johns Street formerly occupied by the KoKo's kids adventure playground, with 110 employees sorting and packing 8,000 orders a day that are being sent out as far as Africa, Singapore, Australia, New Zealand and all over Europe.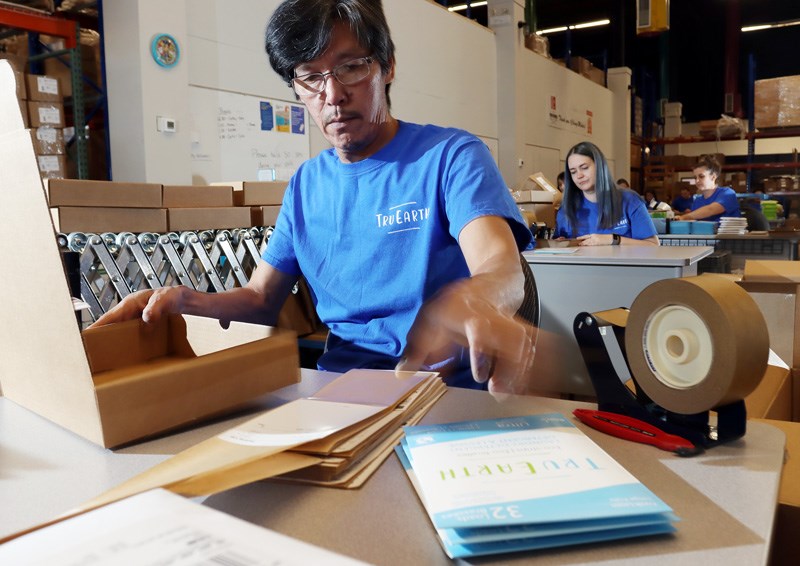 "I can't believe what we've accomplished," said McKenzie, who's from Coquitlam.
And there's new frontiers still to be conquered.
Liski said the company's goal is to have their eco-friendly products in the bathrooms and kitchens of the world as well.
"Consumers don't want plastic anymore," he said. "It's just the beginning for the planet."