Some enthusiastic Tri-City rock painting artists are turning sidewalks, trails and pathways into an outdoor gallery for walkers to enjoy.
The problem is these colourfully-painted stones are ending up in local creeks potentially threatening salmon and other wildlife, says the Hoy/Scott Watershed Society which runs a hatchery and recently released 5,000 coho smolts into the Coquitlam creek.
"We're not saying don't do it, we're saying that more consideration is needed because the stone could end up in the creek and the stuff might shed off the stone," explained president Robbin Whachell.
The rock-painting craze may have got its start with the Kindness Rocks Project in the U.S. but as people look for ways to stay connected but apart during COVID-19, the rocks have become a symbol and a statement of love and care for one another.
While they may look nice along side a woodland trail, more and more of them are being tossed into the creek and several were picked up during a litter sweep along the creek.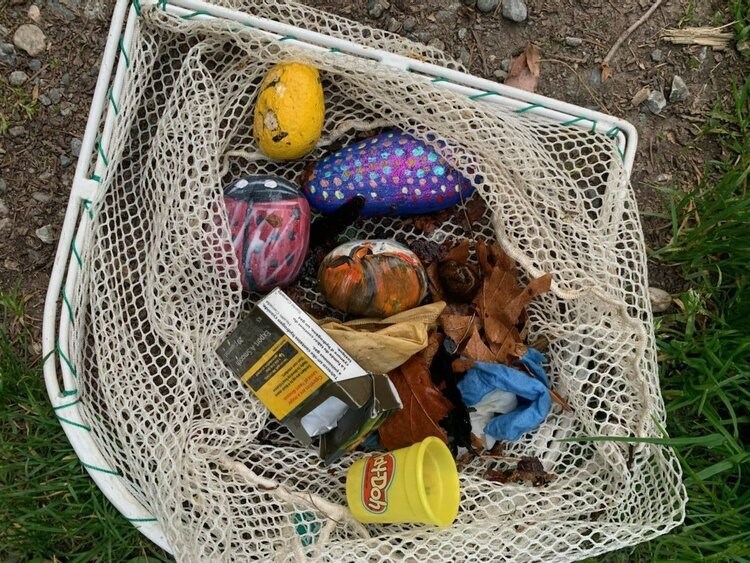 Whachell said glitter and stickers shouldn't be used to decorate the stones because the materials can wash off into the water and the paint used should be non-toxic.
While she appreciates the effort to create a miniature artwork on a pebble, she's encouraging the artists to be careful not to put their creation too close to the creek because it may inspire someone to throw it in the water.
Parents can also use the stones as a teaching opportunity for their children about the delicacy of nature, Whachell said.
"We do find concern in the number of stones now being spotted in our creeks. Please enjoy your walks, and also take this opportunity to teach your children about the wonders and fragility of our ecosystem," Whachell said.