Torrential rains lashed the Tri-Cities throughout Friday, Jan. 31, setting off flash floods across Port Coquitlam, forcing power outages and triggering at least one landslide in Coquitlam.
On the northern end of the Tri-Cities, Buntzen Lake remains shut until at least Sunday as saturated soils have prompted warnings from BC Hydro of potential road washouts and dangerous trails.
A rain gauge on Burke Mountain recorded 140.8 millimetres of rain within a 24-hour period Friday, the last day in a very wet month. According to BC Hydro, average January inflows into the Coquitlam reservoir were the highest observed since 1984, and in the neighbouring Alouette Reservoir in Maple Ridge, inflows were the highest on record since the '60s, forcing the utility to open up the spillway — the last line of defence for people downriver — for the first time since 1995.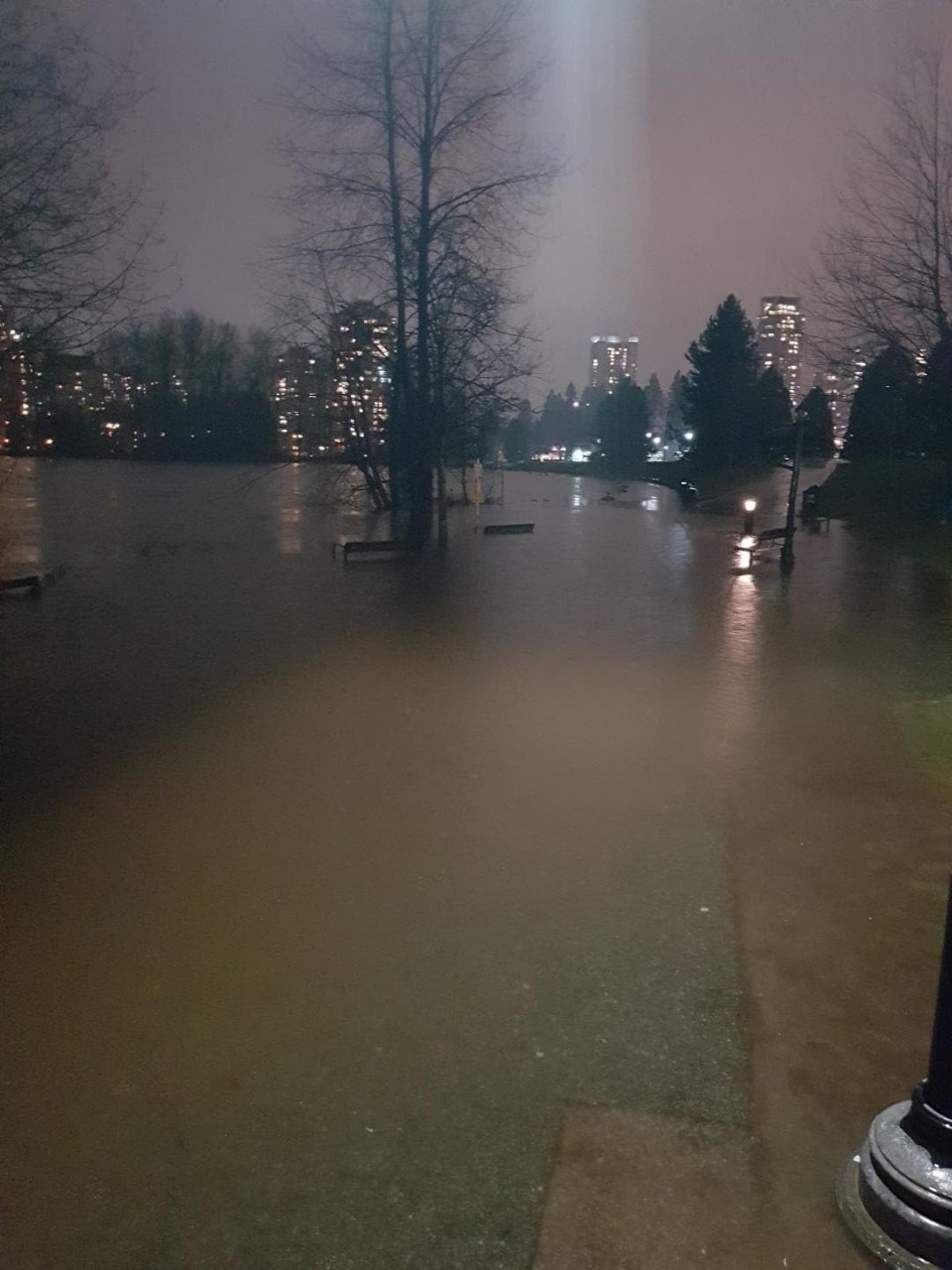 In Port Coquitlam, localized flooding hit at least five areas of the city, including Cedar Park, an area north of Devon Road, and up Cedar Drive. The worst of the flooding hit near the banks of the Coquitlam River around Kingsway Avenue and Bedford Street, and along Coast Meridian Road near Hyde Creek.
Carlos Manahan runs a daycare out of the bottom floor of a home a few doors down from Hyde Creek.  
He got a call around 7 p.m. from his sister-in-law.
"She was panicking," he said. "The water was coming in fast."
Manahan went straight to Home Depot, picked up a generator, pumps and hoses, anything he could find to hold back the water. 
"There were five of us just grabbing everything we could, running up to the checkout. I spent a fortune," he said.
Both BC Hydro and Port Coquitlam Mayor Brad West confirmed the torrential rains had torn debris from the river banks and flushed them downstream. When they hit the culvert passing under Coast Meridian Road, they jammed, creating a bottleneck and spilling water over the road and into the neighbouring properties.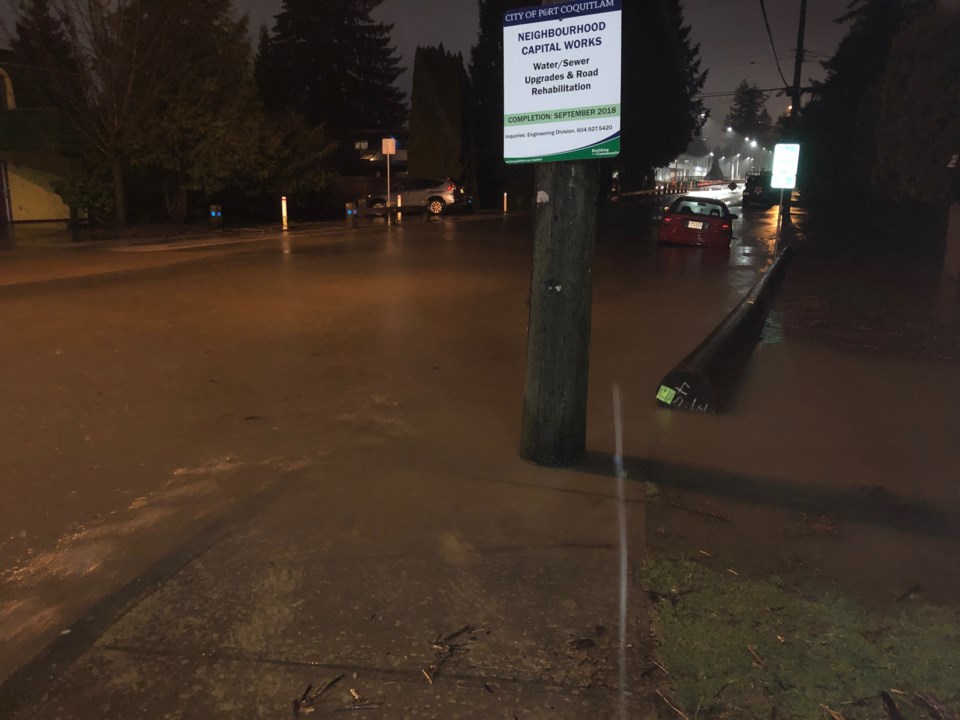 When Manahan arrived at the home off Coast Meridian Road, Hyde Creek had burst its banks and was cascading through his neighbours' yards towards his home. 
Manahan and his neighbour, Blaine Hourie, sit at the bottom of the stream's south bank, a bathtub-like depression, or "the deep end" as Manahan put it. By about 9 p.m., the water had crested to at least a metre deep. 
As tires floated into the driveway from Manahan's garage, he fired up the pumps.
City workers arrived with a backhoe and began clawing at the blockage in an attempt to stem the flooding. A dozen public works staff patrolled the dikes, streams and rivers — the city's "eyes and ears" — and the fire department called in a second alarm to bring in more firefighters. 
The rising waters around Hyde Creek prompted Port Coquitlam Fire and Rescue to call in BC Hydro crews, who cut power to 26 customers at about 9:30 pm. 
But the water pressure from the rushing stream made it nearly impossible to clear the jammed debris, and the flooding continued. 
"We were able to pull out quite a few stumps and logs. But it was a dent in the amount of material that was there," said PoCo chief administrative officer Kristen Dixon, who's in charge of city operations.
"At one point, the backhoe operator said, 'I'm sorry.' There was nothing he could do," Manahan told The Tri-City News.
Undeterred and desperate, Manahan, together with family and neighbours, grabbed logs pulled free from the river. Together with a few garbage cans laid on their side, they tried to create a barrier wall to redirect the water across the road and back into the stream bed. 
"You see that stuff on TV, but never here," said the neighbour, Hourie. 
By about 10 p.m., the city of Port Coquitlam shut down Coast Meridian Road from Patricia Avenue to Lincoln Avenue, while across town Kingsway at Bedford was shut due to the second serious case of localized flooding.
At 11 p.m., the city sent out a Tweet announcing it had set up an emergency shelter at the Hyde Creek Recreation Centre. Firefighters knocked on doors offering to evacuate residents hardest hit by the flood. 
"Nobody left," said Mayor West.
Manahan's family moved to the upper level of the house as he, his siblings and father — like many along this stretch of flood plain — worked through the night to beat back the waters. 
BC Hydro said it switched the power back on for 20 customers by 2 a.m. and for Manahan and six neighbours — those most affected by the flooding — by 9 a.m. Saturday. 
The heavy rainfall warning was lifted about an hour later, but the fallout from the last 24 hours is still being assessed. In Coquitlam, torrential rains triggered a landslide on Pipeline Road, prompting the city to shut a section to traffic between Robson Drive and Gallete Avenue.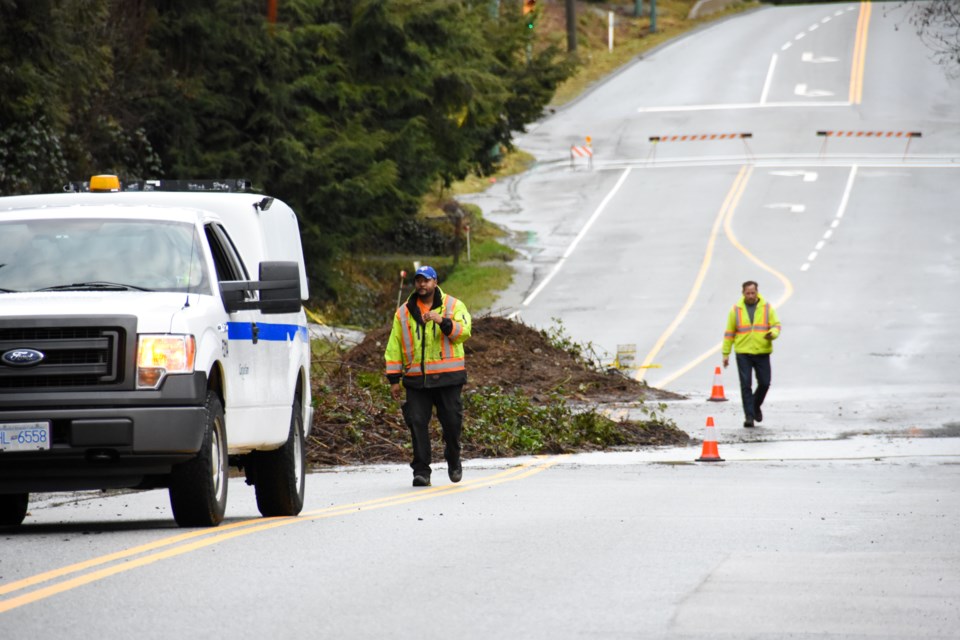 Saturday morning, Mayor West told The Tri-City News city staff were taking stock of the damage and were moving into the cleanup phase. And while West said he was proud of the way staff and emergency services executed their jobs — many working throughout the night — he also said the city would be assessing their performance in the coming days. 
"We weren't caught flat footed. We were able to deal with it to the best of our ability right away. But I think, obviously, anytime you go through something like that you want to reflect upon what has occurred," he said, adding city staff would be debriefing city council at its next meeting on Feb. 11. 
"We will have a full review and debrief and assess how this played out and what improvements, if any, we could make," said West.
In overseeing city operations, Dixon said the flooding is a reminder that residents should always be prepared, and have at least three days of supplies on hand all the time. 
"We are next to a number of rivers. Everybody needs to be prepared. Even if you're in a higher area, you never know what's going to happen," she said.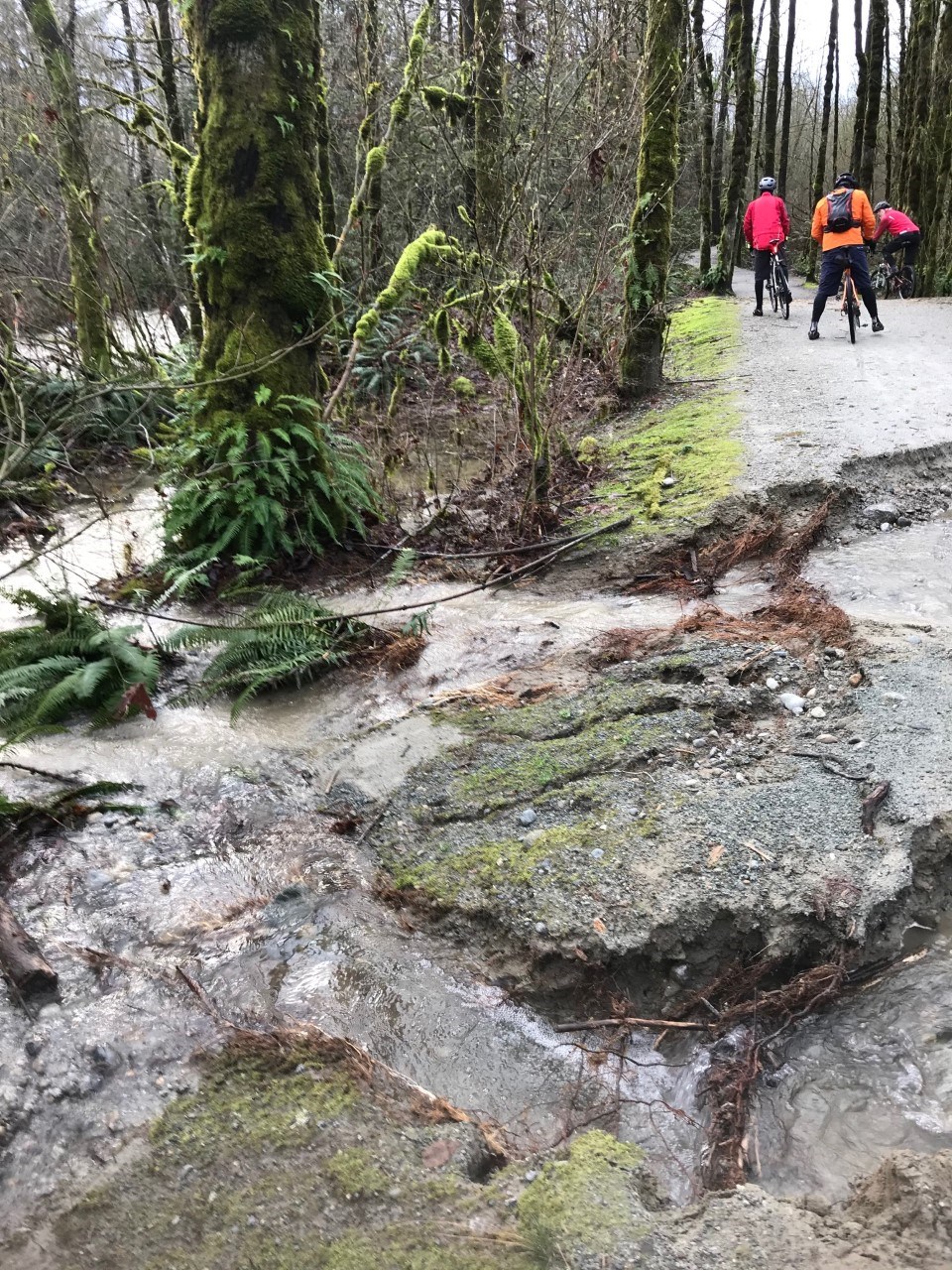 Manahan and his neighbours continue to dredge their basements of water and a thick layer of mud. Inside, a ring of dirt and debris marks the water's high point in what just a few hours earlier, acted as a daycare for eight children. 
Now, he's focused on finding spaces for the kids at one of his other locations in the Tri-Cities. "I'm worried about the families. They rely on us," he said, adding that he's working with Fraser Health to figure out how he can transfer the kids and staff to another facility.
Manahan said he has lived in the Tri-Cities area for a decade, his neighbours for 20 years. None of them have witnessed this kind of flooding, nor do any of them have any plans to leave. Under the hum of generators, pumps and fans, Manahan's swears he'll be ready for the next time. 
"I'm buying sandbags," he said.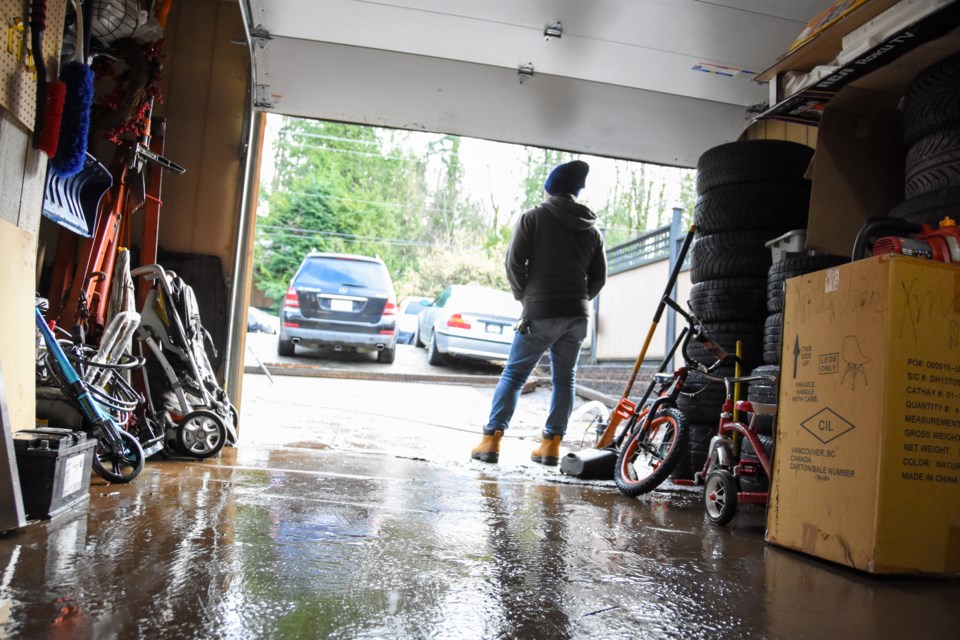 ——
Do you have photos or video of last night's flooding? 
We want to see and hear your stories. 
Contact The Tri-City News at newsroom@tricitynews.com.