Secure all attractants, and that includes leftovers from spring barbecues.
A Port Moody resident found that out the hard way after they were hit with a $230 fine under provincial law for "attracting dangerous wildlife" with tuna, hot dogs and pet food.
The BC Conservation Officer Service (BCCOS) said a thorough investigation found they had left out those specific foods on their property.
"The Conservation Officer Service cannot stress enough the importance of securing attractants to reduce human-wildlife conflicts," reads a statement from the BCCOS.
"Attractants can lure dangerous wildlife, such as bears and coyotes, into communities and into conflict, creating a risk to public safety."
The $230 ticket stems from a $200 base fine plus a $30 victim surcharge levy, listed under section 33.1 (2) of the BC Wildife Act, for attracting dangerous wildlife "to land or premises."
The fine increases to $345 if a resident intentionally feeds, provides, leaves or places attractants out for dangerous wildlife to eat.
More coyote encounters
Port Moody residents have reported 65 known wildlife encounters in the city since the start of 2022, according to WildSafeBC's Wildlife Alert Reporting Program.
As of Sunday (May 8), 15 of them were coyotes — 11 from April and the first week of May combined.
This is likely due to the weather warming up and the animals are in search of food.
WildSafeBC also says, 13 of the 30 total wildlife encounters Port Moody reported in April involved garbage or compost attractants.
The BCCOS says it's also noticed an uptick in coyote encounters in the City of the Arts and are working with officials to educate the community on "the importance of managing attractants, such as garbage, compost and pet food."
The City of Port Moody says coyotes adapt to live in urban areas.
"They are naturally timid but may act aggressively if they become too comfortable with people. With a few simple actions, you can help reduce conflict between people, pets and coyotes."
Tips include:
Be big, brave and loud

Scaring coyotes helps them retain a natural fear of people

Never feed coyotes

Coyotes that are fed by people can become bold and aggressive and may have to be destroyed
Keep a secure lid on your garbage and compost, do not leave pet food outside and pick your tree fruit before it falls

Pet safety

Keep dogs on a leash and cats indoors, especially at night

If the coyote does not run away or acts aggressively...

Make eye contact and face the coyote, while slowly backing away
Pick up small pets or young children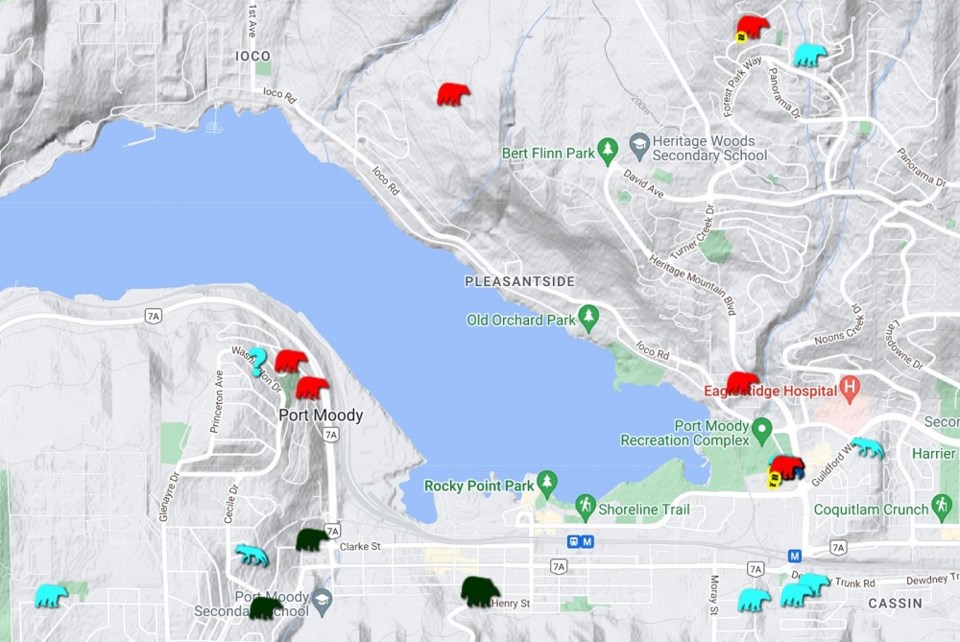 Bears in Port Moody
Meanwhile, WildSafeBC says there were 21 known bear encounters in Port Moody — 15 that were found rummaging through garbage and compost bins.
The organization also encourages residents to consider the following tips around bears:
Keep your garbage in or secured until the day of collection. Garbage is the number one attractant cited in reports to the provincial hotline
Manage your fruit trees

Don't let windfalls accumulate, and pick fruit as it ripens
If you don't want the fruit, consider...

Accessing a fruit gleaning group in your community
Washing the blossoms off in the spring so the fruit doesn't set
Replacing the tree with a non-fruit bearing variety

Don't put out bird feeders when bears are active

A kilo of bird seed has approximately 8,000 calories and is a great reward for a hungry bear

Keep your compost working properly with lots of brown materials and a regular schedule of turning
If you have livestock or backyard chickens use a properly installed and maintained electric fence to keep bears and livestock apart
The public is also being reminded to check all of your surroundings when out in the backcountry as bears are known to hang out in trees.
The BCCOS encourages anyone who witnesses a violation involving wildlife or environmental protection law to call the Report All Poachers and Polluters (RAPP) hotline at 1-877-952-7277.
You can also visit the human-wildlife conflict page of the B.C. government's website for more information.