Katherine Higgins admits she and her brother were oddballs in their family, growing up in California.
Their folks — a software engineer dad and educator mom — brought up their kids in a typical suburb close to Silicon Valley, far away from farms and livestock; neither had a background in or passion for agriculture.
So when Higgins and her brother asked to join the local 4-H Club, it took some convincing especially as Higgins desperately wanted to be near her favourite animal: horses.
When her mother turned down the request for safety reasons, Higgins opted for goats instead.
Over the course of 14 years, Higgins rose to become the club's goat leader and served on its executive board, rising to the position of vice-president. It was a great program, she recalled, "a very fostering community where there is very little competition."
Four years ago, Higgins moved to Canada to study sustainable agriculture at UBC (she is now in her final year). And last year, after the Ladner resident saw a gap in Port Coquitlam with 4-H, she called up the owner of Capriole Academy to see if a club could be based out of its operation.
Today, Higgins' program boasts seven members between the ages of 4 and 16 who follow the 4-H pledge: To the Head for clear thinking, the Heart for greater loyalty, the Hands to larger service and the Health to better living.
Together, they meet on Sundays at 12:30 p.m. to volunteer at Capriole and to work on their own projects, educational displays and district events, among other things. "We don't coddle our kids too much," Higgins said. "We want to teach them responsibility and about being outdoors."
Vanessa Perey, a Belcarra resident attending Port Moody secondary next month, said she joined the PoCo 4-H Club because "I thought it was a very good opportunity to get into things that I enjoy: animals and plants. It's been really interesting."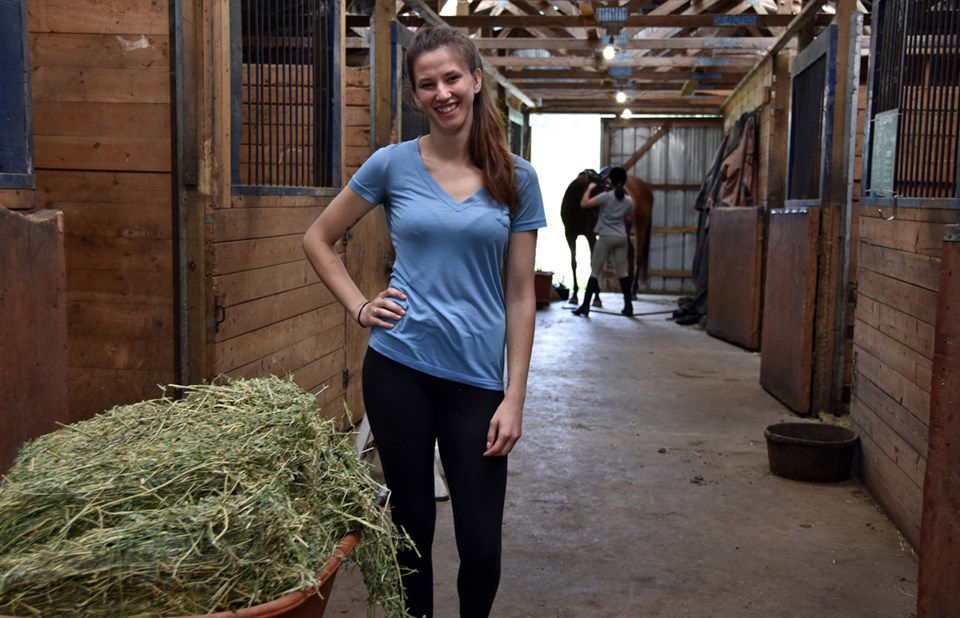 In June, Higgins successfully won a $1,700 grant from the Port Coquitlam Community Foundation, a philanthropic organization that supports local non-profit groups, to build a small goat barn, at the front of the academy. The money will be spent on tools and roofing for the 10' by 10' structure, which will house up to six goats.
Besides its farm projects, the PoCo 4-H Club also fundraises with bake sales (the $115 annual enrolment fee goes to the Fraser Valley district as it administers clubs from Chilliwack to Pemberton). To sign up, email portcoquitlam4h@gmail.com.
Meanwhile, 4-H Canada today (Wednesday) launched its first-ever national fundraising campaign. Go to 4-h-canada.ca/fundraising to learn more about the drive with Veseys Seeds.