A huge fire tore through a Coquitlam home late Thursday afternoon (Feb. 24), sending a family of four scrambling for safety.
Firefighters who were called to the 3100-block of Toba Drive before 5:30 p.m. said it was a "young adult child" who smelled smoke and alerted the family to get out and called 911.
The fire broke out in the garage of a two-storey home on Toba Drive and flames and plumes of smoke could be seen throughout the area.
Within five minutes of the call, 29 firefighters arrived at the scene and the blaze was "already growing rapidly," said deputy fire chief Scott Young in an email to the Tri-City News.
"Crews arrived to a large plume of thick black smoke and flames showing from the garage and up the front of the home to the roof," said Young.
Everyone got out safely, but it took 20 minutes to douse the blaze and another hour-and-a-half to put out all the hot spots.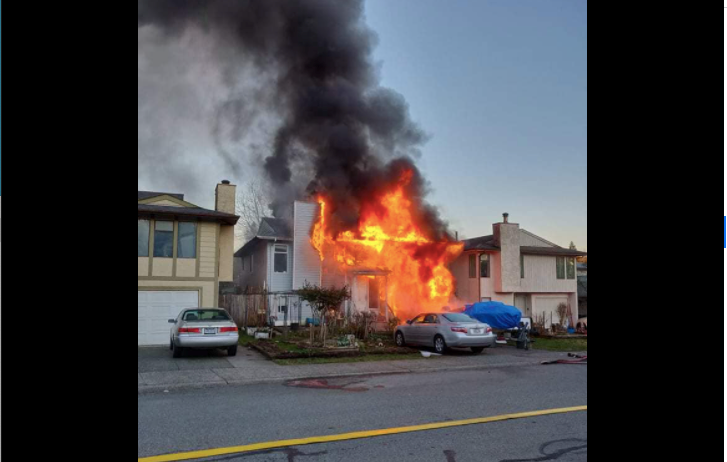 Approximately half of the home was destroyed, including the garage, which partially collapsed, making that area inaccessible, according to Young.
He said the family went to stay with relatives.
Meanwhile, neighbouring homes, which are located close to the burned building, were not damaged because of the quick response by firefighters, aided by six firetrucks and equipment.
The cause of the fire has not been determined, Young said, and an investigation is underway.
Neighbours reacted on social media with alarm and concern for a family who lost their belongings in the blaze.
One resident who sent in a video of the fire to the Tri-City News, and who declined to be named for privacy reasons, said she was worried about the people who lived in the home.
"I was looking outside from my balcony and noticed black smoke but didn't think much of it," the resident said in an email.
"Within a few seconds I noticed a small bright orange flame and then noticed the flames getting bigger and bigger. It was scary to watch and the only thing going on in my mind was ..is anyone home? What if they have pets?"
She was about to call the fire department but heard and saw a few fire trucks heading that way.
"I only wish everyone was safe," the resident said.
According to a friend of the family who posted on social media, the family lived in the home for a long time.
But they lost everything in the blaze.
The Tri-City News has reached out to find out if there is an online fundraising campaign for the family and will update when information becomes available.