Local streamkeeper groups are warning people not to fish for salmon after the remains of two chum were left near a popular trail in Port Coquitlam.
A mound of fish guts, bones and a knife were found on a trail Nov. 2 near the Hyde Creek Education Centre off Coast Meridian Road.
"The fish has given up 3.5 years of its life for nothing," said Helen Hawes, who is a volunteer and director with the Hyde Creek Watershed Society. 
Hawes believes that whoever killed the two fish planned to eat them, and they may have been surprised by someone because they left their knife behind.
"The heads gone. All of the flesh is gone. I have to assume they're eating it."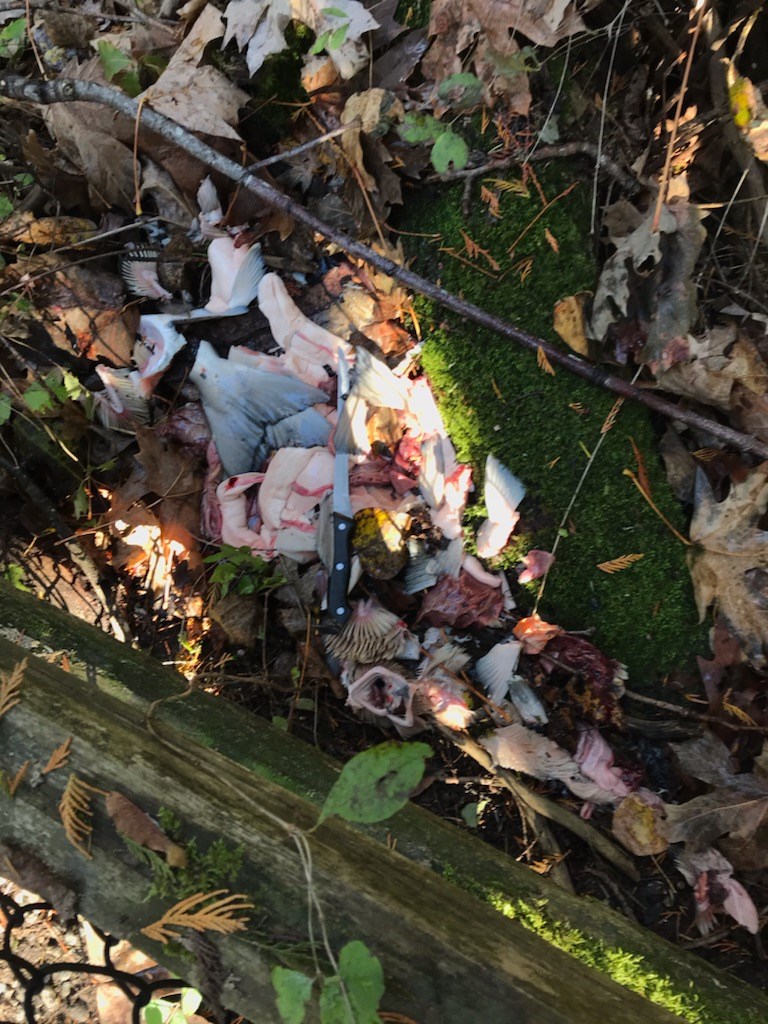 It's illegal at any time to fish in any of the tributaries of the Pitt River, including Hyde Creek, or in Hoy/Scott Creek, which is a tributary of the Coquitlam River.
But it's especially troublesome to see people killing fish during salmon spawning season, said Hawes, who said poaching salmon before they have a chance to spawn will harm the next generation by reducing the number of fertilized eggs critical for the survival of salmon in Hyde Creek.
"We're challenged enough trying to keep our streams healthy for salmon, let alone take salmon when they shouldn't be doing it," Hawes said.
So far, there haven't been any reports of poaching in Hoy/Scott Creek, however, there have been in other years, said Robbin Whachell, president of the Hoy/Scott Watershed Society.
Lack of knowledge about salmon regulations may be the reason people fish for salmon in local creeks when they shouldn't, Whachell said.
Meanwhile, chum salmon returns in the creeks have been good this year and coho are starting to return as well, volunteers report.
The Department of Fisheries and Oceans has been contacted about the poaching incident and fines of up to $1,000 can be imposed for violating BC Sport Fishing Regulations. The BC Conservation Officer Service can also be called about incidents of poaching.