The wonder of nature was highlighted during the pre-Christmas snow storm that drew hummingbirds to feeders across the Lower Mainland.
We asked readers to submit their photos and videos of the tiny birds along with solutions for preventing hummingbird feeders from freezing.
For many, witnessing the birds up close is an amazing experience.
"It was a miraculous experience to be able to see this divine creature so up close and for such a long period of time," wrote Sonja Grgar of Surrey.
Juliana Boratto of Langle sent videos of hummingbirds feeding from two feeders at her neighbour's house.
"My neighbour's beauties," Boratto commented, as she sent in the videos to the Tri-City News.
---
For ideas on keeping hummingbird feeders warm see story below.
---
For others, making sure hummingbird feeders were warm and accessible was a primary concern during the chill, when temperatures dropped to -10°C and below.
Handmade heaters warm birds
In Coquitlam, Al Miller makes and sells beautiful wood heaters that come with a heat lamp inside and can be hung under the eaves.
He figured out how to make the heaters after purchasing one for his mom, who lives nearby.
When the heaters became discontinued, Miller came up with a similar design and now sells them on Facebook Marketplace.
"It's just enough heat that it takes the chill off, it doesn't melt the plastic, it's not warm to the touch or anything," said Miller.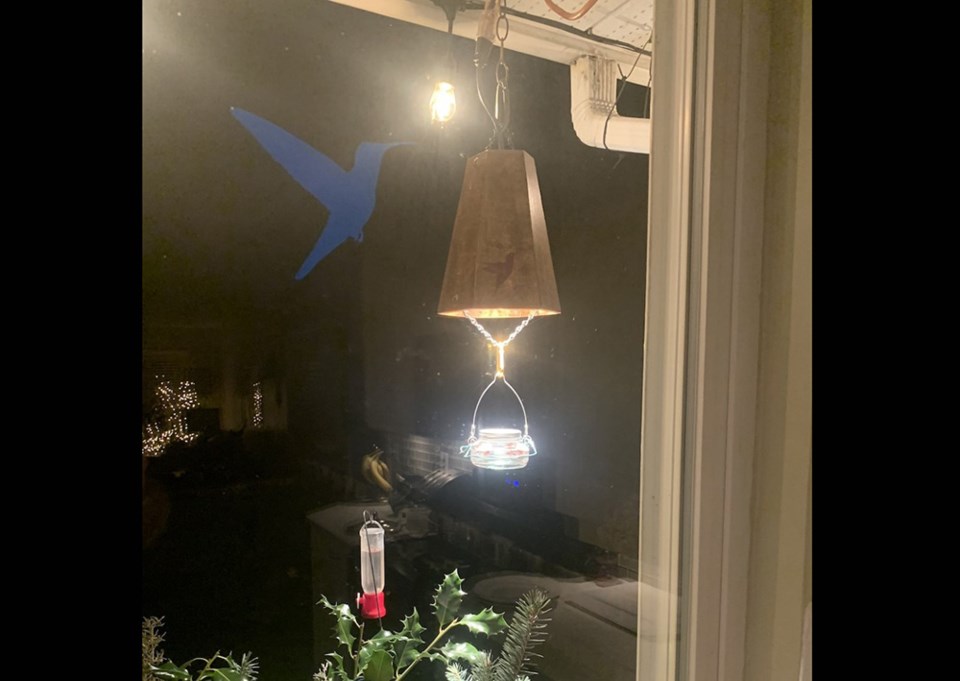 He makes the feeders by gluing together six panels of plywood he carefully cuts; then he stains and varnishes them while his wife, Paula, makes a hummingbird stencil for extra decoration.
Miller, who has lived in his Coquitlam home for 30 years, said he enjoys watching the hummingbirds feed from his feeders, although it can get hectic.
"It's almost like an air war out there."
At night, however, the male hummingbirds "make way for the ladies," he said.
"They hassle all day and close to bed time, around 4:30 p.m., the guys back off and the ladies get in for their evening slurp," Miller said.
Protecting birds during -10 C
Don Pittendrei sent in photos of a small lamp warming his hummingbird feeder under a roof overhang.
"My friend stays all day and night after minus 10," he wrote.
"The bulb is 50 watt and he/she moves back and forth to keep cozy."
Tanya Klein also makes her own hummingbird feeder, using a pop can, which she cuts the top off of and fans out she she can put the top back on. Inside is a tea light and it's attached to the feeder with pipe cleaners.
Klein notes that during the day she wraps the feeder in bubble wrap and brings it in each night.
Syd Pickerell, meanwhile, uses a trouble light to keep his hummingbird feeder warm while Angela Lavoie, purchased a heater for her hummingbird feeder.
Lavoie said her hummingbird "is grateful for the addition and now spends most of the day hanging on my patio light wires."
"It is sheltered and dry here and allows him to protect his food source. Just wish he would share with the others," Lavoie wrote.
Another reader found an ingenious method for keeping her hummingbird feeder warm.
"We've kept our feeder defrosted during the day with four hand warmers wrapped in a towel," writes Leanne Dennis.
"They come by all day long to eat and if they see you awake and their food isn't out, they will sure let you know — either by chirping at you or buzzing by your head if you are outside, or the stare down at the window if you are not."
- with a file from Kyle Balzer, Tri-City News