Riverview Hospital may have a history steeped in mental health and recovery but it's future as a filming site isn't dimming anytime soon.
Yesterday (Wednesday), an official from BC Housing, which manages the 244-acre grounds in Coquitlam, told the city's Riverview Lands Advisory Committee it handled 200 contracts from movie producers in the last fiscal year — up from 40 in 2004.
As a result, it's the most popular filming location in Canada outside of a studio, said Brenda Rattenbury, the agency's senior manager of film and special events.
Rattenbury said Riverview is popular because of its private location, versatility — offering green spaces as well as older buildings with pre-built sets — ample onsite parking and proximity to Mundy and Minnekhada parks as well as the urban City Centre.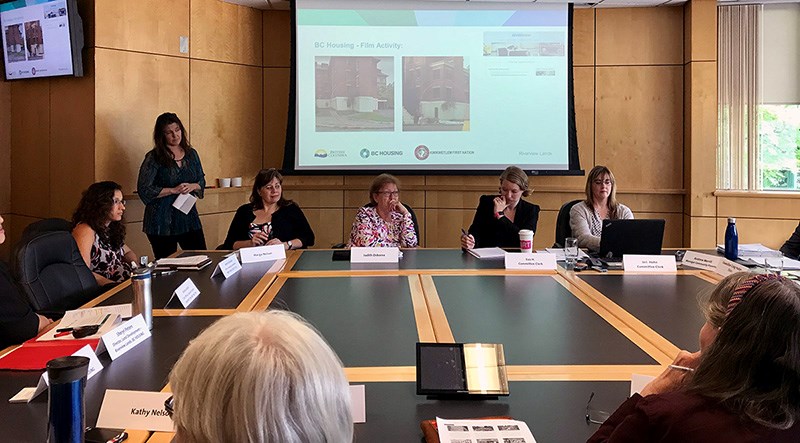 And though BC Housing doesn't name what TV or movies have been shot there, productions such as Deadpool 2 — starring Vancouver-raised Ryan Reynolds — have clear images of the East and West Lawn buildings, Crease Clinic and surrounding areas.
Rattenbury said Riverview can see up to five companies on site per day, either prepping, cleaning up or actively filming; all are monitored by BC Housing film liaison officers 24/7 to ensure safety and security protocols are met. "It's something that we take quite seriously," she told the committee, chaired by Coun. Craig Hodge. "We don't want to see tire tracks or trees lost."
As well, companies also have strict guidelines for filming at Riverview, she said: Producers must provide a synopsis and a copy of the film script to BC Housing for review; filming that negatively depicts mental health or religion — or sex or nude scenes — is banned.
As well, movie companies are require to have $5 million in commercial general liability insurance per occurrence, and there is a no visitors rule.
Still, despite the tough measures, Riverview is fully booked into next year.
"We are at a maximum film capacity at Riverview," said Sheryl Peters, BC Housing's director of land development. "We can't physically take them any more."
Rattenbury estimated each team spends up to $250,000 daily on filming days in B.C. on such goods and services as hotels and restaurants, and equipment rentals.
According to 20th Century Fox, more than 3,700 cast, crew and extras were hired for Deadpool 2 and, in its 80 days of filming, accounted for $2 million in construction supplies, $2 million in transportation and car rentals, $1.4 million on catering and craft services, $1.4 million on accommodation, $900,000 on wardrobe and dry cleaning, and $500,000 in gasoline.
"Coquitlam is lucky to be the home of one of the busiest and most-sought after film locations in Canada: Riverview," said David Munro, the city's manager of economic development. "Coquitlam not only benefits from the jobs and economic impact generated by productions at Riverview but also from the spin-off productions that occur in other areas of the community. Having a core film sector asset such as Riverview helps market Coquitlam as a destination for filming."
Meanwhile, Andrea Aleck, chief officer for special projects for KFN Enterprises, a branch of the Kwikwetlem First Nation (KFN) which has a land claim on the Riverview lands, said its new heritage certificate program for people working at Riverview will train up to 200 participants by the end of July.
"We are getting queries from other First Nations who want to run the program, too," Peters said. "It's a success."
Aleck said KFN is currently putting its artistic stamp around Riverview with public realm elements (i.e., street lamps, crosswalks, electrical boxes) with First Nations designs.
As well, Squamish First Nation artist Jody Broomfield — the creator of the Coquitlam salmon public art for the city's 125th year — is creating blue heron artwork in the Valleyview gym; KFN says Riverview was once the nesting area for the birds.
jcleugh@tricitynews.com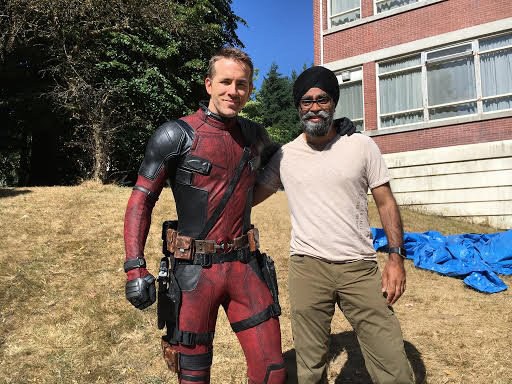 TWITTER/@HARJITSAJJAN
Deadpool — aka Ryan Reynolds — at Riverview with Canada's minister of national defence Harjit Singh Sajjan, during the filming of the blockbuster last August.
TV, FILM AT RIVERVIEW
Deadpool 2 (2018)
Supernatural (since 2005)
Watchmen (2009)
Fringe (2008-'13)
The A-Team (2010)
Jennifer's Body (2009)
Sanctuary (2008-'11)
Beaches (2017)
Finding Mr. Right (2013)
The X-Files