Gurgle. Gurgle. Crash.
That's how a telephone conversation with Coquitlam mom Sarah Payne ended earlier this week when daughter Emily decided it had gone on far too long and mommy's attention was needed.
For Payne, a communications professional working for the BC Non-Profit Housing Association — and a former Tri-City News reporter — the last week has been a bit of a juggle as her children Erik, in Grade 1 and Emily, in Grade 4, transition from spring break frivolity to a workable routine.
YouTube yoga, National Geographic nature videos, educational podcasts and a dinosaur show have kept her kids busy, with breaks for playtime on the trampoline, art and other activities.
"I would set them up on these things and go back to work," said Payne.
But like any parent or caregiver, some of her focus was tuned to the other room and whether her children were staying on task, fooling around or even arguing.
"It was OK. The kids were pretty good sports," Payne said. "I think they were kind of excited about what was happening next.
"I don't know how long that will prevail."
SCHOOL & WORK AT HOME
Payne is not alone wondering about the next few weeks or months as 32,000 School District 43 students, as well as hundreds of private school kids, transition from regular face-to-face school to virtual classes.
This is how life is now for thousands of families in SD43 as the COVID-19 pandemic upends family life, work and social schedules as well as classroom instruction.
"We will all have to be a little patient," said Marvin Klassen, president of the SD43 District Parent Advisory Council, whose two kids, one in Grade 12, the other in Grade 5, are adjusting to life at home with two very different education priorities.
The oldest, his daughter, who plans to go on to university, needs to focus on her calculus, while his son can do his worksheet in 15 minutes and spend the rest of his time practising soccer moves or chatting — remotely — with friends.
For Payne, whose two children are three years apart but both young, one challenge is finding resources that will appeal to both. And she said it's a lot of work going through recommended programs that have been posted on social media and government websites to make sure they will appeal to her two youngsters.
"I'm not complaining, I'm grateful to be able to work at home and be with my kids," she acknowledged, but the way forward is still uncertain and how much supervising she will have to do while also working is an open question.
Still, there should be light at the end of the tunnel, with school education plans rolling into place.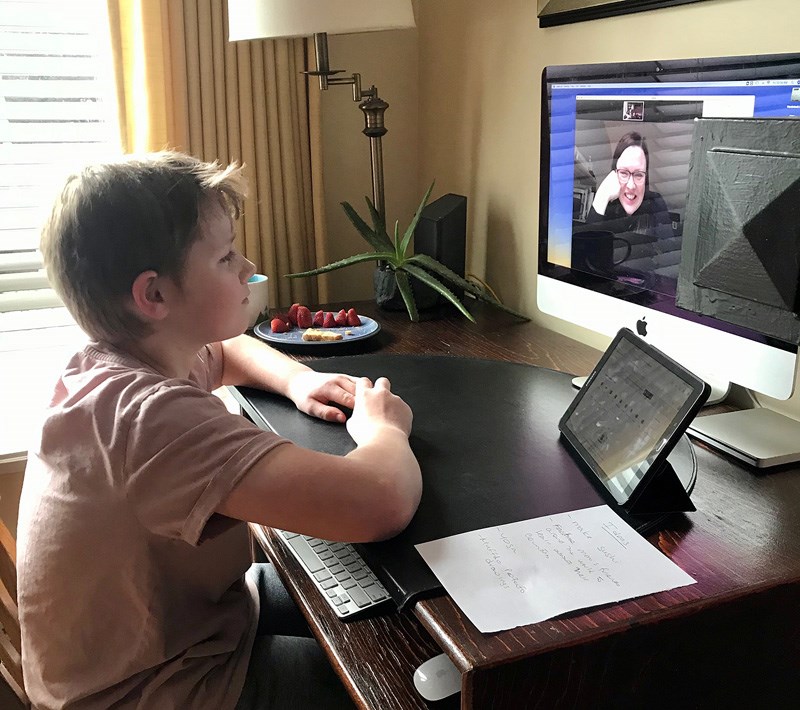 LET TEACHERS BE THE GUIDE
In the coming days, students will be getting much more guidance from their teachers, according to assistant superintendent Reno Ciolfi, who said this week schools are focused on communicating with parents, cleaning schools for to accommodate children of frontline health workers and first responders, and making education plans.
Emergency responders should have child care available by April 10, according to Ciolfi, who said schools are being cleaned and child care workers are being organized to look after kids under 12, who will also be doing their school work virtually.
Efforts are being made to ensure teachers have technology to do their jobs; most are likely to work from home, utilizing WorkSafe BC safety guidelines, while those who do work from school will have to observe physical distancing.
Next week, there will be more communication between teachers and students.
"Let this unfold and let the teachers be the leaders in the learning," Ciolfi said.
It's understandable that parents may be worried, thinking it's up to them to ensure their children meet curricular goals, but Ciolfi said instead they should focus on being calm and rely on their children's teachers to take the lead.
In fact, students in elementary grades aren't required to do more than five hours of academics and two hours of physical and health education (PHE) per week. For middle school kids, it's 10 hours of academic work and two hours of PHE. And high schoolers can expect to do three hours per course per week.
MENTAL WELLBEING IMPORTANT
"The first general area is on mental and physical well-being," Ciolfi said of the focus for the youngest students. "It's important to being calm and grounded."
The remaining focus will be on literacy development and numeracy. But don't be worried about rushing kids into this, Ciolfi said.
"Teachers will be staying in close contact with students, and once they are showing confidence and calm, they will be able to challenge them more."
To connect with kids, a number of apps and programs will be used, including Zoom for video conferencing, Office 365 and FreshGrade, which students can use to show teachers what they are working on.
Families that don't who have access to technology or the internet will be provided with resources, Ciolfi said, although he noted the district is still analyzing data from surveys to find out what the need is.
In the meantime, Ciolfi said he's confident this new system will work well, even as families struggle to get their minds around this new reality — and manage it with work and other priorities.
"Yes, it is a new way of delivering instruction," Ciolfi said, "but I have a lot of confidence in our teachers and support staff and administrators to do a great job of this and I'm optimistic it will go well."
For more COvID-19 stories, visit here.