How have you been affected by the coronavirus outbreak? We want to hear your questions, stories and concerns. Here's how you can get in touch.
Shop local while you still can and be sure to shop local again when life resumes after the COVID-19 pandemic subsides, whenever that is.
That's the message from the Tri-Cities Chamber of Commerce, which, along with local business improvement associations, is ramping up a campaign to support entrepreneurs in Coquitlam, Port Coquitlam and Port Moody.
The hashtags are #WeGotThisTriCities and #SupportLocal to get people to rally around businesses that are the backbone of Tri-City life.
While shoppers flock to big-box stores to buy supplies, local businesses, such as restaurants bars, small privately-owned art studios, gyms, spas and other operations are struggling, and if they aren't shut down now, they may soon be because of government orders under the provincial state of emergency or simply too few customers.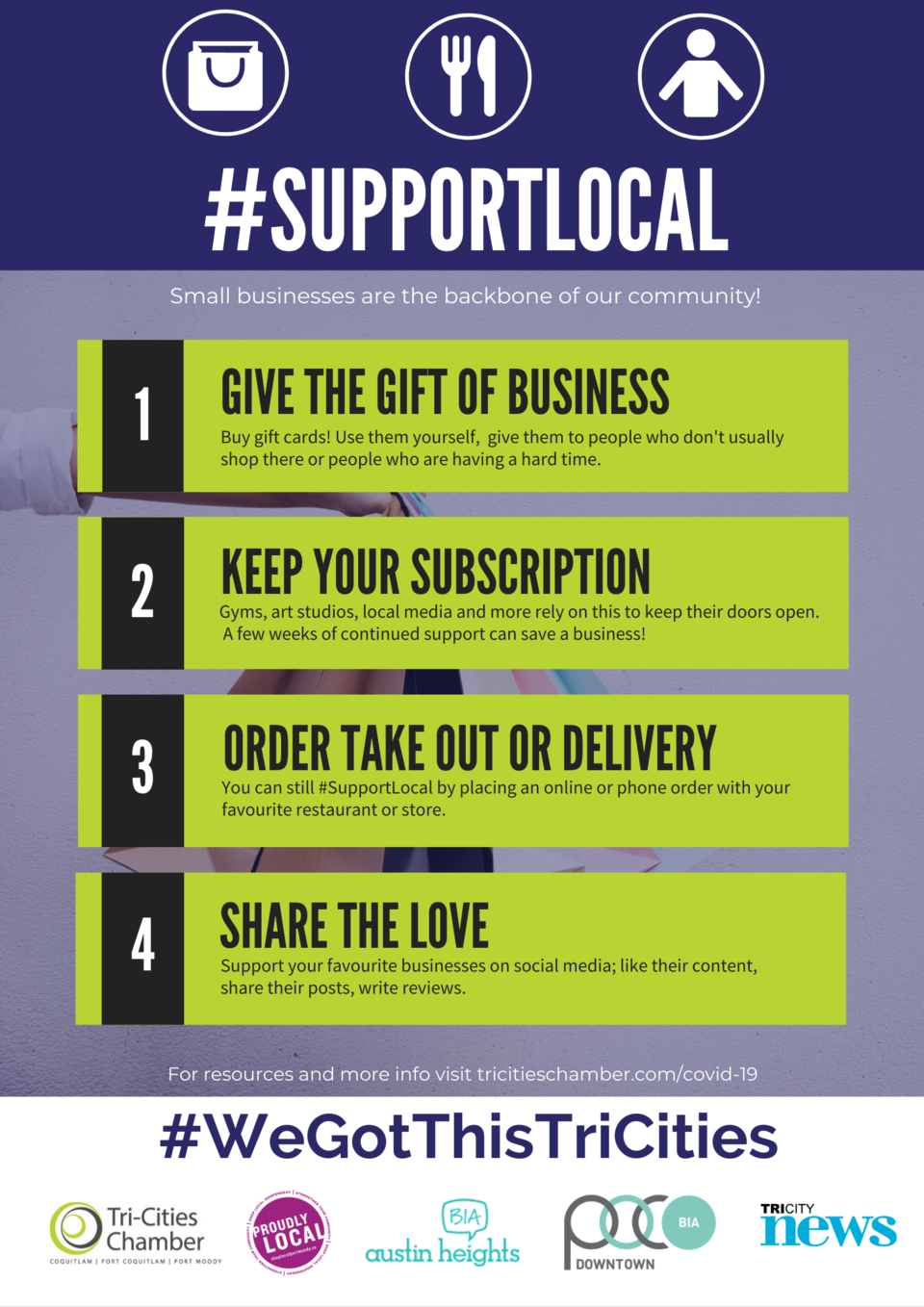 "The big-box stores are doing great, it's the little mom-and-pop shops that need help," said Michael Hind, CEO of the chamber.
According to the Tri-Cities chamber, here's what area businesses surveyed said about the economic impact of COVID-19:
• 88% said their business is affected from revenue, supply chain, human resources perspectives;
• 77% said the pandemic would have a significant economic impact on their business;
• 83% said their were experiencing a drop in revenues, business or deal flow;
• 59% said they were experiencing a decrease in demand for products and services.
Hind said Tri-City residents should use this time while things are still open to purchase gift cards for use later or to give away and find other ways to support local businesses virtually, by ordering delivery and even doing business in person, where that is still possible.
"Ask a business, 'How can we help you," said Hind, who added that he suspects a total shutdown, as is taking place another countries and in California, could happen here, so time is of the essence.
The chamber is also collecting information from businesses that are still open so people can continue their patronage.
"We're forming a hub for local business so they have a place to go for information and resources during this crisis," Hind said. 
Jennifer McKinnon, executive director at the Downtown Port Coquitlam BIA, said she is already hearing from businesses that these are trying times and hopes #SupportLocal and #WeGotThisTriCities will motivate people to come together to support businesses in their community — and to continue to patronize them when regular life resumes.
If you're a business, or a shopper and want to know where to go, check out the chamber's website at tricitieschamber.com.
In addition to providing information and resources for Tri-City businesses facing COVID-19 impacts, and providing information about government assistance, the chamber is also working on a recovery plan together with the cities of Port Moody, Port Coquitlam and Coquitlam.
"When we get through this, business will need to get back on their feet and up and running, we will be there to support them through that."
Other business groups supporting the initiative include Proudly Local, Austin Heights BIA and The Tri-City News.
Some businesses, such as Gabi and Jules in Port Moody are adapting by promoting delivery while others are offering a discount for pick up.
Yet other businesses, such as Save-On-Foods, are trying to reach out by making shopping hours available to seniors and others, like IKEA, are closing temporarily.
Read more of our COVID-19 coverage here.