Dr. Charles Best students got a first look at school under strict COVID-19 protocols Thursday morning as they arrived wearing masks and carrying smart phones, many with headphones tucked discreetly in their ears.
If school is an important social equalizer, then Best fit the bill because students looked very much alike in their masks as they stood alone or grouped in twos or threes waiting for doors to open on the next phase of their life — albeit governed by new physical distancing rules that limit contact even with friends.
"Step away six feet," Joel Nelson, vice-principal of the Coquitlam school, urged through a megaphone has he explained the new protocols that "we all have to get used to."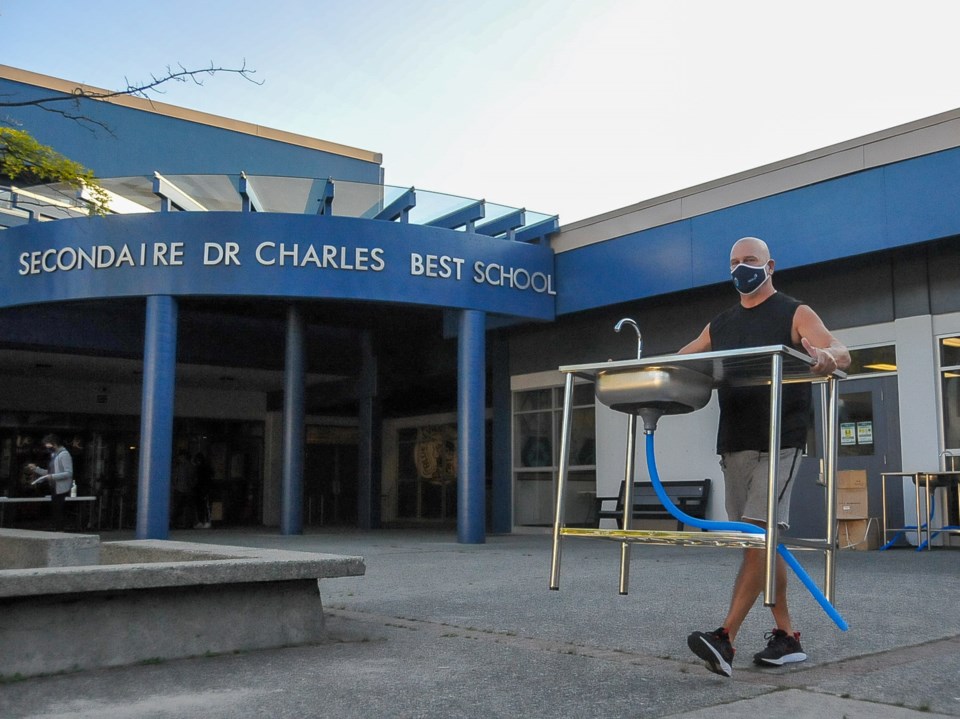 It's a scene that is playing out across School District 43 today as thousands of students return to orientation today and Friday, with classes to resume for most on Monday.
With only one to two per cent of students indicating they would not return or would be pursuing homeschooling, according to an SD43 survey, it is expected that a majority of SD43's 32,000 students would be heading back to class.
For parent Will Davis, who has four children in SD43 schools and a pre-schooler at kinder care — and whose wife teaches Kindergarten in Surrey — Thursday's back-to-school routine was hectic, but also a bit nerve-wracking.
"I'm hopeful this will work out. We're all at the mercy of the entire system, I hope everybody does their part," said Davis, who is also parent advisory council president at Best and has two sons at the high school.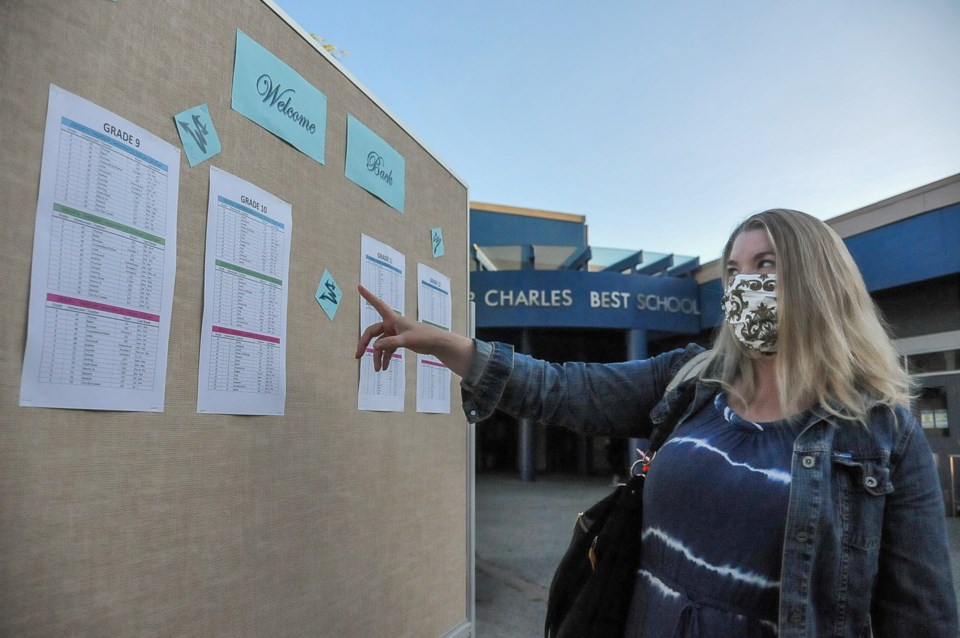 School started early for Best teachers, including Megan Leslie, who arrived at 7:45 a.m. to make sure her classroom was ready for students arriving at 9 a.m. 
Her room will be more structured, with students required to sit at the same desk for the entire 10-week quarter session. In her hybrid afternoon class, 15 students are not in the same learning group, so every other desk will be masked off to allow for physical distancing.
"I'm really excited for the students," Leslie told the Tri-City News. In fact, many have already filled out her impromptu survey, which means: "They're either bored or happy to come back," she said.
For the most part, students seemed to be pleased with returning, although many didn't know their course schedule or how school would look while COVID-19 continues to circulate in the community.
"They sent five emails, all like essay-long," said 15-year-old Elyse Powers, who's starting Grade 10 this week. "[The plan] is not approachable… I'm expecting answers today. If not, I have lots of questions."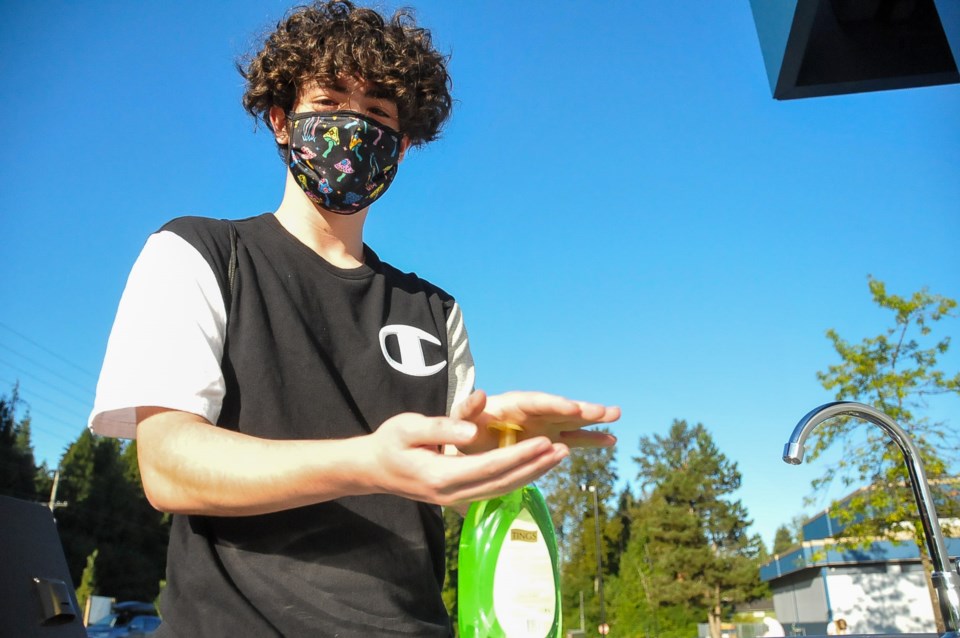 On Wednesday, Dr. Bonnie Henry reported that there were 100 new cases in 24-hours with 1,378 active cases COVID-19 in the province.
In Fraser Health, which includes Coquitlam district schools, there have been 3,482 cases, the most in B.C. since the pandemic first started here. 
So with COVID-19 acting as a bit of a damper on high school, some students expressed reservations.
"I'm excited but at the same time not. I wanted my first day of high school to be like high school not [affected by] coronavirus," said Tyson Symons, a Grade 9 student.
He's also going to be missing out on playing basketball, one of the many sacrifices students will be making because many sports and group activities are restricted or cancelled during COVID-19.
Like most schools Best tried to reduce the numbers of students on the first day by grouping students into two cohorts for orientation, with the second arriving later, and by keeping Grade 9s and 10s separate from returning Grade 11 and 12 students, whose orientation is Friday.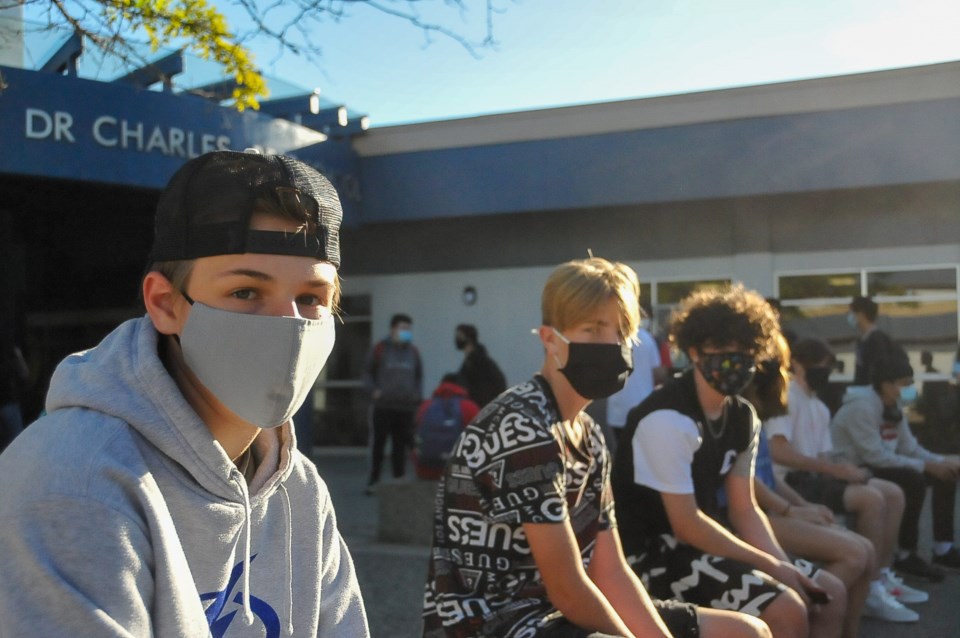 There was also hand sanitizer on a table by the door and outdoor sinks where students could wash their hands. Masks were available for those who didn't bring theirs.
Sasha Faris, a Grade 9 student, who arrived with her brother Duncan, in Grade 12, said her first day back was unsettling. "It's a lot different and I don't know what expect."
Duncan, said he has no worries, and will be doing the ACE-It industry training program, studying to become an electrician, and expects to wear a mask in the classroom.
There were students who arrived with their parents, who took photos of their children in front of the school's nameplate sign, and others who walked in alone, some taking the bus, which stops right outside the school.
Some, like Grade 10 student Tasia Cielo, ended up back at the bus stop after confusion around the staggered scheduling prompted her to arrive two hours early.
Most students said school will be a welcome respite from months staying in their bubbles. 
"It's all new for us," acknowledged Elyse Powers, expressing relief that she's in the same home room as last year.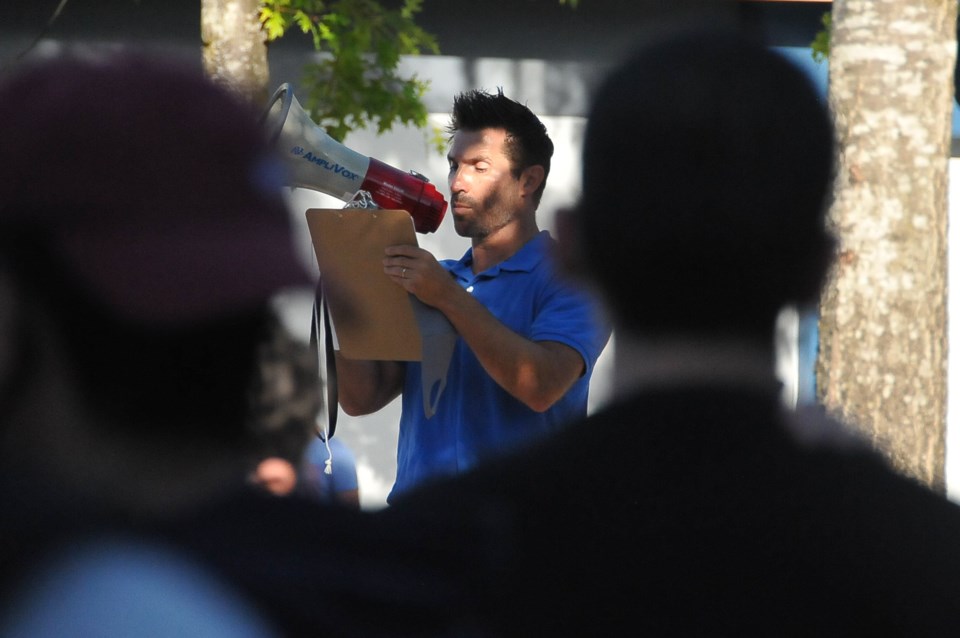 When vice-principal Nelson called students for their home room, they walked purposefully toward school under a blue sky still hazy with morning sunshine — a last vestige of summer for returning students who will face many changes and have to adjust to new routines in the coming days.
Meanwhile, Tuffy, the tiny black emotional support dog with curly hair and large friendly eyes wandered around the plaza, providing a calming counterpoint to the stress of a first day at school.