A blockade that had severed rail traffic along a trunk line leading out of the Port Coquitlam rail yard was disbanded Friday morning when about two dozen self-described "land defenders" put their occupation on hiatus to attend a Vancouver march to remember missing and murdered Indigenous women. 
The blockade led to the cancellation of the eastbound West Coast Express commuter trains from Vancouver to Port Moody, Coquitlam, Port Coquitlam and points east Thursday afternoon and Friday morning. A spokesperson for TransLink said Canadian Pacific Railway would allow the service to resume Friday afternoon, Feb. 14.
"Ending the blockade was a hundred per cent choice to be at the memorial march. That's the only reason we chose to move on from this site," said Isabel Krupp, a spokesperson for the group Red Braid Alliance for Decolonial Socialism.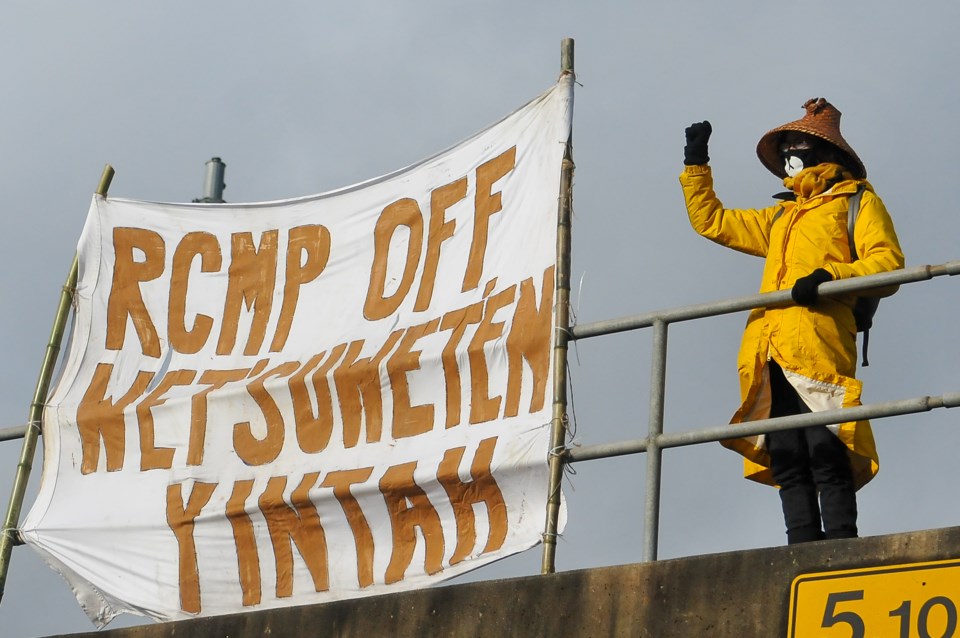 The group, said to be made up of Indigenous youth and their supporters, arrived at the rail bridge at Lougheed Highway and the Mary Hill Bypass at about 2:45 p.m. Thursday. Members of the group blockading the track said they took shifts throughout the night, some sleeping, others — a contingent of Indigenous youth — maintaining the blockade through drumming and chanting.
As the night wore on, they were joined by several people looking to support the blockade, said Krupp until police shut the gate leading to the rail bridge, barring others from entry.
Outside the gate, a second camp gathered, including "a circle of elders," said Krupp, "I think it meant the world to the people who were on the blockade."
When asked whether they would continue to support the Wet'suwet'en through the wave of blockades that has disrupted rail traffic across the country, several at the camp said they would.
"As long as the RCMP is on  sovereign Wet'suwet'en territory, the people will be in the streets fighting," said Krupp.
Frank Joseph, another in the group, invoked the tragedies of the Highway of Tears in northern B.C. and the legacy of Port Coquitlam serial killer Robert Pickton.
"Our hearts are with Wet'suwet'en. Our hearts are with making sure this pipeline gets stopped. Our hearts are with this next generation. Our hearts are with this climate. And our hearts are to make sure all of our people are safe," he said.
"Our hearts are with Wet'suwet'en, with the next generations, with the climate, and to make sure all of our people are safe. That's the reason we're here, the reason we're going downtown, and the reason we'll be who knows where next until the RCMP leave the land." pic.twitter.com/3zTMChwjib

— Red Braid Alliance for Decolonial Socialism (@stopdisplacemnt) February 14, 2020
—With files from Gary McKenna
—
HERE'S SOME BACKGROUND ON THE WET'SUWET'EN SUPPORTER DEMONSTRATIONS
• Wet'suwet'en supporters light ceremonial fire at steps of B.C. legislature
• 'We're not giving in,' Wet'suwet'en hereditary chief says in wake of arrests
• What the Wet'suwet'en case says about how Canadian courts address Indigenous law
• Coastal Gaslink Chaos: Two-in-five support protesters in natural gas project dispute; half support pipeline