It's early in the morning, and vendors have trucked in with their goods and are raising their tents, opening their folding tables, and loading up their displays. 
In a short while, the aisles will be packed with shoppers, eager to get a taste of something different or to simply purchase ingredients for a favourite recipe or meal.
Fresh-caught fish glisten on mounds of ice, coolers are packed with free-range eggs, and farmers stack colourful fruits and vegetables in enticing arrangements. 
This is a special place that tells the story of a region through food. It's where families and communities gather to shop, connect, work. 
In Vancouver, and across Canada and the U.S., as well as in much of Europe, we call this the farmers' market, and they are a part of our cultural and economic fabric. Some versions, housed under coverings, operate semi-indoors, on a year-round basis; take Granville Island's world-famous Public Market in Vancouver or Seattle's Pike Place Market for that matter - where it's not uncommon to stand in puddles of melted ice as you watch vendors chuck whole salmon at customers who want in on the tradition of fish throwing for a photo opp.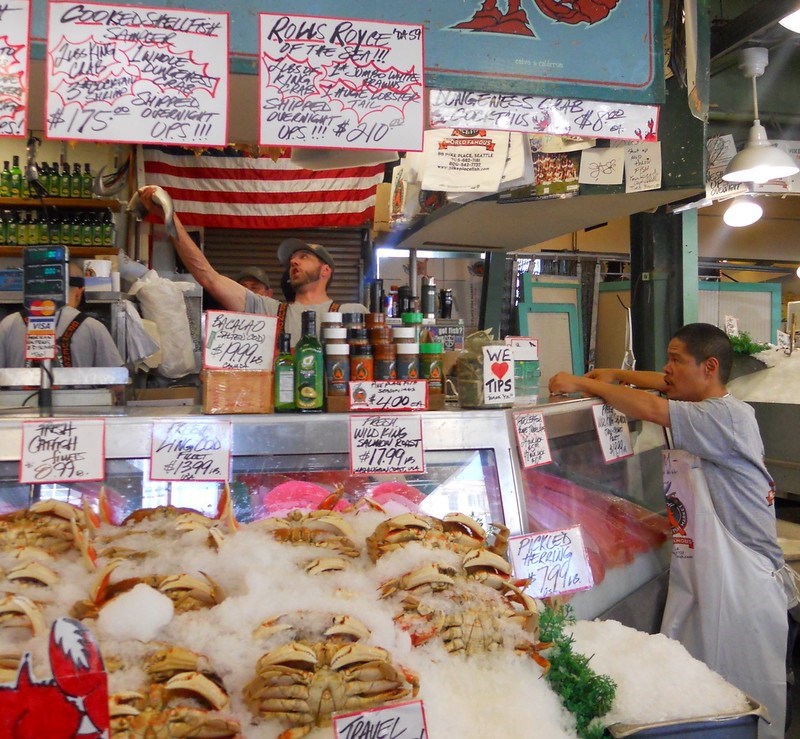 That puddle of ice you're standing in, and the mounds of it that keep the fish fresh, is in part where the term "wet market" comes from. 
Across the world, the wet market is a way of life. 
"They are called 'wet' to differentiate them from markets selling "dry" packaged goods such as noodles. It may also refer to stallholders' tendency to hose down their produce to keep it cool, and the melting ice used to keep seafood fresh. Many incorporate food halls, as in a western mall," explains the World Economic Forum.
In Singapore, for example, "wet markets offer a wide range of fresh meats and vegetables at affordable and often 'bargainable' prices. Shopping is a community experience - visitors know they can receive friendly and personalized services from stallholders they patronize regularly – often over many years," explains a 2013 National Heritage Board publication on wet markets. 
So what's in a name? Singapore is where the term "wet market" is thought to have originated. The term came into popular usage in the early 1970s in Singapore when the government used it to distinguish from the newer, indoor, and air-conditioned "supermarkets." In 2016, the OED added "wet market" as a Singapore English word, denoting that the term is used widely around Southeast Asia.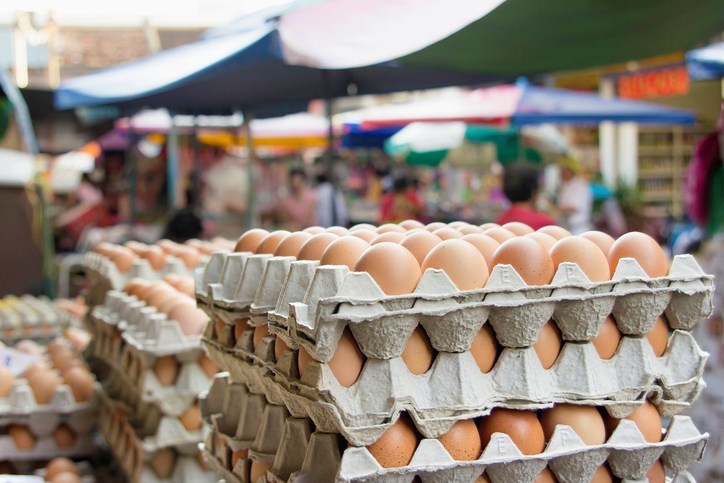 But since the start of 2020, "wet markets" has become a term tied to COVID-19. That's because "a wet market in Wuhan, China, called the Huanan Seafood Wholesale Market, is believed to be the source of COVID-19," explains National Geographic. 
Scientists believe the virus that causes COVID-19 came from bats, but first passed through an intermediary animal.
The animal and the human may have interacted at the Huanan Seafood Wholesale Market, because, in addition to being a "wet market" by definition, it also serves as a "live animal market" or "wildlife market." These animals are often kept in unsanitary conditions and are sometimes slaughtered on site. 
"Viruses spread easily if animals are kept in cramped, dirty conditions like market cages, and can easily spread to handlers or customers through bodily fluids," explains the World Economic Forum.
"Although most wet markets don't sell live wild animals, the terms 'wet market' and 'wildlife market' are often conflated, according to Aron White, a China specialist at the Environmental Investigation Agency, a London-based nonprofit," adds National Geographic. 
While there can be an overlap in the Venn diagram of wet markets and live animal markets, a wet market is not, by sole definition, where live animals are slaughtered on-site for consumers.
Conflating the terms means there have been campaigns across the globe to shut down "wet markets." 
"It is because of the public health crises wet markets cause, as well as the intense suffering inflicted on farmed animals, that Animal Equality is urging the United Nations to ban all wet markets," declares a campaign from the organization Animal Equity.
This week, Canadian musician Bryan Adams joined many people around the world who have turned the term "wet market" into a pejorative. 
Lamenting the cancellation of his shows, the passionate vegan regularly urges fans to embrace the same lifestyle said on social media: "Tonight was supposed to be the beginning of a tenancy of gigs at the @royalalberthall, but thanks to some fucking bat eating, wet market animal selling, virus making greedy bastards, the whole world is now on hold, not to mention the thousands that have suffered or died from this virus."
Odds are, Adams himself has shopped for veggies at the U.S., Canadian, or European equivalent of a "wet market." 
However, he too is conflating that term with "wildlife" or "live animal market."
While we may be tempted to point our fingers at the continent of Asia when it comes to live animal markets, they exist in North America, too, in particular New York City, where about 80 of such markets operate legally. There is currently a state bill proposed to shut them down, launched in the wake of the city's COVID-19 crisis.
On January 26, China banned the trade and consumption of wild animals for food. 
The World Health Organization has also published "recommendations to reduce risk of transmission of emerging pathogens from animals to humans in live animal markets or animal product markets." Those recommendations include safety and hygiene measures aimed at protecting visitors and employees from contracting illnesses.
Regardless of whether there will be further action in North America or elsewhere in the world to stop live animal or wildlife markets, the wet market itself will continue to be a way of life, source of income, and source of food for many, including here in British Columbia.