Karam Dhanwant has been growing blueberries in Port Coquitlam for more than 30 years and he hopes there will still be farmers eking out a living in the area long after he's gone.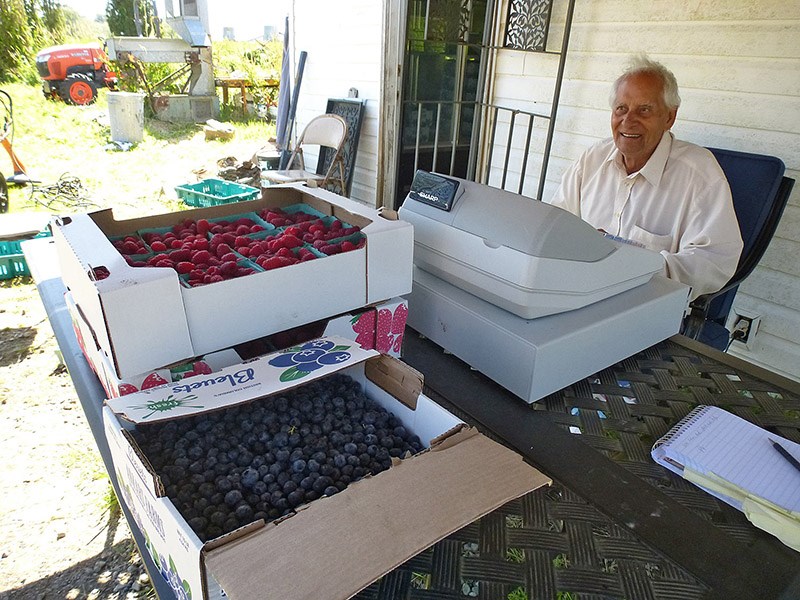 But the owner of Ankars Farms is worried the high costs of production, low wholesale prices and pressures of development will make agriculture a thing of the past in the city.
"You can't make money at it," said Dhanwant, who has about 12 acres of blueberry bushes on 25 acres of farmland on the north side.
On a sunny Wednesday, Dhanwant sat in the shade of a storage shed on his Burns Road property selling 10-lb. boxes of blueberries and raspberries to moms with toddlers in tow.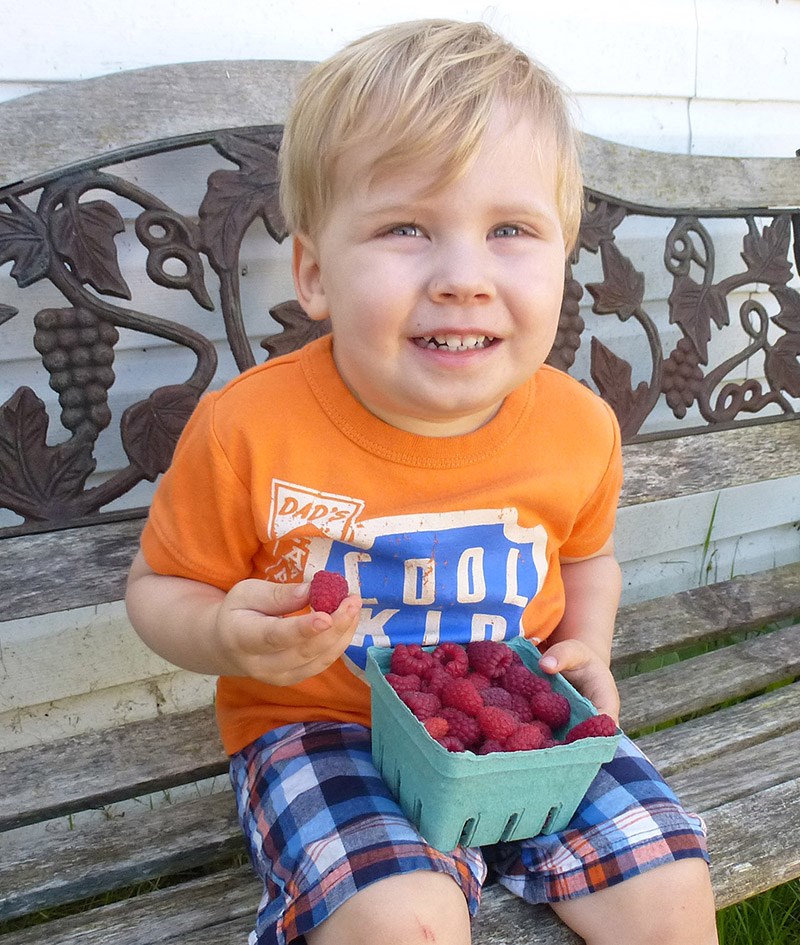 He's one of the few local farms to offer roadside sales and Dhanwant expects to have blueberries through to mid-September, thanks to new varieties of crops that can handle changes in the weather through to fall.
He said he has noticed fields are drier in the summer because of climate change and in winter, heavier rains are water logging blueberry bushes.
But it's not just the day-to-day weather and price per pound problems that has Dhanwant concerned. He believes investors will soon buy up tracts of land in the hopes that it can be taken out of the Agricultural Land Reserve (ALR).

PROPERTIES SOLD
He's not far off the mark. Some properties have sold recently in a special study area where the city has decided the new Fremont Connector will go. These lands are still in the ALR and to get them out won't be easy, said realtor Brad Parrotta.
And investors holding the land in the hopes it may one day be developed are paying top dollar to do so. For example, a seven-acre property on the west side of Devon Road, in the special study area, recently sold for $2.5 million while a similar-sized property east of Burns Road, outside of the special study area, sold for $1.9 million.
The latter property had much nicer buildings but the property sold for less, likely because the chances of being removed from the ALR are slimmer.
"That's the message I got from the ALC [Agricultural Land Commission]," Parrotta said. "Very firm, very clear: They don't want things to change, especially on the east side."
A major complaint of local farmers is that the soil is poor and too soggy for farming; as well, PoCo farms are typically small — between five and seven acres — which limits agricultural opportunities. Those who do farm tend to grow blueberries and hay, or they keep poultry, and a few cattle to maintain their agricultural status.
The result is very little food farming is being done in PoCo, and a Metro Vancouver survey found just 23% of the city's farmland, and 33% in Coquitlam, is in production.
Dhanwant said farmers have little incentive to farm because the investment required to amend the soil and build the infrastructure is too high.
"Nobody's taking an interest because there is no money in it," he told The Tri-City News.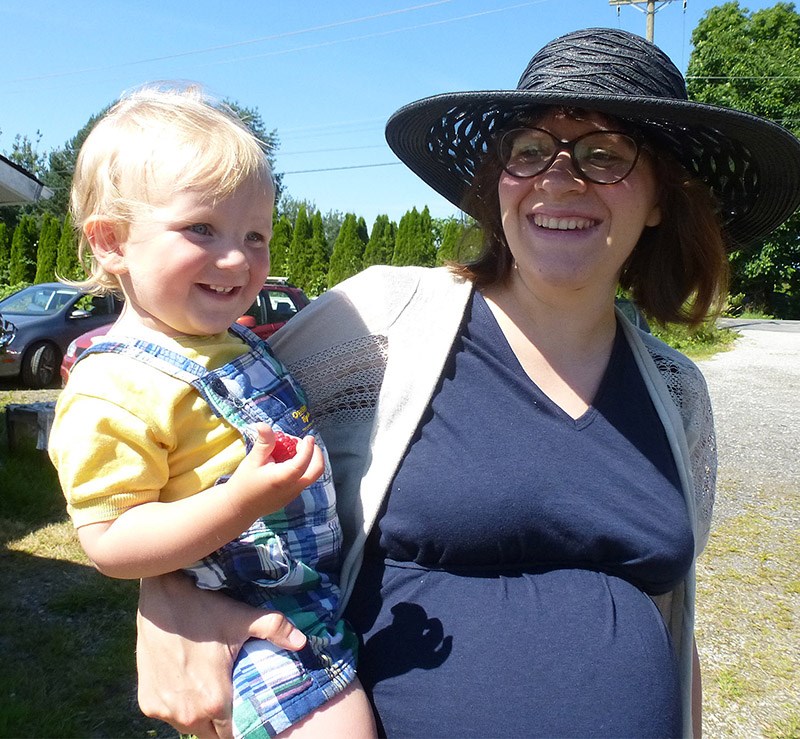 He would like to see zoning policies change to permit housing on the front of properties so farmers can get enough capital to farm more intensely in their back acreage. Blueberries are an ideal crop, he said, because they fetch top dollar in China.
"We can go to China, we can go to India and if we can make it we can make more income, PoCo can have a strong agricultural economy."

NEW TECHNOLOGY
Farming in PoCo may be considered marginal but Metro Vancouver is taking seriously the need to protect areas where food can be grown.
The regional government is finalizing a food security plan — in which PoCo is considered an "eater" rather than a "feeder — and keeping local farmland in the ALR may be key.
Laura Lee Richard, PoCo's director of development services, said the city is "philosophically" in support of its farmlands, approximately 568 acres of which are located in the city's northeast, and will soon vote on new zoning regulations that would restrict the size of a home on ALR land and require it to be located at the front of the property.
"That means you have a larger area at the back that would be available for farming — that's where the protection is," Richard said.
But PoCo's plan doesn't go far enough for Dhanwant, who said farmers needed to be able to sell off frontage, one house per acre, to get enough capital for investment.
Meanwhile, the Agricultural Land Commission is not backing down on its view that PoCo land is still good for farming. In a letter to the city on March 8, the ALC acknowledged that a high water table contributes to drainage issues but stated those can be managed and new technology has made farming methods affordable. It also predicts that more frequent drought in the future may "elevate these limitations to advantages."
But without an environment supportive of local agricultural, it's likely little will change.
The province is trying to boost B.C. agriculture and many of zoning changes being introduced by PoCo will line up with provincial regulations aimed at supporting urban agriculture and agri-tourism, allowing bed and breakfasts as accessory home businesses, for example, and permitting farm education and research facilities. (A public hearing on the changes is set for July 11).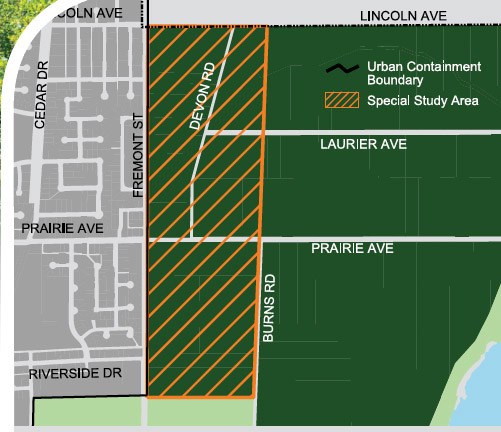 OCP CHANGES
The city also wants to update its official community plan in the coming months to better support food production, including measures to promote small mixed farms, market and rooftop gardens and community orchards, buy-local campaigns and community grocery stores.
PoCo also has to deal with the special study area when it reviews its OCP because some properties in the zone may not be viable as farms once the Fremont connector is built. That will likely be a contentious process, requiring vetting by Metro Vancouver and the ALC.
But Dhanwant said because farmers are independent, they aren't likely to band together to promote change — and all the while, investors are quietly buying up land still in the ALR.
"They'll just wait and use their power to get the land out of the ALR," Dhanwant said.
As to whether foreigners are behind investment in PoCo agricultural lands, Parrotta doesn't believe so, although he said the investors are taking the long view when they purchase the land and some have ties to family outside the country. Hobby farmers are also buying acreage with plans to stay, he said.
But whether PoCo farms will be around in another generation is impossible to say. Historically, in the Tri-Cities, the pressure has been to develop.
Noted Parrotta: "A friend of mine's father who is probably in his 70s, when he was a little boy said that corner of Como Lake and Clarke [Road] was farmland and Clarke was a dirt road. In such a short amount of time, it's hard to imagine, but in 100 years, it's gone from farm to highrises."