Have you had trouble posting that perfect picture of the fountain at Lafarge Lake on Instagram?
How about that video you wanted to upload of yourself deadlifting 425 pounds in the weight room at the Pinetree Community Centre?
Well, it appears faster free wireless internet access across Coquitlam is on the way.
In a release today (July 14), the city says it's received a $100,000 grant from the federal government to double the speed of its current network by upgrading equipment and infrastructure — some of which are nearly a decade old.
"This year's grant funding enables the City to increase bandwidth from 1G (gigabit) to 10G at all hotspots and to upgrade Wi-Fi equipment at the Poirier Sport & Leisure Complex and City Centre Aquatic Centre," explains Danny Bandiera, city manager of information communications and technology.
Coquitlam currently has 33 Wi-Fi hot-spots set up at public parks, squares and civic facilities, including Town Centre Park, the Coquitlam Crunch, Eagle Ridge Outdoor Pool and the Evergreen Cultural Centre.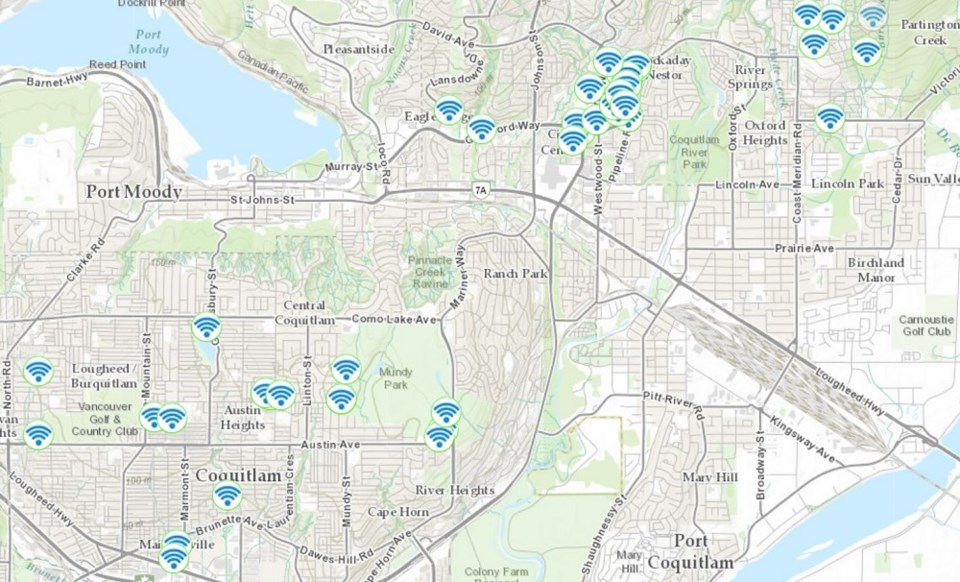 It's also the latest upgrade to most major Wi-Fi hot-spots in the city since 2016.
"Improving free Wi-Fi in our parks and facilities will make it possible for residents and visitors to stay connected while enjoying our City's recreation facilities, festivals and events, and parks and trails," adds Coquitlam Mayor Richard Stewart.
"We appreciate the support of our federal and provincial partners and the Union of B.C. Municipalities as we work to improve services for the community."
The money is coming from the Canada Community-Building Fund (CCBF), which was created to provide stable infrastructure funding for local municipalities.
Coquitlam—Port Coquitlam MP Ron McKinnon believes faster internet can have a lasting impact on today's day and age.
"Having access to fast and reliable wireless service is critical in our increasingly digital world. Increased bandwidth at public Wi-Fi hotspots will provide Coquitlam's residents with greater access to critical resources, work, school, and various online services."
For more information, you can visit the City of Coquitlam's website.
The Wi-Fi hot-spot locations are as follows (in no particular order):
Cottonwood Park
Brookmere Park
Como Lake Park
Blue Mountain Park
Mackin Park
Rochester Park
Dogwood Pavilion
Poirier Community Centre
Poirier Sport and Leisure Complex
Spani Outdoor Pool
Eagle Ridge Outdoor Pool
Field House
Mundy Park Off Leash Dog Park
Coquitlam Animal Shelter
Coquitlam Crunch
Austin Service Centre
Sheffield Park
Riley Park
Smiling Creek Park
Galloway Park
Queenston Park
Victoria Community Hall
Glen Pine Pavilion
Coquitlam City Hall
City Centre Aquatic Complex
Innovation Centre
Pinetree Community Centre
TD Community Plaza
Coquitlam Tennis Club
Town Centre Basketball Courts
Town Centre Park Skate and BMX Jump Park
Percy Perry Stadium
Town Centre Park Upper Parking Lot "E"