As gyms slowly begin reopening - and some sports plot their return under the province's second phase of recovery from the COVID-19 pandemic - combat sports face special hurdles back to normalcy.
There's no physical distancing when going toe-to-toe with an opponent.
Farhad Javadian, who reopens his Rebels Boxing and Wrestling Club in Coquitlam on June 2 for limited individual workouts, said he has no idea when he or any of his stable of 12 boxers will be able to climb back into the ring to spar, let alone have a competitive bout.
Lance Gibson welcoms fighters back to his Gibson MMA gym in Port Moody on Monday, but they'll only be able to work on their technique and fitness — no body contact allowed.
Kevin Van Veen, a taekwondo and Brazilian jujitsu instructor for 13 years, said he's not yet comfortable reopening his Freemont Martial Arts studio in Port Coquitlam after closing on March 15.
He's been conducting classes online and the remote sessions five nights a week are more about staying connected with his students than honing the fundamentals of their sport.
"You're flying by the seat of your pants," he said.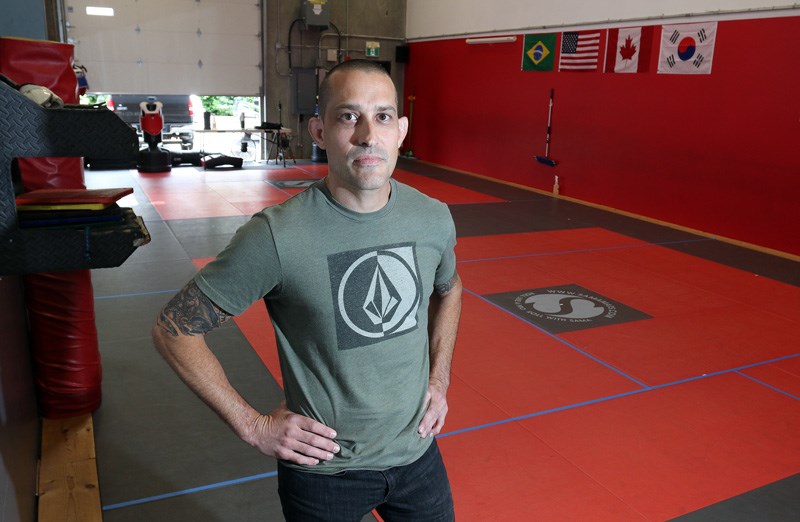 ViaSport British Columbia, which is guiding protocols and procedures for over 70 sports organizations in the province as they find their way back to the pitch, ice, mats and floor after being shut down for more than two months because of the pandemic, recommends contact activities not occur at all until at least September, after which they may be allowed to progressively loosen. A full return to contact, with no restrictions, is still undetermined.
That's tough for Javadian, who was planning to head to Vietnam to make arrangements for his second professional fight when the crisis forced him to close his gym.
"With boxers, everyone wants to get into the ring," he said. "When they don't get that physical aspect, it's hard to keep their interest."
Like Van Veen, Javadian quickly took his instruction online, conducting 30- to 40-minute sessions on things like shadow boxing, technique and conditioning three times a week.
He said escalating that to in-person training at his gym will be guided by recommendations from Boxing BC. At the moment, that means scheduling sessions to minimize the number of people working out at any one time, limiting visits to three times a week, prohibiting drop-ins and hoarding as much hand sanitizer and disinfectant he can find.
But, Javadian added, advisories seem to change every day.
"It's just so unknown," he said. "I'm more nervous reopening the business that when I was first opening it."
That uncertainty also has Gibson erring on the side of extreme vigilance and caution. Fighters will have to remove their shoes, dip them in sanitizer, seal them in a bag, and then step into a foot bath prior to entering the gym. Parents of younger athletes will have to watch their charges through the windows from outside.
"We're kind of in unchartered territory," Gibson said.
Van Veen said his own road to reopening is also less than straight and narrow as he considers factors like being able to keep young martial artists apart, the air flow in his facility and just how many students will buy into the different experience.
"We're all trying to find our path," he said.
Van Veen said current directives indicate he might be okay running classes with six students, instead of the usual 12 or 13. 
But that's not sustainable as a business, he added, so a hybrid of live and virtual instruction might be implemented so he can pay the bills.
Van Veen said without an organization of affiliated gyms guiding the way, several local martial artists gather on a Facebook group to share ideas and commiserate. But it's hard to find common ground.
Instead, he said, they're relying on martial arts' resilience to survive thousands of years to get them through this challenging time.
"It will be different," Van Veen said. "We will pivot and adapt."