The fans that Port Moody baseball player Michael Crouse plays in front of are real. They're not cardboard cut-outs or digital projections strategically placed to fill the background of TV shots.
His "bubble" of protection from the COVID-19 pandemic consists of avoiding spontaneous decisions to go out for dinner and keeping a tight circle of teammates he hangs out with away from the ballpark.
While NHL hockey players and NBA basketball players kill time in luxurious hotels with every amenity known to man and some yet to be imagined, Crouse walks from a budget suburban hotel to Impact Field in Rosemont, Ill., where his team, the Chicago Dogs, is playing out a truncated 60-game season in the 12-team independent American Association.
And the 29-year-old centrefielder, who was selected by the Toronto Blue Jays in the 16th round of the 2008 draft when he was just finishing Centennial secondary school, couldn't be happier.
"I love it man," Crouse told The Tri-City News over the phone prior to a recent game against the Milwaukee Milkmen. "There's something special about taking the field and being in the clubhouse with these guys. It's amazing and I'm glad I'm able to be a part of it."
After getting selected by the Jays, Crouse, who grew up in the Glenayre neighbourhood, played Little League in Coquitlam and junior baseball in North Vancouver, chose to forsake college and began climbing the sport's often long and arduous ladder through the minor leagues that he hoped would eventually land him in Toronto. 
He toiled in the Rookie League in Florida, graduated to A ball, then made it to the Jays' AA affiliate in New Hampshire before he was released in 2014. 
There was some glory amidst the whistle stops, including winning a bronze medal with Canada's national team at the 2011 Baseball World Cup, gold at the 2011 Pan Am Games and silver at the 2019 edition.
In 2015, Crouse signed with an independent team in Lancaster, Penn., but missed the entire season because of an injury. He was then traded to the New Britain Bees in 2016.
Crouse subsequently spent a little more than a season in the Mexican League before returning to the independent Somerset Patriots of the Atlantic League of Professional Baseball. He signed with the Dogs on March 16, just as COVID-19 began sweeping across North America, taking with it virtually every professional and amateur sporting event.
Crouse said he was fortunate to get the gig even if the team is named for hot dogs and its mascot is a giant furry mustard-yellow creature named Squeeze that resembles a condiment bottle. Competition for roster spots was fierce as players cast adrift by minor league teams uncertain whether they could play their seasons converged on independent teams with no Major League affiliations or obligations.
"They've got a bunch of amazing ball players here," Crouse said.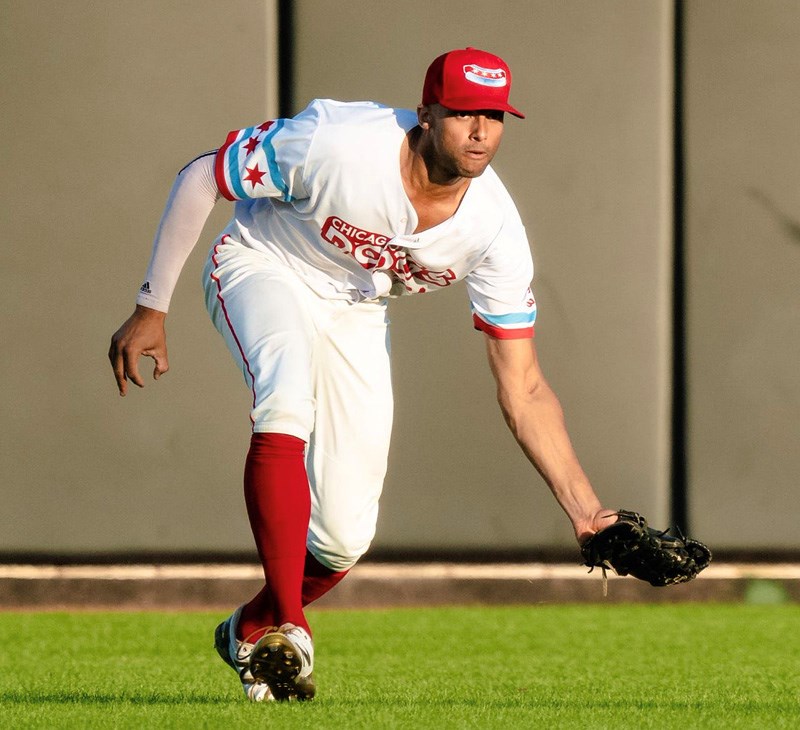 The Dogs started playing their abbreviated schedule on July 3, almost three weeks before Major League Baseball started its season. There was no spring training.
"You never want that to happen," Crouse said of the lack of pre-season preparation.  "But everyone is a professional and they know how to get into the form they need."
Unlike the Major Leaguers, whose limited activity away from the ballpark so players stay healthy is softened by staying in luxury hotels, players in the AA are left to their own devices to take responsibility for their safety. Crouse said that means direct trips to and from the ballpark and careful advance planning for meal runs.
"You're stuck hanging out in your room."
The league tests all players once a week. Crouse said it's a procedure everyone takes seriously because the stakes are so high.
"You can't go to a party," he said. "If you come back with a positive, you run the risk of shutting down the entire league."
The AA team is also allowing fans in the stands at its ball park, although at a much-diminished capacity.
Crouse said their presence helps create a sense of normalcy, even if the crowds are more like the smattering of hard-core fans he experienced while playing rookie ball.
"People are just trying to get out and do something with the family, change the scenery, because we've all been stuck in the house," Crouse said.
When this most-unusual season ends Sept. 10, Crouse will return to Metro Vancouver to run a baseball academy he's set up with his friend and fellow national team member, Tyson Gillies, who's from North Vancouver.
Both had hoped to be playing for Canada at the 2020 Summer Olympics in Tokyo, which were postponed to next year because of the global health crisis. But all things considered, Crouse said, he's still feeling the thrill of the grass.
"You're still in baseball," he said. "You just keep going. You go into it and give 100% and then whatever happens, happens."