Pamela Clarke has run marathons in world-class cities like New York and Chicago. 
But when her plan to run the Berlin Marathon in September was cancelled due to the COVID-19 pandemic, she discovered her most-favoured destination was right beneath the soles of her sneakers.
Clarke has just finished running all 452 streets in Port Coquitlam, her hometown for the past 20 years.
She said she embarked upon the project last April as a way to salve the loss of her Berlin run. Along the way, she developed a whole new love for her community.
"I feel like this is my home now," said Clarke, who grew up on Vancouver Island. "You can run and feel safe anywhere here. We really do have the mountains and the river and beautiful neighbourhoods."
Clarke took up running about 10 years ago as part of her own plan to lose weight and get active. In 2011, she completed her first 10-kilometre run and she's since run several marathons and even ultra-marathons. She's currently in the final stages of completing a challenge to virtually run the breadth of the state of Tennessee, about 1,000 km. 
Most of Clarke's training is done on familiar routes close to home. But it wasn't until a friend told her of an app called CityStrides that would allow her to track which streets she'd already run that she tweaked to the idea of covering each street in Port Coquitlam. 
Downloading her stats into the app, Clarke discovered she'd traversed 38% of PoCo's streets over the years.
"You think you've done it all," she said of the 62% of the city's streets she hadn't yet travelled.
Neighbourhood by neighbourhood, Clarke started plotting routes 20 streets at a time.
Some, like those in Citadel Heights, were long, winding up and over the undulating contours of the terrain. Others, like Prince Street, could be covered in several dozen strides. Some had sidewalks. Others just a narrow shoulder. There were gravel trails along the Fraser and Pitt rivers, as well as around the Blakeburn lagoon, a beloved destination.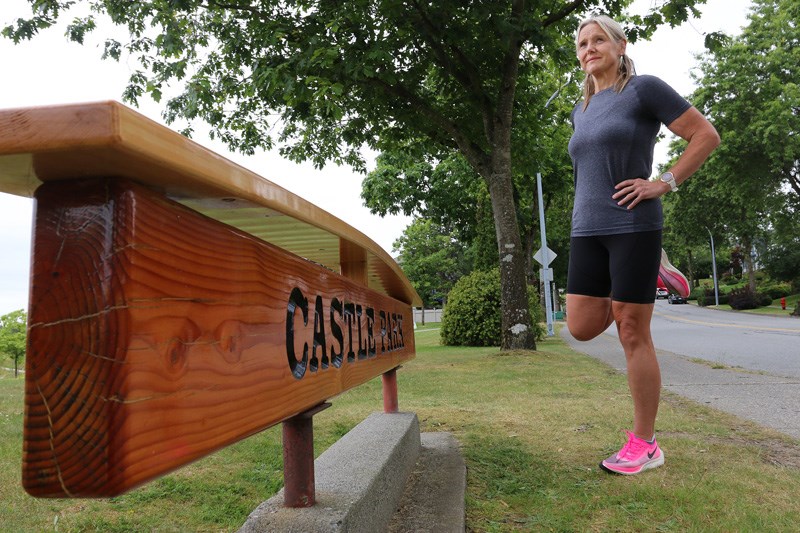 And then there were the cul de sacs. So many, in fact, diverting her routes to loop through each one got a "bit tedious," Clarke said.
But everywhere she went, Clarke said she was impressed by the care people take in maintaining their homes and gardens. When she told kids along the sidewalk what she was up to, they cheered her on.
As Clarke's quest progressed, she fine-tuned her routes so she could end her training at one of the city's growing number of craft breweries, a carb-laden reward for her efforts. She also targeted streets she'd somehow missed, including those that wound through complicated townhouse developments.
And when the map on her app was completely filled with purple lines, snaking, looping and twisting over every street in the city, Clarke said she jumped around her house with joy.
While her accomplishment represented about 750 km of total running, Clarke said it provided new purpose to her training.
"Instead of running down the same route for 15 years, you can get variety," she said.