Stand by.
That's the message the coaches of the Tri-Cities' two high school football programs sent their players and prospective players home with for the summer as the certainty of a season in the fall remains murky because of the COVID-19 pandemic.
But just to be safe, Terry Fox Ravens coach Martin McDonnell also supplied his charges with workout plans they can do at home with minimal or no equipment.
"It is very important that the kids keep as active as they can while we wait for the word about what will happen," he said.
Absent a crystal ball or clairvoyant, whether competitive high school football starts up in September is about as clear as a snow globe in full shake mode.
McDonnell said he's just "guessing," but practices would likely involve less contact, more emphasis on skill development, and if games happen, they'll probably be closer to home, without travel to far-flung destinations like the Okanagan.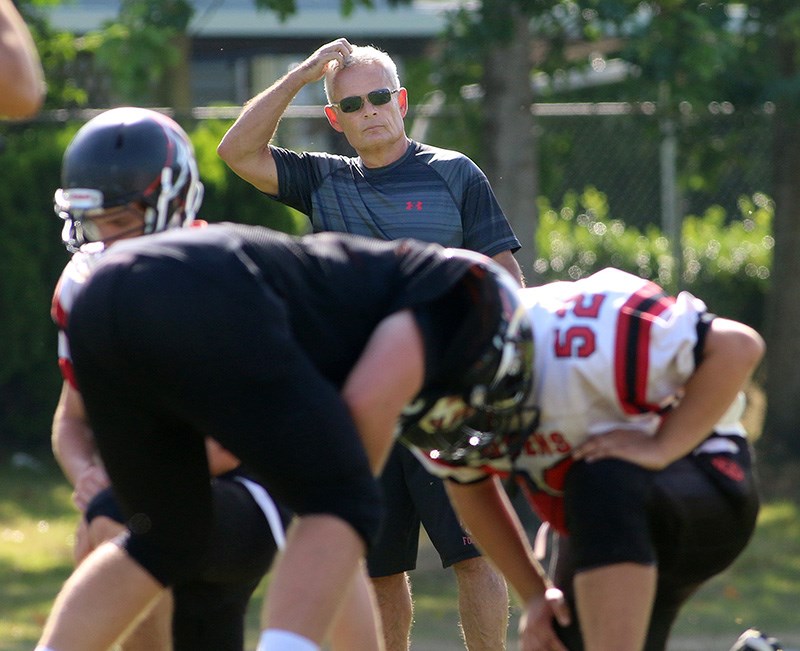 Dino Geremia, the coach at Centennial secondary, said his staff will have to get creative as it anticipates working with small groups of players at first and then somehow bring them together as public health directives allow.
"The challenge will be in coordinating the plays and schemes to get enough repetition in hopes of bringing them together in a competitive scenario and eventually a game," he said.
Travis Bell, the president of the BC Secondary Schools Football Association, said "everything is on the table" as administrators, coaches and school officials try to navigate a plan to keep the sport alive in the middle of a pandemic.
"We are looking at many options that range from a shortened season, to a regionalized schedule, relying on parents to transport their kids to games rather than busses," he said.
The challenges for a contact sport are complex and include the large numbers of players as well as sharing of equipment, water bottles and change rooms. Troubling developments south of the border, where some post-secondary programs have had to abort their own returns to play because of COVID-19 outbreaks, haven't made the task any easier.
"It is definitely worrisome seeing the spread within football programs," Bell said. "It does remind you that the decisions we make can have major consequences."
McDonnell said he hopes the uncertainty and tumult of the past several months might actually work in the Ravens' favour in his annual quest to attract athletes to his program.
"Perhaps the risk of nearly not having sports might help students rethink or focus on how lucky they are to have access to high school sports opportunities," he said.
Geremia said he heard from several prospective players last spring interested in joining the team, so his job through the summer will be to build positive relationships with them that emphasizes the benefits of football.
But, he added, "it has been difficult to keep that momentum in the absence of in-person practices, meetings and workouts."
Bell said BCSSFA is working hard to reassure parents, players, officials and coaches that the decisions being made are well-considered, following public health guidelines and directives from BC School Sports and ViaSport.
"It won't be a bunch of 'football guys' arbitrarily making the decision to put a football team back onto the field," he said. "We will not jeopardize the safety of our players, families, coaches, officials, just to get some games in."