Editor:
More than a few years ago now, a dear friend noted that she would not want to be held responsible for her children's actions if they committed a hateful crime, and so she should also embrace not being held up for their accomplishments.
My friend's words came to mind recently as I began to watch the people around me, here in B.C., turn on Dr. Bonnie Henry. 
I have to wonder if we were not the heroes of the first wave of this pandemic, and so also now its demons as we gather indoors and spread this virus further, like a wildfire.
Last week, I received an email from FamilySmart, an amazing organization that has an office right here in New Westminster.
I attended a full-day workshop with them a few years ago, and still greatly appreciate their communications. Their email landed in my inbox on World Kindness Day. Being kind is considered one of FamilySmart's eight practise skills. They are an organization that works alongside families, youth, and professionals to enhance the experience of child and youth mental health.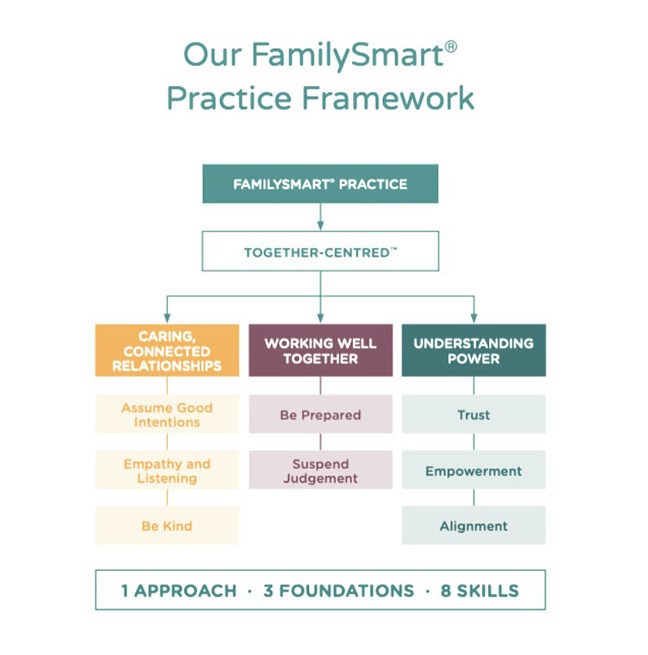 As I looked at the infographic (see attached) on FamilySmart's practise framework that was a part of the email, I found myself thinking again of the pandemic. When I am unsure of the latest directive from DBH, or someone walks a little too close to me without a mask on, is it possible for me to engage the foundations of this framework, to assume good intent and suspend judgement even as I fear for my own health and safety? 
Is there any room for "listening to understand" during a pandemic?
The second wave of this pandemic has me seeking out the voices that I listened to this summer, as they spoke and wrote about related grief and depression. 
How am I going to make it through this literal and figurative darkness? I am the head of a family of two. There are people I know I can reach to in community - people I call both friends and acquaintances - but I don't think that I am much different from others in that my head is down and I am busy taking care. Except that as this beautiful infographic reminds me, we are in this together. 
The email shares a quote from another Henry, Henry James.
He said:
Three things in human life are important.
The first is to be kind.
The second is to be kind.
And the third is to be kind.
It strikes me that in a pandemic, kindness is like that oxygen mask on the airplane. I am not going to be able to extend it if I do not offer it to myself first, and, in this case, I would take it one step further and ask for kindness when it feels lacking. And so I thought I would put fingers to keyboard and ask you: Do you have it in you to be kind today?
Jana Buhlmann