Tri-City News journalist Mario Bartel is voluntarily self-isolating and working from home for the rest of the month after his wife and son returned March 13 from a brief getaway in Arizona. He is writing a daily diary during that time.
By the time this is all over — and I mean this whole pandemic, not just our two-week blip of self-isolation — I'm going to hate the phrase "just a sec."
I'm sure our son will too.
We're saying it too often to buy a few moments from him to finish some task, and it's starting to sting.
Let's not beat around the bush: It's hard to work at home with a seven-year-old underfoot and constantly casting about for things to do. Already, he has declared this the "worst March break ever." Although he has only had three, he's likely understating his case.
The easy solution would be to set him up with the iPad or park him in front of the TV for a stretch. But we've always been strict about his screen time and there's something about too much that tends to overload kids' developing brains. We've learned the hard way: One too many episodes of Wild Kratz or Lego Ninjago and we're left with an irrational, hard-bargaining zombie-child who resorts to epic meltdowns if he can't get more.
Thank goodness for Mo Willems.
For those of you already past the child-rearing years, Willems is an American author whose chronicles of Pigeon getting up to all sorts of antics, like driving a bus or trying to evade bath night, were a storytime favourite of our son when he was three or four. Willems has also done other anthologies, like the buddy adventures of an elephant and pig.
We have several Willems books in the children's section of our personal library, including some in French. For the past couple of years, though, they've mostly been collecting dust as our son has graduated to chapter books like Dog Man and Captain Underpants.
But last week, we learned Willems is doing daily doodle workshops on YouTube to help kids get through the COVID-19 crisis, and perhaps provide a respite to parents who need to get some work done.
It's working.
For more than two hours, our son is bunkered in his room, poised at his drawing table, pencil in hand, Willems teed up beside him on the iPad. And together, they draw. 
Willems also tells stories about creating his characters and their hidden lives away from the storybooks that make my son giggle.
Every once in a while, our son pushes the pause button to show us what he's working on and read us the dialogue bubbles he has crafted in every which direction. His pride in his own ability to create is infectious.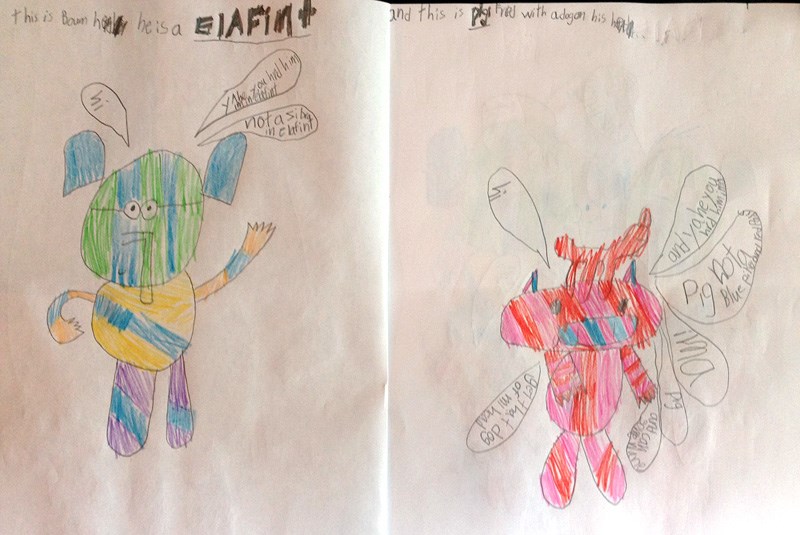 It's a magical morning of creativity and joy amidst the relentless flow of bad news and anxiety. And now, for his bedtime story, our son is reading us Don't Let the Pigeon Drive the Bus.
• Mo Willems' daily lunch doodles happen at 10 a.m. our time. You'll find them here: https://www.kennedy-center.org/education/mo-willems/. They're also archived on YouTube.
––––––––––
Miss a day? Catch up here:
Day 9: Cycling through the uncertainty
Day 8: Lessons from the vegetable crisper
Day 7: Let's do the time warp again
Day 6: The new normal is taking some adjustment by everyone
Day 5: She's fit, she's strong, but she has diabetes which make her vulnerable
Day 4: Trying to contain the fear
Day 3: How much do you tell your kids about COVID-19
Day 2: Doing the right thing at the 25th hour