More than 80 per cent of British Columbians agree that the new speculation tax and the expanded foreign buyer tax are "good" or "very good" moves by the NDP, according to a new poll.
The survey, carried out by Insights West in partnership with CTV Vancouver, found that 82 per cent of respondents backed the expansion and increase of the foreign buyer tax, which is being raised from 15 per cent to 20 per cent and expanded to areas outside Metro Vancouver, including Victoria, Nanaimo, the Fraser Valley and the Okanagan.
The poll also found that 81% of respondents supported the new annual "speculation tax" of 2 per cent of a property's assessed value, payable by owners of B.C. real estate who do not pay local income taxes and do not rent out their properties.
Support for the annual speculation tax is highest among those who voted NDP in the last provincial election, with 90 per cent describing the policy as good or very good. But support is also high among B.C. Liberal and Green voters, at 75 per cent and 79 per cent respectively.
Support for the speculation tax was also slightly higher among renters, at 85 per cent, but also very strong among home owners.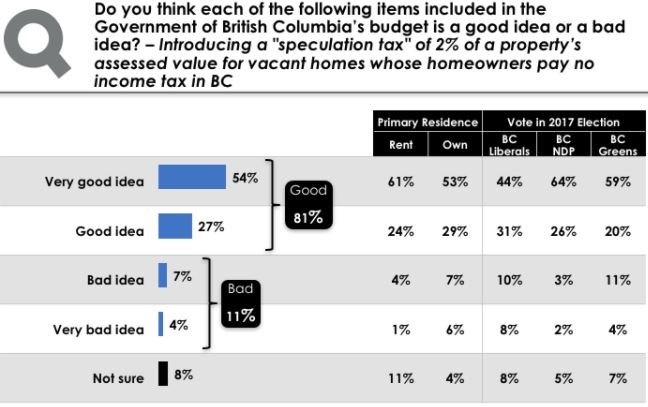 More than three-quarters of respondents (77 per cent) said they think increasing the property transfer tax from 3 per cent to 5 per cent on homes sold for over $3 million is a "very good" or "good idea"— including 76 per cent of homeowner respondents and 72 per cent of BC Liberal voters in the last provincial election.
In the online survey of what Insights West describes as a "representative provincial sample," 13 per cent of the 801 respondents said they followed the 2018 provincial budget "very closely" with 40 per cent saying they followed it "somewhat closely." The remaining 47 per cent of respondents admitted they either followed it "not too closely" (27 per cent) or "not closely at all" (20 per cent).