With housing costs through the roof in urban regions across the province, it's not surprising that B.C.'s young adults are struggling to afford where they live, and now a new poll has backed this up.
Three in five B.C. adults under 30 say they are considering leaving where they live due to the high costs of housing, according to a poll by Insights West, commissioned by credit union Coast Capital.
When asked to respond to the statement "I am seriously considering leaving my current city of residence because of the high cost of housing," 25 per cent strongly agreed and a further 35 per cent somewhat agreed.
A large majority, 85 per cent, of respondents aged 18 to 29 either strongly or somewhat agreed that "It is almost impossible for young people to buy a house nowadays." That proportion is even higher, at 86 per cent, among respondents over 30.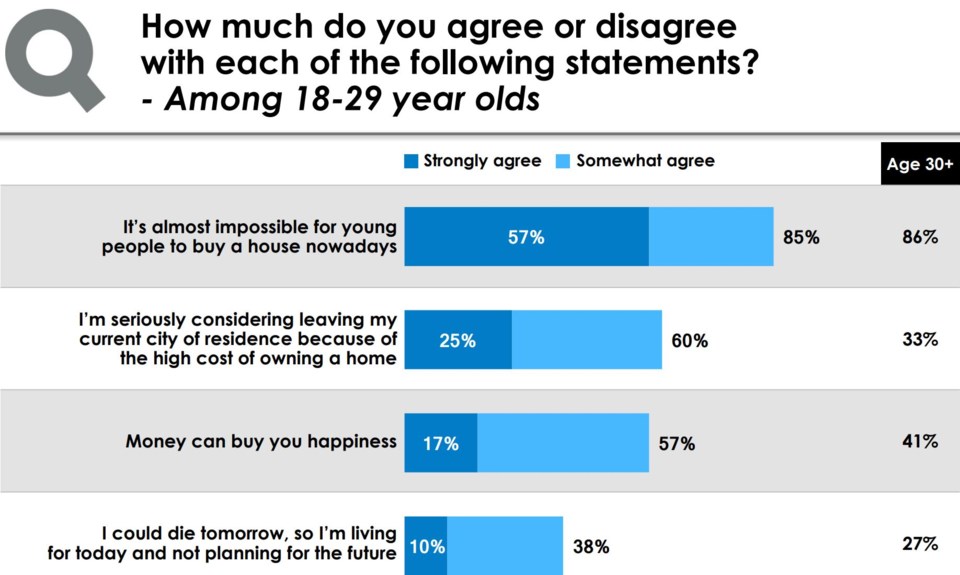 "Never mind home ownership," said Tracey Arnish, chief member and employee experience officer at Coast Capital. "Even renting in the Lower Mainland is a stretch for a lot of young people. Once you take housing costs off the top, there isn't a lot left over for other obligations."
With even rental housing costs extremely high, more than half 18-29-year-old poll respondents said that they are not saving for the future. Six per cent said they are "drowning in debt," a full quarter said they are living paycheque to paycheque, and another 21 per cent said they are comfortable but unable to save for the future – totalling 52 per cent.
A further 22 per cent they were saving, but only because they are scrimping, with just 18 per cent both living well and saving. That last figure rises to 34 per cent among respondents over 30.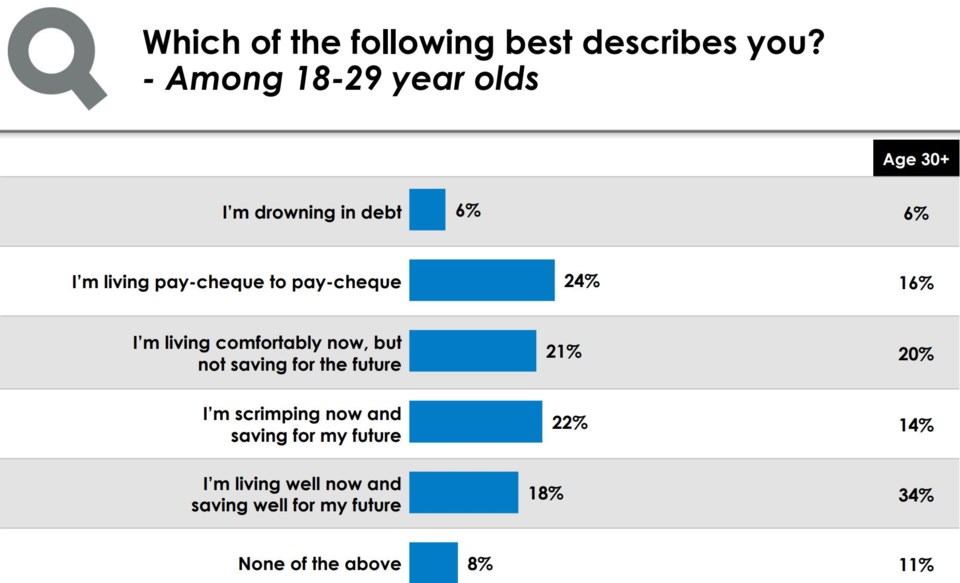 At an Urban Development Institute Under 40 panel discussion in Vancouver June 6, Rachel Selinger of housing advocacy group Abundant Housing said, "We should measure affordability by 30 per cent of income – and it's important to note that our income hasn't increased, while our rent and home prices have skyrocketed."
She added, "There are a couple of different categories when it comes to what's considered affordable. 'Affordable' housing has previously referred to social or low-income housing, whereas now it extends up to those on medium incomes of up to $80,000 a year – and then there's housing for the homeless. We have to provide housing for all those categories."