Close to a quarter of all condos built in Coquitlam since the beginning of 2016 were purchased by non-resident buyers, according to newly released data from Statistics Canada.
Coquitlam's figure of 22.7% is the second highest in Metro Vancouver after Richmond's 24% and ahead of Vancouver's 19%; it also beats the regional average of 16%. 
Andy Yan, the director of Simon Fraser University's City Program, said the numbers raise important questions about the region's housing supply.
"It goes into the issue of who are we building for?" he said.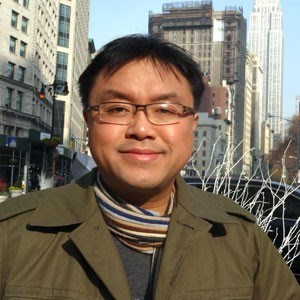 Yan noted the data sample that produced the 22.7% figure is small, consisting of a total of only 877 units. But even when the time frame is expanded to between 2011 and 2017 — when 3,507 condo units were built in Coquitlam — 11% were purchased by non-residents.  "Even if we look at the larger number, that is still one in 10," Yan said. 
Statistics Canada defines non-residents as any person who owns a home in Canada but has their principal residence outside of the country. The definition would classify Canadian citizens living abroad as non-residents and citizenship status is not noted in the new data.
"This means that these are people that don't live in the country," Yan said. "This is someone's secondary or investment home... How does that fit in toward a city's housing strategy?"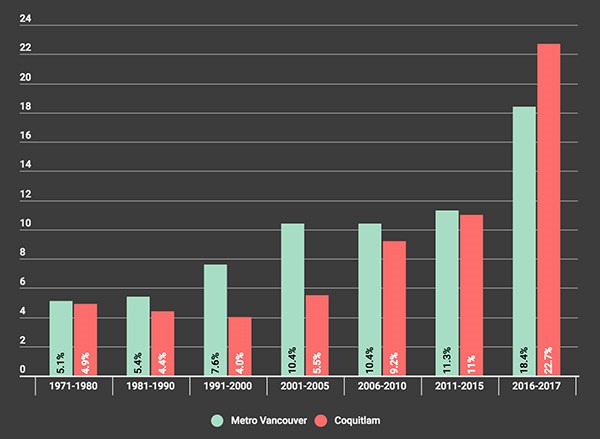 Overall, the percentage of real estate owned by non-residents in the Tri-Cities is in line with the rest of the region (see bar graph). In Coquitlam, Port Coquitlam and Port Moody, for example, 2.7% of all detached properties are owned by non-residents, compared to the Metro average of 3.2%. 
When the Tri-Cities are broken down into individual municipalities, only Coquitlam's attached properties, with a 3.5% non-resident ownership percentage, exceeds the regional average (3.4%). The 7.9% figure for non-resident owners of condos in Coquitlam matches the Metro Vancouver number.
But Yan said digging into the details of the data shows the impacts non-resident buyers can have on the market place. He added that questions about whether the units are occupied is something he would like to see Statistics Canada ask in future surveys. Those figures could help to determine to what extent the local real estate market is driven by investors, he said. 
Jim McIntyre, Coquitlam's general manager of planning and development, concurred with some of Yan's assessment. It is one thing if the non-resident buyer has purchased a home for a family member or is renting it out, he said, but empty condos are problematic, given the region's demand for housing. 
"If the unit is just sitting there vacant, that can be concerning," he said. "It is removing dwelling units from our housing stock, which is really under pressure."
Community planning is based on synergies, he said, noting that planners anticipate a certain number of residents in a neighbourhood to support the businesses and services offered in that area.  "If you have a quarter of your units sitting vacant, it takes away support for those services," he said.
But McIntyre said there is only so much local government can do, noting if policy changes are needed, they would have to come from the provincial and federal governments.
Still, Yan said he expects the conversation around non-resident home buyers to continue.
"This is the beginning of the conversation," he said. "This is a topic that has generated much heat with very little light. This [data] is the flint spark that will bring light into the discussion."
gmckenna@tricitynews.com
@gmckennaTC