After a two-year delay a development permit has been approved for the long-planned hotel at the Hard Rock Casino, but determining when it will be built remains an unplayed card.
The first word of a hotel for the property on United Boulevard in Coquitlam came in the summer of 2011 when it was known as the Boulevard Casino. But it's gone through a few delays. In 2016, the casino's owner, Great Canadian Gaming Corporation (GCGC), applied for a zoning amendment to allow it to build a plaza to hold outdoor events and at the same time applied for a development permit for the hotel.
The process for both actually reached the fourth and final approval stage two years ago, but since GCGC was still looking for someone to operate the hotel it didn't go before council. The application received a one-year extension a year ago.
It was up this week and although no operator has been found to run the hotel, GCGC opted to finalize the development permit for its revised plans for the hotel. A city staff report had no objection since the company met all the conditions of final adoption for a redesign to the planning department staff's satisfaction.
On Monday, city council approved GCGC's applications.
Despite the detailed conditions being worked out with the city, Raj Mutti, GCGC vice president of west operations said in an email statement to The Tri-City News, there is plenty of work ahead before the hotel will be built.
"Although there are several other steps associated with this project that must be completed prior to formally moving forward, we plan on undertaking the necessary work prior to applying for a building permit," wrote Mutti. 
"Approvals are also required from other bodies like the Ministry of Transportation, so at this point our focus will be dedicated towards those endeavours, as well as monitoring the market and updating our business plan prior to any development work beginning."
In 2011, GCGC's first proposal was for an 11-storey tower with 181 rooms. Those plans were adjusted a year later to 10 storeys and 176 rooms.
Although the latest plans call for the hotel tower to be two storeys higher, its footprint won't be as big with only 141 rooms and is 52,200 sq. ft. smaller overall.
Meeting space has been cut by more than half with a reduction of 3,810 sq. ft. to 3,200 sq. ft. A café, which was in the original proposal, has been eliminated.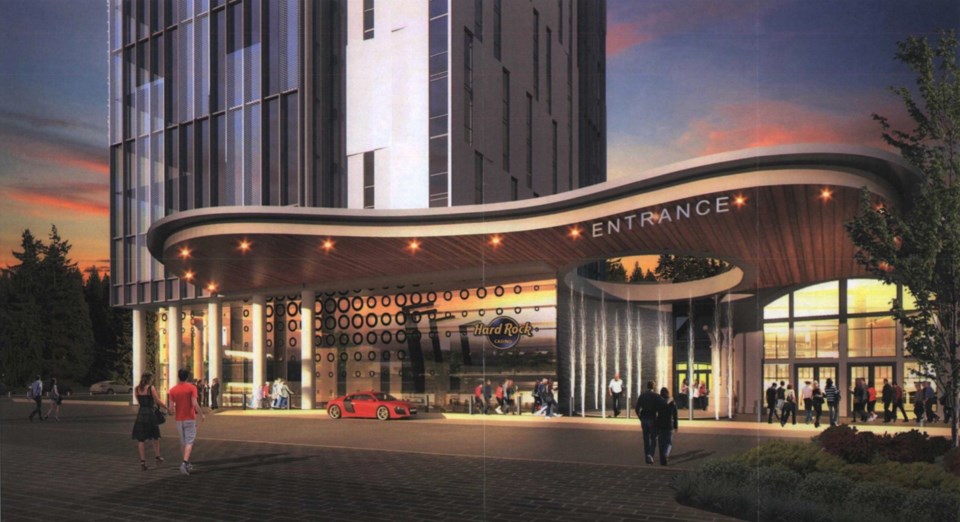 The new building's design will feature "interlocking and contrasting purposefully-oriented vertical elements" including "glass boxes" facing east and west to help it stand out to those travelling on the Highway 1, Lougheed Highway and United Boulevard. "Solid boxes" with punched windows will showcase north views of the mountains and south views of the Fraser River.
The approvals were given by council on Monday without discussion except for one question from Coun. Brent Asmundson. He asked the city's director of development services George Fujii about whether there was any timeline on the hotel's construction.
"Not to the best of staff's knowledge, no," replied Fujii.
The city estimates the hotel will generate nearly $500,000 in development cost charges.
newsroom@tricitynews.com
TIMELINE FOR PROPOSED HARD ROCK CASINO HOTEL
Aug. 10, 2011 — Great Canadian Gaming Corporation (GCGC) announces plans to build an 11-storey tower on its Boulevard Casino property on United Boulevard. It was to include 181 hotel rooms along with meeting space.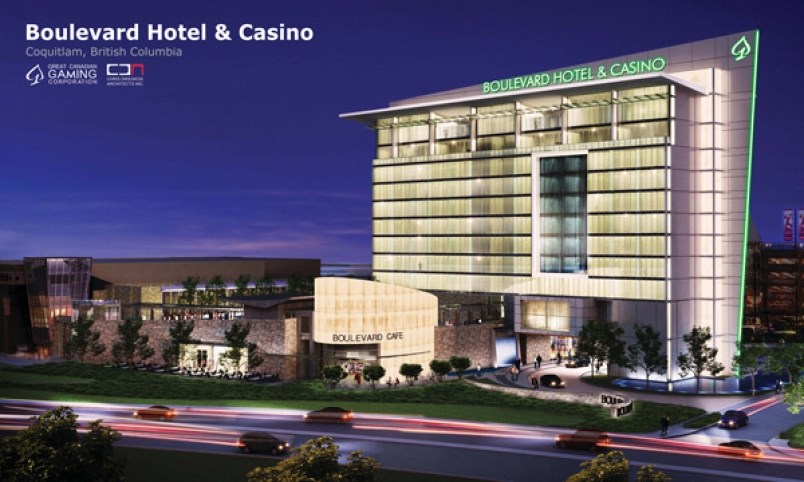 Aug. 24, 2011 — About 50 residents and area business owners show up for a peek at the plans at an open house put on by GCGC. "It'll be some place to put our clients while they're here," says Bob Lawlor, general manager of Go West Campers International on Fawcett Road.
October 24, 2011 — Council votes 7-2 in favour of the proposed zoning amendment. At the public hearing prior to the vote, the lone opponent of the project is Ron Little, co-owner of the Best Western Coquitlam Inn,. He claims the hotel would make it an uneven playing field because the casino could subsidize lower room rates.
July 30, 2012 — Development permit for proposed hotel approved by council.
August 2012 — GCGC announces revised plans to reduce the hotel by a floor to 10 storeys with the number of rooms dropping to 176.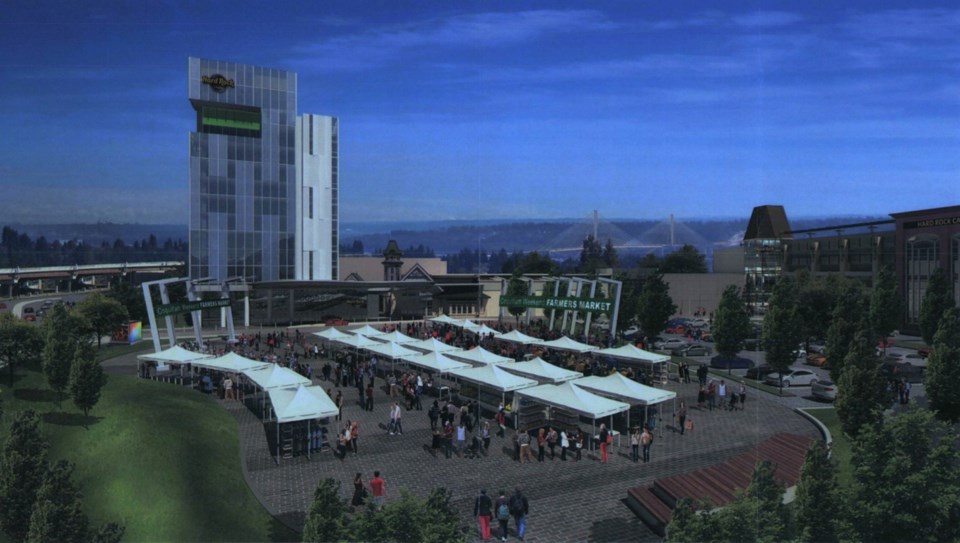 October 2016 — GCGC's Chuck Keeling says a hotel for the site isn't in the cards anytime soon, but it does want to go ahead with a plaza to allow for show-and-shines, trade shows, musical acts or community events.
Nov. 28, 2016 — Following a public hearing, council gives second and third reading to the request to permit outdoor events and direct staff to prepare a development permit amendment.
Nov. 20, 2017 — Council grants a one-year extension between third and fourth and final reading to expire Nov. 28, 2018 to give GCGC time to negotiate a deal with hotel operators. Since the original development permit for the hotel began being processed in 2012 and there has been a complete redesign, a new development permit is started for a 12-storey tower with 141 rooms, although the work from the old permit is rolled into the new one.
Nov. 26, 2018 — Although no agreement has been reached with a potential hotel operator, all conditions to final adoption put on by the city have been addressed to staff's satisfaction and GCGC opts fo finalize the development permit which council approves.