A 41-year-old, 102-unit apartment complex near Garden City Community Park could soon be the site of Richmond's first so-called "demovictions" on a mass scale, as its strata council prepares to sell the property to a developer — possibly prompting a domino effect of redevelopment in the City Centre area east of No. 3 Road.
While 84 per cent of the Ascott Wynde's owners (86 of 102) agreed to the $49.8 million sale, a minority group of owners is calling foul and hoping a B.C. Supreme Court judge considers their hardship and nixes the deal, following a required legal review of the strata termination (wind up).
The fact that real estate marketing firm Rennie and Associates negotiated a 60 per cent premium above 2018 property assessments from Everbright Properties Inc. is of little comfort to sale opponent Victoria Grigorenko, who lives in a three-bedroom unit with her 89-year-old mother Galina.
"You think it is easy to find a new home? I don't have a car, I am within walking distance to everywhere, all my doctor appointments, all my mother's doctor appointments. It's my home," Grigorenko told the Richmond News.
In 2016, a new law allowed for a strata to terminate and sell to a developer with an 80 per cent vote. The controversial change (from 100 per cent) was seen as a benefit to developers but also stratas that were facing significant repair bills and are in the sightlines of lucrative municipal plans to densify, but which had a small number of holdouts — as appears to be the case here.
Until recently, older apartment housing stock — primarily utilized by low-to-moderate-income earners and renters — has been left untouched in central Richmond, as residential developers have focused on one-storey commercial properties and empty lots. And evictions due to demolition have been segregated to the single-family home sector.
According to proponents of the sale, the three-storey Ascott Wynde is in a state of disrepair and Everbright's offer to buy and redevelop the property into a 140-150 townhouse complex is a blessing — especially given a special levy of $50,000 to $70,000 per person is on the horizon.
But closing the deal has become more complicated, with allegations by opponents that owners were misled about aspects of the sale, as well as concerns being expressed about where exactly one can move to, even with a seemingly sweetheart deal.
"I don't think they were educated about the real situation," said Grigorenko.
With a career background in architecture (she serves on the city's heritage commission), Grigorenko cites the many pleasant aspects of living in Ascott Wynde, such as the proximity to two large parks to the east and the downtown core to the west. The prospect of moving is a difficult one for her elderly mother. She said she has not been able to find a suitable replacement home.
Grigorenko says the sale harms the most disadvantaged residents, including herself, as she is on disability assistance. She figures about 20 units are rented, thus jeopardizing renters (who have no say in the matter) faced with the prospect of eviction in a city with nearly no vacancy.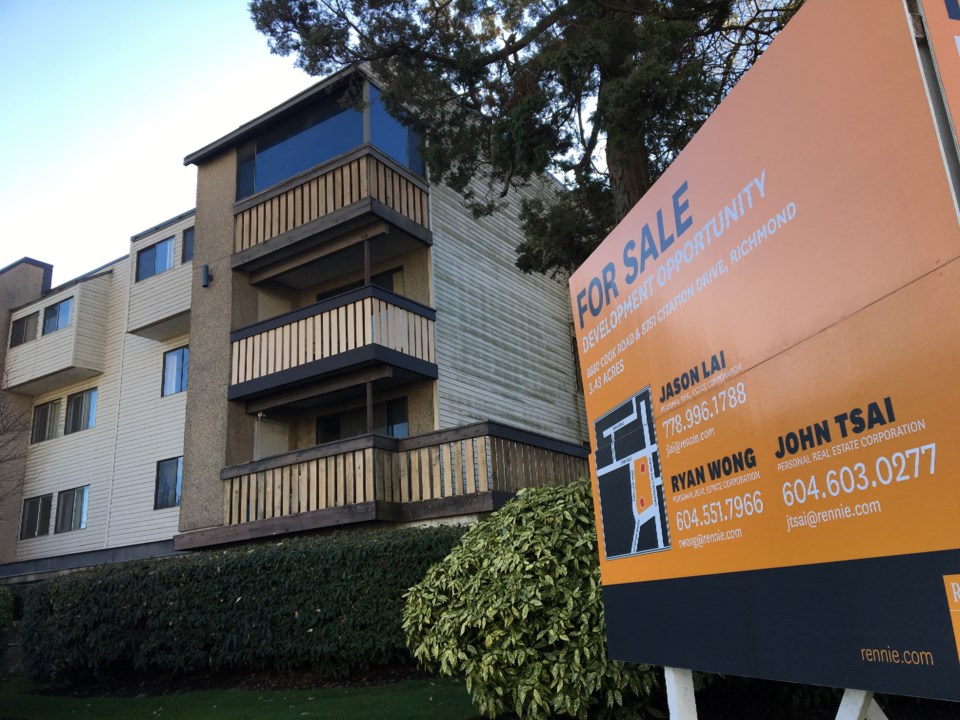 According to opponent Marek Wozniak, "the gist of the story is that they (Rennie) rushed it, they pressured people and they scared people. Not many had time to react. There are people who are old and who have nowhere to go. Their future is uncertain and Rennie is only out to make a profit."
The process began first with an informal talk about the prospect of abandoning the complex before the special levies. At the AGM in February, 2016, strata council was directed to explore sales options. In December, 2016, council voted to hire Rennie. This led to an information meeting in January, 2017, where most agreed to proceed. By June, lawyers were hired (Lawson Lundell LLP) and in August, Rennie presented six offers. Everbright offered six months free rent to all owners once the deal is finalized, and won the bid.
It is contended by many opponents that the bid is too low as it factors in land being lost to road widening. 
"City of Richmond has approved road widening along Garden City Road," notes a Rennie and Associates presentation to owners.
But the City of Richmond has not presently approved these plans and road widening is only a possibility, according to an email from city planner Cynthia Lussier to opponent Joy Mondejar. Lussier notes: upon rezoning the site "may require road realignments."
Coun. Carol Day has taken up the fight for the opponents, worried Rennie has lied to owners. 
Day said owners were generally not informed or notified properly. Notices to petition against the sale in court last month were only posted in elevators and not sent by mail to all owners, she said.
But strata lawyer Peter Roberts dismissed such claims, telling the judge everything has been done in accordance with the rules.
Rennie agent Jason Lai, however, said based on development cost charges applied by the city, these road improvements will happen.
And, "we made it clear it's not devaluing [their] land per se because the enhancements are required . . . to achieve a rezoning application," said Lai.
The discrepancies and realities of finding a new home have sown doubt amongst opponents. So much doubt that Gordon Bell, who owns two units and lives in one with his family of four, told a B.C. Supreme Court judge last week that he regrets twice voting for the sale.
Bell said there are others who regret their "yes" vote as well.
Bell and others have also taken issue with the required levies and the notion from some on council that the building will be condemned.
Lai noted that is not the case either. Strata council president Stephen Fung has also laid out the repair reports in an affidavit to the court.
Repairs are a major concern for many who want to cash out.
"We are facing major repairs and infrastructure that needs to be repaired in the near future — piping that is deplorable and our electrical has been eaten by rodents in many areas," stated long-time resident Linda Burchill to the judge.
Burchill, 62, also cited problems with window caulking, water ingress on vinyl siding, moulded walls, rotting balconies and failed elevators.
Asbestos is also a concern.
"Looking at these repairs, I myself am probably looking at a 60,000 to 70,000 levy because I live in a three-bedroom. I myself cannot support a line of credit for $70,000," said Burchill, who wants to parlay her sale into another apartment.
"The best thing for me is to take this offer. It's a blessing," she said.
Senior Ralph Steves described the strata as a "continual place of trucks there for repairs," although he also described a council that failed to keep the buildings in good condition.
Lynne Williams said she has lived at Ascott Wynde since 1989.
"Quite frankly, I would have moved a long time ago, but I wouldn't get anything for my suite. Even then there'd be up to 20 per cent having to go in trust because of all the issues we have in the building," said Williams.
While the deal is valued at double (103 per cent) the property`s 2017 assessments, a massive uptick in the 2018 assessments has lowered that premium to about 60 per cent (another bone of contention by Bell and others).
Still, Williams, for example, nets about $496,000 for her two-bedroom unit assessed at $319,000.
Bell and Grigorenko each stand to receive about $532,000 and $600,000, respectively, after legal fees, for their three-bedroom units.
Grigorenko said proponents have other homes to go to or are able to downsize. Bell said he cannot find a three-bedroom in the same price range and especially not in the area that is situated nearby the Garden City Lands park. New housing stock is completely out of reach.
In Richmond, there are presently only six two-bedroom apartments listed between $500,000 and $550,000. A two-bedroom next to Ascott Wynde in a nearly identical strata is presently listed for $550,000.
Lai said it is the nature of strata terminations that there is a lengthy period between an offer being agreed upon (August 2017) and ratified (February 2018), and markets can go up and down in that time. In this case, it has skyrocketed, in part due to speculation that other stratas will proceed to redevelopment.
Rennie has offered to help relocate residents.
Meanwhile, Lai said Rennie is working on several other strata terminations in Richmond.
A court decision on Ascott Wynde is expected this week.