Commercial fishermen in B.C. caught just 2 million Pacific salmon in 2022 – just 0.6 per cent of the global commercial catch of 354 million fish -- according to the North Pacific Anadromous Fish Commission (NPAFC).
Despite a return of 6.7 million Fraser River sockeye in 2022, B.C. fishermen were largely shut out of the sockeye fishery last year, and were allowed to harvest only 1.2 million sockeye, coastwide, according to NPAFC data, which covers Canada, the U.S., Russia, Japan and South Korea.
Of the 354 million Pacific salmon caught in 2022, 164 million were caught in Alaska, 154 million in Russia, 31 million in Japan, 2 million in B.C. and just 53,000 in South Korea.
The commercial sector in B.C. had hoped for a decent year in 2022, as it was an abundance year for Fraser River sockeye. Fraser River sockeye have traditionally returned in greater abundance once every four years, followed by lower returns over the next three years.
The pre-season forecast for Fraser River sockeye in 2022 had been 9.8 million. Actual returns were 6.7 million Fraser River sockeye, according to the Pacific Salmon Commission.
That's lower than previous abundance years, but significant enough that it should have allowed for commercial openings.
But commercial openings were extremely limited in 2022, resulting in only 1.2 million sockeye in total (including Nass and Skeena River sockeye) being caught by commercial fishermen in B.C. in 2022, according to the NPAFC.
A little over 600,000 pink salmon were caught by B.C. fishermen, compared to 107 million in Russia and 70 million in Alaska.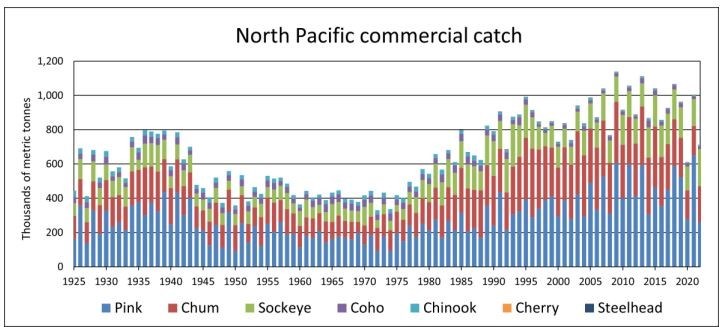 The 2022 global catch was better than 2020 – which was one of the lowest catches since about 1988 – but still low enough to cause some concern.
There was a notable decline in pink salmon in 2022. Pink salmon are the single most abundant species of the seven species of Pacific salmon, followed by sockeye and chum.
"Despite a growth in total catch compared to 2020, even-year pink salmon catch continued to decline to a level last seen from 1988–1992," the NPAFC notes.
Pink salmon constituted the majority of the total commercial catch for 2022 -- 36% by weight -- followed by sockeye and chum at 30 per cent each. Coho made up just 2 per cent of the catch; Chinook, cherry salmon, and steelhead trout accounted for less than 1 per cent each.
"Pink and chum salmon dominate Asian catches, but overall catches have been generally declining since 2011," the NPAFC notes. "Pink salmon catches reached a high in 2018 (516.9 thousand metric tonnes) but declined to 146.4 thousand metric tonnes in 2022—their lowest level since 2002."
Pacific salmon abundance has been augmented since the early 1990s with hatcheries, which released a total of 5 billion salmon into the Pacific in 2022. Here are the hatchery releases by species:
chum, 2.9 million;
pink, 1.4 million
sockeye, 289 million
chinook, 232 million;
coho, 85 million
steelhead, 15 million
cherry salmon, 12 million.