Port Coquitlam's Winter in the City is back with festive favourites and exciting new features.
Event-goers can support local businesses and artisans, enjoy food trucks and a sip-n-shop from craft breweries and a distillery, official lighting of the City Christmas tree, holiday craft making, music and live entertainment.
"We light up a massive Christmas tree and all of our downtown. It's all very special and a really great tradition," says mayor Brad West, who welcomes visitors from across the Lower Mainland to ring in the season Dec. 2 at the City of PoCo's winter festival and market.
"We make it easy for people to park in and around our downtown and to walk to where the event is being held," West says.
New this holiday season is the market's move from the civic plaza Leigh Square, which is under construction, to the beautiful new Port Coquitlam Community Centre, at the crossroads of Kingsway, Wilson and Kelly Avenues and Mary Hill Road in the downtown core.
Here are all the holiday happenings at this year's Winter in the City: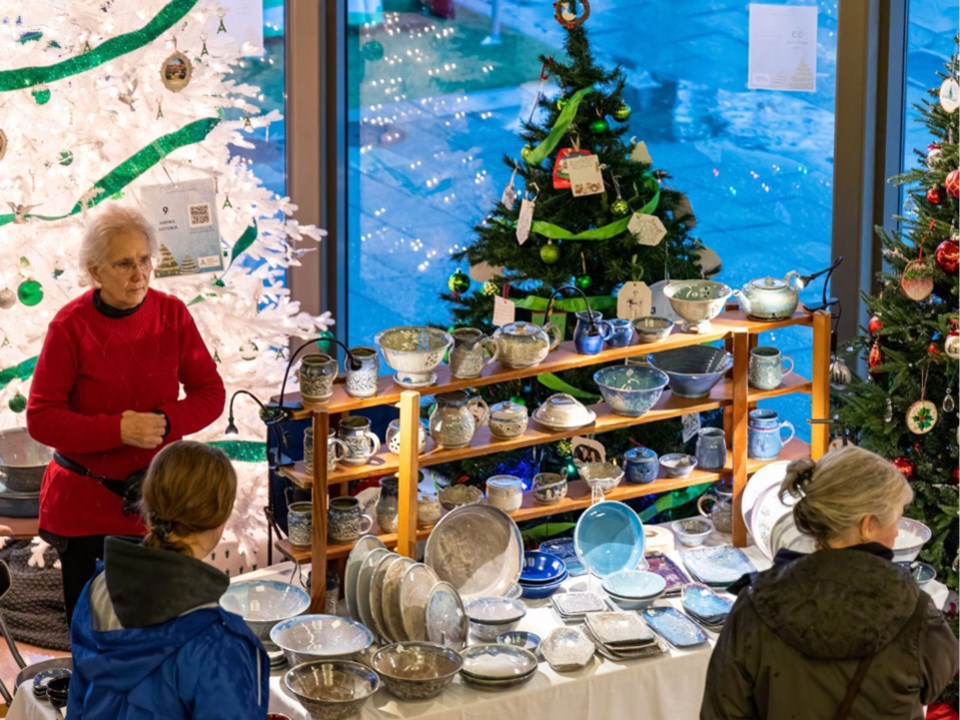 Christmas in the Square & Winter Artisan Market
Christmas in the Square kicks off the holidays season Dec. 2 at Port Coquitlam Community Centre. Find something for everyone on your list at the Winter Artisan Market where over 30 local makers, designers, creatives and artists will sell their beautifully crafted wares. Enjoy shopping, food trucks, a sip-n-shop beverage zone, holiday craft making and live entertainment from noon to 8 p.m. Official lighting of the City's Christmas tree is at 5 p.m.
Brighten Up PoCo
Get into the holiday spirit for a chance to win a $100 gift card to a Port Coquitlam business. Last year, over 60 residents submitted nighttime photos of their brightly lit homes.
Send a photo of your dazzling display to be entered for a chance to win a prize. One winner will be randomly selected per day from Dec. 1 to Dec. 12.
Christmas artwork display
The City invites children and youth to help spread some cheer this holiday season by submitting their holiday-themed artwork by Nov. 27
The artwork will adorn the cover of the annual mayor and council holiday cards sent out to the community in December, and displayed in cards sent to seniors in Port Coquitlam long-term care homes.
Holiday skates
Lace up your skates and come on out to Port Coquitlam Community Centre for Skate with Santa, 2:30 p.m.-4 p.m. on Sunday, Dec. 17. There is also a Christmas Eve Skate on Dec. 24 and New Years Eve Skate on Dec. 31.
Holiday Workshops
Create cards or gift tags, craft a wreath or centrepiece, and make a lantern for Winter Solstice.
Several fun and festive workshops are offered throughout the holiday season. Register at portcoquitlam.ca/register.
Canadian Pacific Holiday Train
Each year, the Canadian Pacific Holiday Train stops through communities across the country, collecting donations for food banks.
Watch as the brightly decorated train rolls into Port Coquitlam on Dec. 18 at 7:05 p.m., marking the end of its cross-Canada journey, and enjoy a free concert on the train stage by Tyler Shaw and Kieza.
For all the details on festive fun at this year's Winter in the City, visit portcoquitlam.ca/winterinthecity.